90% of the construction companies that use an ERP improved the success of their activities significantly. Here are the best 14 on the market.
1. Archdesk
Are you looking for a solid solution to manage your company's resources and processes?
Archdesk might be the one.
Archdesk is a cloud-based construction management software that gathers all the information from your projects and manages your company's assets- all from one single source of truth.
The system provides solutions for Project Delivery, Finances, Resource Allocation, Operations, and Document Management.
What makes Archdesk unique?
1. We understand construction industry challenges
Many ERP systems available on the market provide general, complex solutions that are supposed to match different industries' needs.
In contrast, Archdesk is adapted fully to the construction industry's reality. You'll find the construction terminology and tools to match the construction processes from early design to final delivery. 
2. We bring project-focus perspective 
With Archdesk, you can track the company's financials and gain crucial insights about your projects. How much profit you're making, what are the costs, and are you still on a budget?- all the answers are available at your fingertips.
Handle project delivery, document management, scheduling, and much more. Unlock the full potential of your company's processes with our software solutions.
3. We provide high-level reports on the project and the company level
In Archdesk, you can build any report you need and compare it with the selected period in time. Also, the system shows you an updated, real-time situation in your company anytime you need it.
Make the right decisions for your business thanks to a clear overview of what's happening in your company.
4. We try to make the Implmentation Process as quick and easy as possible for our customers
Implementation of a new system always takes time and a lot of effort. At Archdesk, we aspire to make the process as convenient as possible for our future customers.
The Implementation Team will proceed at your pace and support you in benefiting from Archdesk's solutions as fast as you want.
What do people think about construction management with Archdesk?
"Archdesk is helping our team to plan efficiently and execute projects that deliver results on time. It's easy to use and flexible. This system is developing and adjusting to meet our expectations. [...] At this stage, I'm not able to imagine how the company will work without having this ERP system in place." 
Capterra Source
"Software like Archdesk is the lifeblood of most organizations. It is the system of record for everything. I've worked at an organization before that didn't use it and life was miserable."
Does Archdesk have tools to work in the UK construction industry?
Yes, as Archdesk has the biggest customer base in the UK. But, thanks to being fully configurable, Archdesk's solutions also fit other industries (we have customers all over Europe, the Middle East, and the US).
I've seen enough, show me Archdesk
2. Acumatica
Acumatica is an ERP SaaS solution that offers design and reporting tools.
While you can still use Acumatica ERP for your construction company, the product is primarily created for manufacturing and distribution companies.
What You Get With Acumatica:
Payroll and billing tools
Financial Reporting
Job Cost Accounting
Inventory Management
What Do People Think About Acumatica as a Construction ERP?
"This product allows us to keep track of information that we need at a relatively inexpensive price." Theresa S.
Capterra Source
"There are some limitations with out-of-the-box features, but the support team and our implementation team have been reliable in formulating a plan to get to where we need as a customer. High hopes for Acumatica's future based simply on the adaptive functionality and customizable nature of the product."
Pros:
Real-time reporting feature

Support for multiple companies, languages, and currencies

Easy data migration
Cons:
Resource-based pricing can be confusing

A large feature set and too many customisation options make setup difficult

It's not a construction specific solution
Does Acumatica give you everything an ERP system for the UK construction industry should?
Yes, although it may take some time - the software was developed in the US, and the company opened their UK office in 2021.
3. Viewpoint Vista

Vista by Viewpoint is an enterprise resource planning solution for construction companies with tools like accounting, project management and human resource management, which helps you synchronise all moving parts of your construction business.
Vista deeply integrates with accounting and project management, offering contractors valuable insights into revenue and cost management, which helps avoid cost overruns.
What You Get With Viewpoint Vista:
Financial Management Feature

Document Depository in the System

Workforce Management

Possible Integrations
What Do People Think About Viewpoint Vista as a Construction ERP?
"I like that vista is customizable. The layout is easy to understand, and it is pretty easy to find information when you're looking for it. The text is clear, and the boxes are customizable."
"Not as user friendly for the non-accounting person. Support and maintenance fees increase every year substantially, even though the cost of the software & support may not increase for new users. They know that once they have you, you aren't going to switch easily so the costs continue to climb higher and higher every year. [...] We used to have no fears of new releases as bugs were minor - now we never install the most recent releases until later."
Pros:
Loaded with customisation options.

Extensive knowledge base.

Offers a solid base for accounting modules.
Cons:
Customisation options are confusing and overwhelming at times

Hard to implement

Support is often unavailable during work hours via live chat
Does Viewpoint Vista give you everything an ERP system for the UK construction industry should?
Yes, they provide software to over 100,000 users in the UK.
4. Computer Guidance Corporation eCMS

Computer Guidance Corporation (CGC) offers a cloud-based ERP solution for US-based commercial construction contractors called eCMS.
The tool includes a broad range of solutions to help contractors of all sizes track and manage their finance and operations from a single system. With eCMS, you also get features like content management, payroll, reporting and communication tools.
What You Get With eCMS:
What Do People Think About eCMS as a Construction ERP?
"We are very happy with the integration of the accounting and project management sides of the software. Integration is key for our efficiency."
"Sometimes the software is just TOO flexible. because it can be all things to all people that makes it difficult to determine the best way to use it. Initial set up of a new function or application can be confusing for that reason. But you can certainly tailor it to your specific needs."
Pros:
Offers custom reports

Integrates with other software solutions

Ability to use ODBC (Open Database Connectivity)
Cons:
Can be slow at times

Difficult to set up since there are many options for customisation

The software's set-up might be a bit confusing
Does eCMS give you everything an ERP system for the UK construction industry should?
Hard to say, the company is US-based but there are reviews of UK users, who were satisfied with the product. Potentially some differences may be present.
5. Spectrum

Spectrum is another enterprise resource planning tool from Viewpoint. It offers a strong lineup of solutions for construction companies, including project management, equipment & materials allocation, HT, accounting, and reporting.
The software solution is available on the web or as a mobile app, so your business information and documents go with you wherever work takes you.
With Spectrum, you get a Project Management Plan Room where you can send and receive documents, communicate with the team, and create an audit trail for each project.
What You Get With Spectrum:
Contractor Management

Supply Chain Management

Predictive Analytics

Software Integrations
What Do People Think About Spectrum as a Construction ERP?
"I really like the ease of use (once you learn the system) and the different reports that are available. I also like the Business Intelligence (custom report builder) option that is available."
"We got off to a slow start. It took about 7 weeks to get started which is causing us to delay our go live date. The implementation plan is comprehensive. I think it will make the transition very manageable."
Pros:
Plenty of modules available

Allows adjusting security rights for employees down to individual menu selections

Helps manage compliance (current COI, licensing, etc.)
Cons:
Correcting payroll errors requires re-entering the entire payroll

Custom reports require working knowledge of Crystal Reports

Require a lot of clicking through to get to what you want - could be more intuitive
Does Spectrum give you everything an ERP system for the UK construction industry should?
Yes.
6. COINS Construction Cloud

COINS is an all-in-one ERP system that helps commercial and engineering contractors manage the complete project lifecycle.
COINS also offers the Mobile Technician feature, which allows technicians to take photos and add annotations to highlight problems with equipment.
What You Get With COINS Construction Cloud:
Contractor Management

Supply Chain Management

Predictive Analytics

Software Integrations
What Do People Think About COINS as a Construction ERP?
"COINS Construction Cloud documentation ability helps the manager to easily manage a large group of project documents and offers the user full control of complex development projects. It enables the team to easily share, comment, upload and access any project document from any place at any time and the budgeting capability found on this software is on top."
"I think the least thing I like about the software is I would like the ability to be able to create my own reports without having to go through the process of having Coins create one for me."
Pros:
Cons:
Dated interface

Setting up reports can be time consuming

Data sharing can be a bit slow
Does COINS give you everything an ERP system for the UK construction industry should?
Yes, provides solutions globally and is present in UK & Ireland markets.
7. UDA ConstructionSuite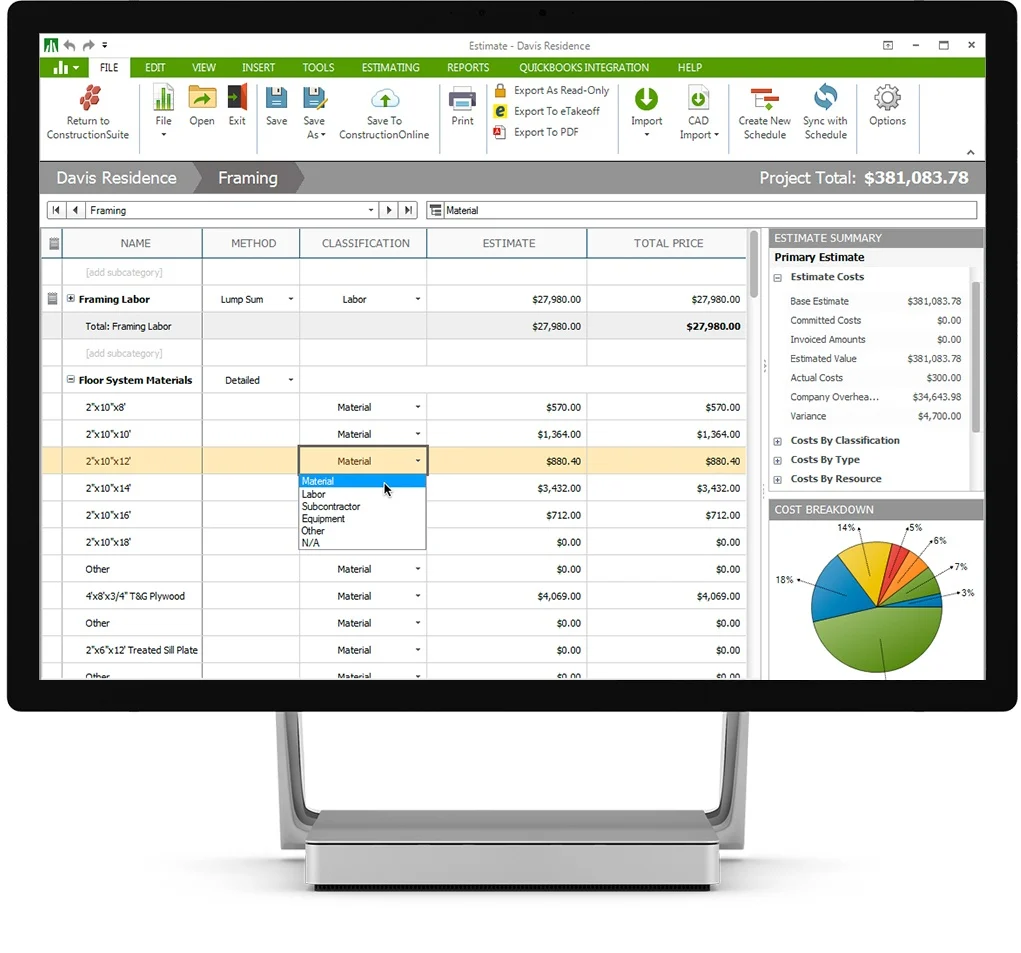 ConstructionSuite from UDA is an enterprise resource planning solution designed for general contractors, residential builders and subcontractors. It combines the capabilities of ConstructionOnline technology and ConstructionNet CRM, providing complete control over your construction business.
The tool offers industry-specific tools, including templates for providing estimates, bi-directional QuickBooks integration, RSMeans cost data and change order management.
What You Get With ConstructionSuite:
Customisable Templates

RFI and Submittals

Subcontractor Management

Change Order Management
What Do People Think About ConstructionSuite as a Construction ERP?
"Good product for managing projects. The software can be used for construction projects as it was designed, but can also be used for other projects as it is a good tool for managing projects."
"Some times the built in application used for creating proposals and other documents can be a bit tricky ... it's kind of like Microsoft Word but the formatting can be a little buggy at times (or perhaps fairer to say a little more prone to user error)."
Pros:
Offers Estimating Templates

High-rated Customer Service

Detailed Proposals
Cons:
Can't sync two computers used in a single-seat licence

Relies on QuickBooks because it doesn't have an in-built financial system

Having to do takeoffs with another software package
Does UDA ConstructionSuite give you everything an ERP system for the UK construction industry should?
No, it's available in the US.
8. CMiC

CMiC offers a full suite of tools for various functions, including enterprise planning, accounting, and asset management, which helps a wide range of companies in the AEC industry.
You can choose a deployment model that best matches your needs. Available options are on-premise, Platform-as-a-Service and multi-tenant cloud environments.
What You Get With CMiC:
What Do People Think About CMiC as a Construction ERP?
"Currently, I use CMiC Construction Platform for all accounts payable, receivable, and overhead invoicing. Our project management operations use CMiC Construction Platform for processing all contracts, change orders, and billings via CMiC. Integrated accounting software cloud-based program for all construction operations."
"It took awhile to get used to but I feel comfortable with it now. I like the logs, which are exportable to excel. I like that it runs at a good speed most of the time. I like that it seems to have plenty of room for data/doesn't get bogged down."
Pros:
Flexible accounting features

Track contracts and change orders

Support for monthly billing with AIA documents
Cons:
No drawing coordination

Lacks labour forecasting that updates each pay period

Lengthy implementation process
Does CMiC give you everything an ERP system for the UK construction industry should?
CMiC is available in the UK but developed in the US, so may not be optimal.
9. Procore

Procore is a construction management software solution that connects project contributors to various tools tailor-made for the construction industry.
The tool is cloud-based and allows unlimited users per instance, so all stakeholders and team members can access a project's details and documents.
What You Get With Procore:
What Do People Think About Procore as a Construction ERP?
"Overall their customer support team has been great helping us in training and getting up to speed with implementation and helping with custom solutions tailored to our unique business needs."
"The downside to Procore is that the platform is primarily contractor driven and requires heavy customisation on the owners' side. This makes it a little more difficult to implement, learn & develop training for end users who may not be embracing change to start with."
Pros:
Offers versioning for files and documents

Tracks changes in subcontracts and purchase orders

Integrates with a broad range of tools
Cons:
The dashboard feature is too simplistic

Inspects have to be applied to jobs individually

It's expensive for small to medium-sized contractors
Does Procore give you everything an ERP system for the UK construction industry should?
Yes, but Procore is a US-based construction software, so the solutions might be more suitable for the US market.

10. RedTeam

RedTeam is a cloud-based project management solution with ERP capabilities best suited for midsize general commercial contractors. The tool is accessible from any device and has native apps for Android and iOS devices.
With RedTeam, you can prepare estimates, solicit bids and integrate your financials with QuickBooks Online. It also has additional useful features like the ability to drag and drop planes into the RedTeam Optical Character Recognition tool, which streamlines the plan management process.
What You Get With RedTeam:
Jobsite Reports

Contract and Change Management

Document Sharing and Photo Documentation

RFI Feature
What Do People Think About RedTeam as a Construction ERP?
"There are many features about RedTeam that we like. Real-time information for all team members to be on the same page. Next, the program is user-friendly. Training our staff on the software has been a breeze. Redteam's ability to work with other software platforms like Quickbooks and Sage is extremely helpful."
"I like that for the most part RedTeam is a user friendly system. There aren't a ton of extras that are unnecessary fluff. It is straightforward and does the job."
Pros:
Offers learning tools for both juniors and seniors

Easy-to-use

Comprehensive feature set
Cons:
Does RedTeam give you everything an ERP system for the UK construction industry should?
No, available in US and Canada.
11. JobProgress

JobProgress is a business productivity platform for home improvement contractors. While it's primarily focused on productivity, JobProgress has several features that make it a great ERP and CRM tool as well.
You can use JobProgress for estimating, invoicing, organising, communicating and managing clients and projects. JobProgress can also help re-engineer your workflow, allowing stakeholders complete visibility over a project's progress.
What You Get With JobProgress:
Customisable Job and Workflow Manager

Secure Cloud Storage

Instant Proposals and Contracts

Insurance Estimating
What Do People Think About JobProgress as a Construction ERP?
"I like that all the information is there and available for me to see when I need to. From photographs to contracts to supplies lists to a calendar and more, Job Progress makes it easy to access all the information about anything that I need to help the customer."
"Scheduling seems to be a bit convoluted. The notifications are nice for the app, but I would like to be notified when using the online version, and that doesn't seem to be as user friendly."
Pros:
Allows creating job flows tailored to your needs

Generates estimates quickly

Allows customers to sign documents easily
Cons:
Poor QuickBooks integration

Can be slow sometimes

There is a bit of a learning curve
Does JobProgress give you everything an ERP system for the UK construction industry should?
No, US-based and not available in the UK.
12. 12d Synergy

Unlike other tools on the list, 12d Synergy primarily focuses on helping AES professionals spend less time managing data. For example, staff members can use 12d Synergy to sort documents based on naming rules to make searching easier.
12d Synergy's feature set includes tools that make 12d Synergy a good ERP solution.
What You Get With 12d Synergy:
What Do People Think About 12d Synergy as a Construction ERP?
"Can be a little glitchy, but granted, that can also do with the server/cpus running it. The back end/setup side of things can be quite tedious."
"12d Synergy is an easy to use Document Management System (DMS) that manages a variety of data formats throughout the planning, design and construction project workflows including managing 12d model projects."
Pros:
Simple interface

Integrates well with Microsoft Office

Allows rolling back to previous versions of a file (offline work)
Cons:
Menus look clunky

No way to order files by default—requires users to click on the column header

Limited integration with other tools
Does 12d Synergy give you everything an ERP system for the UK construction industry should?
No - developed in Australia, mostly used in Australia, and New Zealand.
13. Microsoft Dynamics

Microsoft Dynamics 365 is an ERP tool for all industries, including construction. You can use Microsoft Dynamics to centralise information about workflows and projects to a single platform for efficient decision-making.
Interestingly, Microsoft Dynamics also offers Artificial Intelligence (AI), which helps make smarter decisions and assists in scenario planning.
What You Get With Microsoft Dynamics:
What Do People Think About Microsoft Dynamics as a Construction ERP?
"I see Microsoft Dynamics 365 as completely user-friendly and since it's from Microsoft, one can Integrate them with multiple Microsoft applications based on Business Needs. For me, it helps make decisions on Business administration and makes the business work process quicker and also a lot easier."
"there are some negatives mainly being the slow data upload speed due to its cloud based saving experience, it's mobile experience is also not too great as it runs very slowly. Duplicate contacts are also a hassle to deal with in this software. Overall great software to use with just some minor problems that can be fixed."
Pros:
Estimates and invoices produced in Microsoft Outlook automatically reflect in the accounting system

Accessible from the web, PC and mobile

Ample customisation options
Cons:
Requires a lot of training

Limited external integrations

Not construction specific
Does Microsoft Dynamics give you everything an ERP system for the UK construction industry should?
Yes, supports UK market needs.
14. Sage

Sage Business Cloud X3 (different from Sage Intacct) is an ERP tool with multiple capabilities, including financial management, business intelligence, inventory, sales, distribution and customer service.
You can use Sage on the web or deploy it on-premise or in Sage-managed or partner-provisioned AWS cloud.
What You Get With Sage:
Safety Management

Reporting and Analytics

Inventory Management

Project Management
What Do People Think About Sage as a Construction ERP?
"It is very user friendly and a very innovative interface that allows for easy use. Was rather simple installation as the whole process took roughly two months and the learning curve for users who would be dealing with it was also very short as most were able to pick right up on it. Very flexible as well for different data implementation."
"Decent product, but service and customer service leaves a lot to be desired."
Pros:
Administrators have great control over the user experience

Highly configurable

Visual process flows allow new users to learn faster
Cons:
Poor customer support

Not tailor-made for construction management

Might be insufficient for enterprise (better for small-medium businesses)
Does Sage Business Cloud X3 give you everything an ERP system for the UK construction industry should?
Yes, it is a British provider.
Frequently Asked Questions
What is ERP in Construction?
Enterprise Resource Planning (ERP) system is a software solution that enables construction companies to efficiently manage human resources, building materials, the flow of capital and other construction processes. You can use a construction ERP to get a real-time overview of building material inventory at all worksites from a centralised system.
What are the 5 components of ERP?
The five main components of an enterprise resource planning system are:
Financial Management- dealing with the company's financial assets and all financial transactions to accomplish the long-term goals. 
Human Resource- handling all processes related to employees' matters like payments, promotions, performance reports, training, and leaves. 
Customer Relationship Management- addressing customers and performing tasks using real-time information and data analysis gathered from the system. 
Supply Chain Management- monitoring the whole process of materials conversion into the final product and its distribution to customers.
Business Intelligence- creating data-driven business insights that allow managers to make faster and better decisions on the company level. 
Where is ERP mostly used?
ERP is mainly used in larger organisations that want to manage their supply chain and company processes with a centralised, integrated tool. It helps them keep track of changes and supports daily activities. ERP software benefits most manufacturing and distribution industries.
Is Excel an ERP?
Excel can't be considered an ERP system. It doesn't provide integration between major ERP components (finance, CRM, supply chain, HR, and logistics). Also, it doesn't offer complete visibility over the company's situation, which is a crucial feature for ERP systems.
Which is best ERP or CRM?
It's hard to determine, as both systems serve slightly different purposes. ERP supports the entire business process to boost efficiency at the company level. That's why you'll find solutions for production, distribution, finance, HR, or supply chain. CRM, on the contrary, supports the client management and customer experience lifecycle.
Can US Tech do the Same as UK Construction ERP Software?
Not always. The US and the UK have different financial regulations with distinct tax levels, processes, and requirements. Because of that, US technology might not cover all needs of UK businesses.
The exception is a configurable system that can adapt its structure to clients' requirements.
Get the Best Construction ERP Software on the Market
Finding the right ERP system is mission-critical for maximising profitability and monitoring where your resources are spent.
While the market is crowded with ERP tools, most aren't tailor-made for UK-based construction businesses. You need an ERP that focuses on construction management, so you get access to just the right feature set.
The right tool makes resource planning easy. Want to see how easy resource planning can become for your construction business?