Got a cost value reconciliation headache?
Here's a comprehensive guide to CVR software in 2023, including the top tools on the market with reviews and ratings pulled from Capterra and G2.
Best cost value reconciliation (CVR) software in 2023
Archdesk

Raildairy

CyberQube

Inoapps

Procore

Planyard
What is cost value reconciliation software?
Cost value reconciliation (CVR) software is used to monitor and measure costs against budgets on construction projects. It offers a detailed breakdown of actual costs, automatic data collection, and a real-time view of your project from start to finish.
You can use CVR software to manage your construction cost in several ways:
understand what's happening on your project in real-time,

cut unnecessary losses and expenses that appear from nowhere,

improve cash management and feel financial safety,

prepare more accurate forecasts with assured profit level,

organise a solid central database for your future work,
What is a cost value reconciliation?
Cost value reconciliation (CVR) is the process of monitoring and comparing the actual costs against costs estimated in a budget.
The CVR process allows you to track and compare project profitability from start to finish with crucial indicators like: total value, costs, final profit, and bottom line figure.
To ensure your CVR process is effective, you should follow several best practices. These include:
Keep your records updated

To analyze your project's cost value, you need accurate and timely data—nothing more and nothing less.

That's why collect data and update your financial reports regularly: weekly or monthly (depending on your project's pace).

This way, you'll eliminate the risk of inaccurate data and smash the data flood into smaller bitesize chunks.

Review the budget regularly

Comparing numbers and updating CVR reports is not your favourite activity, right?

Yet, seeing how the actual budget affects your project is crucial. Maybe you need to change the project scope or schedule to ensure timely and quality delivery?

You won't have to guess with a proper CVR report.

Standardise the process

Any professional working in the construction industry knows one thing- time is money.

That's why don't waste it on managing reports in formats that hinder proper analysis. Set standard document formats for the whole process.

Remember to communicate these changes to your contractors and give them time to adapt to new reporting requirements.

Make sure you understand the reason for variances

Construction projects are unpredictable. Even if you have best-laid plans and detailed estimations, unforeseen expenses might happen.

Instead of simply reacting to changes, understand what caused them. If needed, analyse historical cost value reconciliations or request more information from your contractors.

Only then you'll be able to avoid repeating the same mistakes and secure future profits.

Consider using a professional CVR system

You don't have to waste your energy and spend countless hours updating CVR reports or comparing different Excels that don't match.

Automate collecting, analysing, and reporting using construction management software. It can support your CVR process from A to Z, provide detailed data about your budget and cost-value ratio, and free you from repetitive tasks.

"At Total Shape, we use software that allows us to track costs in real-time and compare them to the budgeted costs.

This allows us to identify any discrepancies or overruns quickly and take corrective action."

Isaac Robertson, Co-Founder & Chief Editor at Total Shape
Types of CVR tools
There are many types of cost value reconciliation tools:
Tender Margin Reconciliation: compares the estimated cost and revenue against the actual cost and revenue. It helps the management team spot cost variances and adjust future expenses.

Planned vs Actual Cost: shows the planned costs against the actual costs, incurred during the execution to help project managers react quicker to overruns.

Works to Let Assessments: compares the planned work against the company's available resources, project budget, and timeline to ensure the project is doable within set requirements.

Forward Work Projections:  analyses the future workload based on the current and scheduled work pipeline to ensure the project team can deliver projects within set requirements and available resources.
Project Turnover Projections: calculates expected revenue from a construction project using the contract terms and estimated delivery date. It helps in better cash management and investment planning.

Under and Over Value Reconciliation: compares the earned value from works completed against the budgeted value to help the management team spot any over or underpayments and adjust the following steps.

Subcontractor Liabilities: tracks any subcontractor's liabilities to protect the company from being held responsible for any cost obligation incurred by thier contractor.

Final Cost and Value Projects: reconciles a construction project's final cost and value against the budgeted value and cost. This type of CVR can help the management team to spot discrepancies and improve future project pricing.
Key features of cost value reconciliation software
Look out for the following features to invest in a CVR system that will make your business thrive:
Automated data collection
One of the crucial areas that CVR software can help is freeing you from manual and time-consuming tasks. Once introduced to the system, data are automatically collected and generated into a CVR report.
In the meantime, you can take care of tasks that matter, like creating a strategy for your business growth.
Real-time project tracking
Seeing a project's budget and actual costs is crucial for a proper cost value reconciliation. Also, you should be able to collaborate on project data with your team simultaneously.
With these features, you'll speed up the delivery and ensure everyone has the same picture.
Different kinds of reporting based on your business needs
Do you need a global overview of your project's financial health? Or maybe you require a detailed dashboard for more complex work?
Your future system should provide different CVR reporting possibilities so that you can fully capture the process specifications in your business.
Customisation possibilities
There are great out-of-the-box financial systems for the construction industry. But if your projects require more personalised solutions, look for software that can capture that.
Invest in a flexible solution that will be the central point of your information, not another pain point in smooth cost management.
"First and foremost, the software should allow us to track expenses and project costs in real-time, so we can stay on top of our budget and make adjustments as needed.
The software should also provide detailed reporting and analytics, so we can identify areas where we can reduce costs and optimize our spending.
Additionally, the software should be user-friendly and integrate easily with our existing systems, so we can streamline our processes and improve our overall efficiency."
Jon Morgan, CEO & Editor-in-Chief of Venture Smarter
Why do you need cost value reconciliation software?
You're proactive, not reactive, to changes

Is being reactive to changes in a construction project insufficient? After all, you react as soon as the situation changes.

Unfortunately, in many cases, it means reacting too late- you're already losing money.

With CVR software, you can be proactive by controlling project progression in real-time and preventing extra costs from hurting your profitability.

Sounds better, right?

"The biggest problem is that many project managers receive the project information too late.

So, they can only be reactive to changes, which means correcting mistakes after they already happen rather than jumping on the stage before and securing the project's profitability."

Arjinder Singh Gill, Technical Sales Manager at Archdesk

You know what's happening on your project in real-time

With a proper cost value reconciliation system, you can cut the problem of exceeded budget and unsure project's profit.

It gives you access to real-time project tracking with details at your fingertips. You see exactly how the actual budget is affected by the completed work.

Based on that, you can ensure the project's profitability throughout the entire contract's lifecycle.

You make better decisions based on cost value reconciliations

Constant access to an up-to-date CVR report has another huge benefit: you can make better, information-based decisions.

You don't have to wonder how your decisions will impact the final cost.

Instead, you create, compare, and understand numbers and can allocate resources to obtain the required profit.

You better organise and control your actual costs

In cost value reconciliation, it's all about cost, right?

Identify cost overruns, track the actual costs, and compare them with budget estimations. In simple words: feel control over your cost management.

Finally. Operate on real data and ensure no unforeseen expense will ruin your project.
You enhance project forecasting

The benefit of using a CVR system continues beyond a single project. Using once-created cost value reconciliation is a great starting point for preparing future cost estimations.

You don't have to guess the numbers for labour costs, a bottom line figure, invoices, or purchase orders.

Understand the numbers and develop a much more precise final budget thanks to instant access to historical CVR reports.
A proper CVR system can reduce the risk of errors, speed up the whole process and ensure project delivery in line with an estimated budget.
Best construction cost value reconciliation software of 2023
Here are the top CVR software for 2023.
1. Archdesk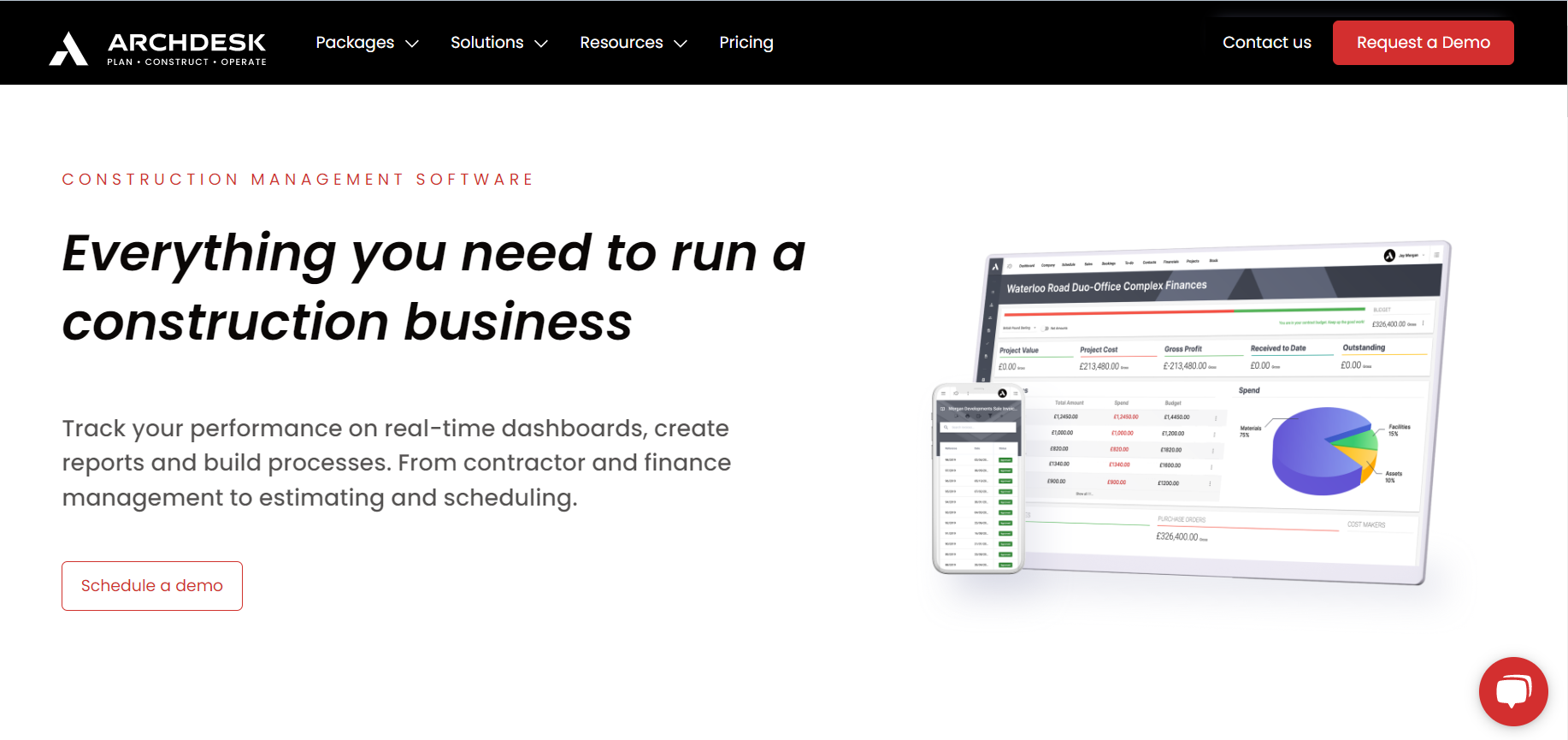 Capterra Rating: 4.8/5
G2 Rating: 4.3/5
Archdesk Pricing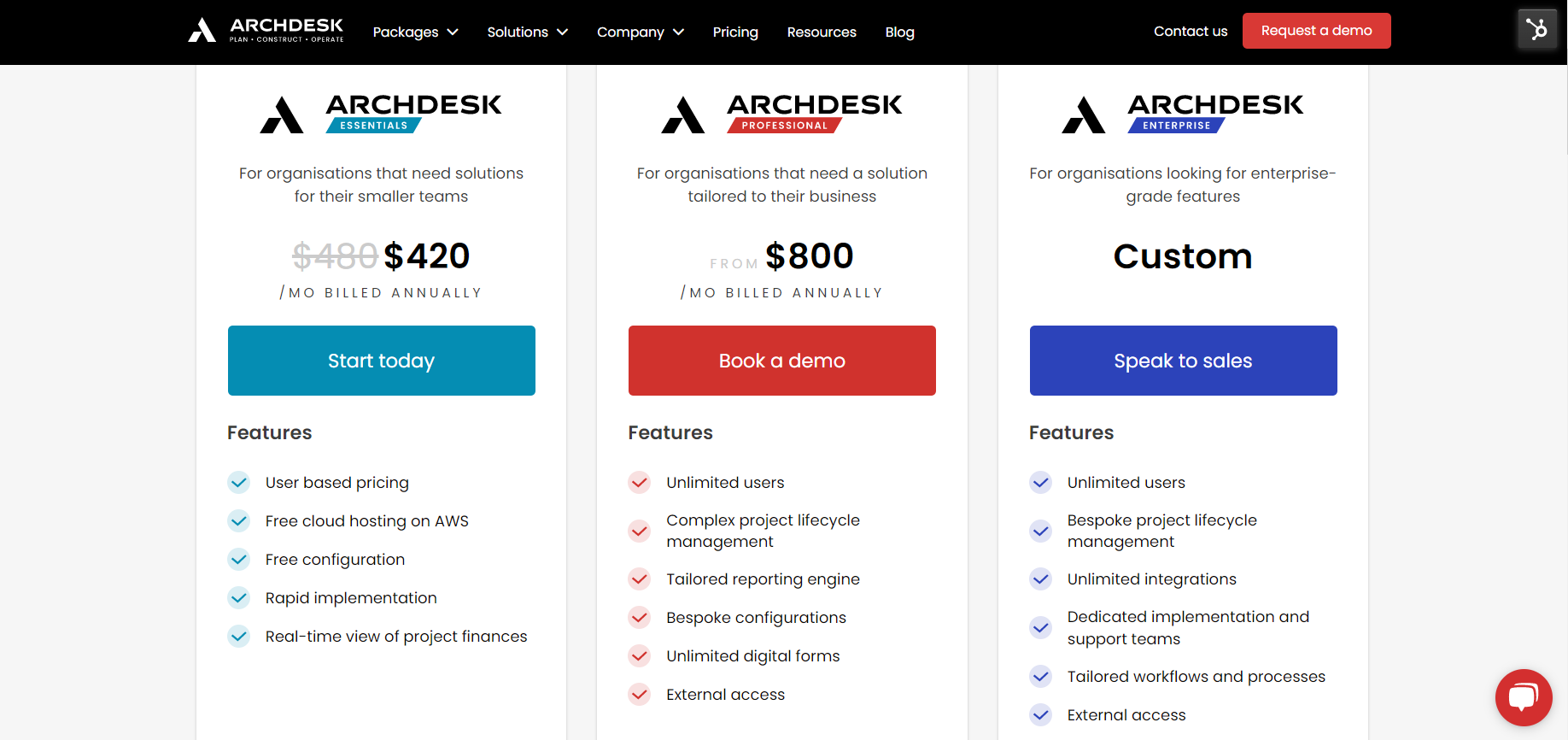 Archdesk Overview
If you're looking for a great CVR system that will automate your work and provide different reporting tools, Archdesk is an excellent choice.
Archdesk is a construction management system supporting your cost value reconciliation at each project delivery stage.
It automates the data collection, cutting this way time-consuming tasks and the risk of manual errors.
The system shows you the real-time situation of your project.
So, you can use it as a central point of your construction data. Thanks to that, you always know how your project is doing and understand why and when the exact costs occurred.
With Archdesk, you can be proactive about changes. You can make relevant decisions without fear of inaccurate or missed data; all you need is available at your fingertips.
In the end, you gain greater peace of mind.
You don't have to worry about how your projects will turn out. With Archdesk, you gain control over your project costs and can deliver your work without fear of overspending.
2. Raildairy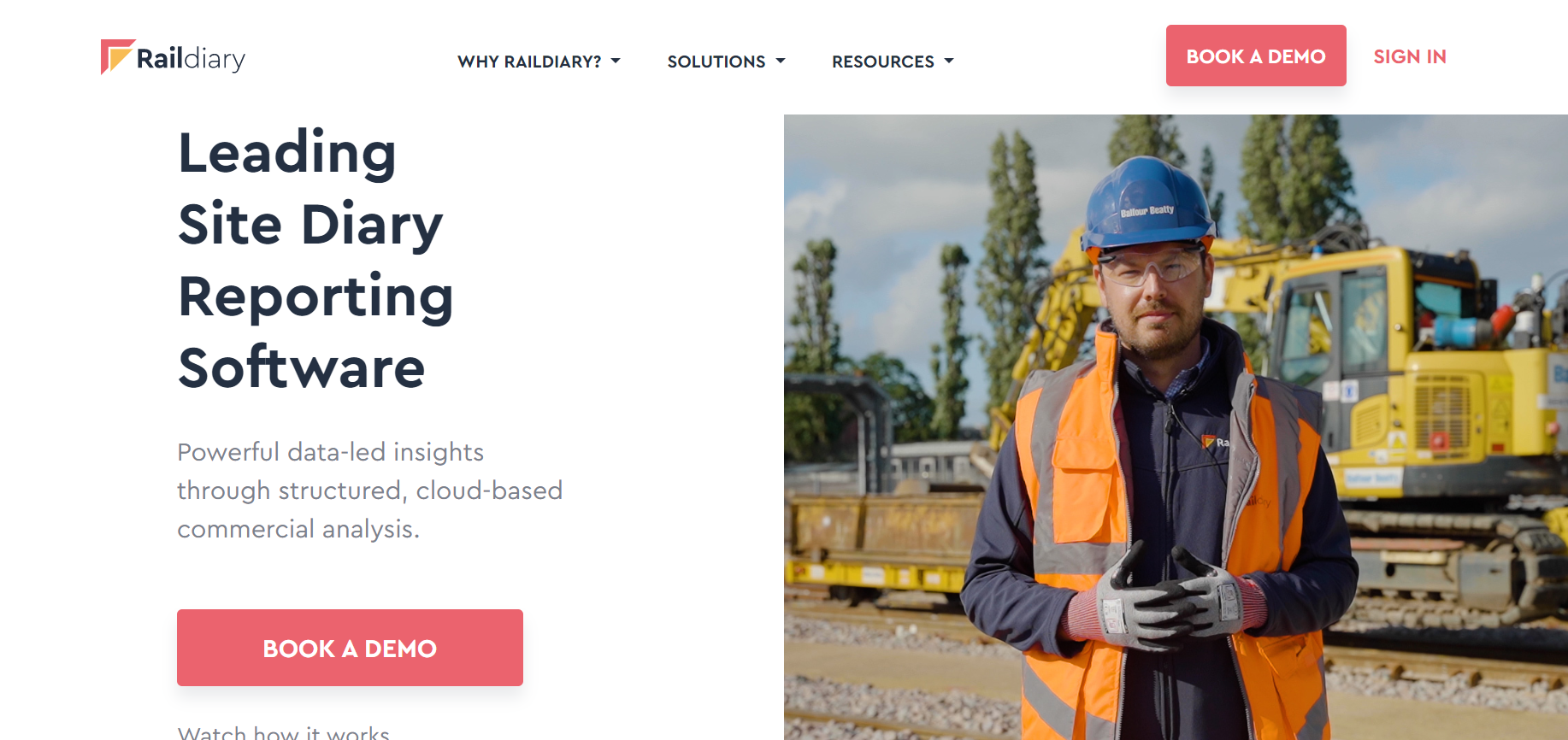 Capterra Rating: 4.9/5
G2 Rating: no information avaiable
Raildiary Pricing: no information avaiable
Raildiary Overview
Raildiary is another construction system that can support your cost value reconciliation process. It's the market-leading solution for the UK rail construction industry.
The system helps in capturing and commercial analysis of site data. It provides different kinds of cost value reconciliation (CVR) reports tailored to the rail industry requirements.
All data are connected in the system, so users have complete visibility over the project's progress.
Also, a project team can see real-time changes, which impacts positively their decision-making process.
The system gives you a better knowledge of labour/material costs and market changes, showing why a specific cost occurred and how it impacts the final profit.
Overall, Raildiary will be a good solution for any rail company that wants to improve its cost management and feel more confident with its cost value reconciliation analysis.
3. CyberQube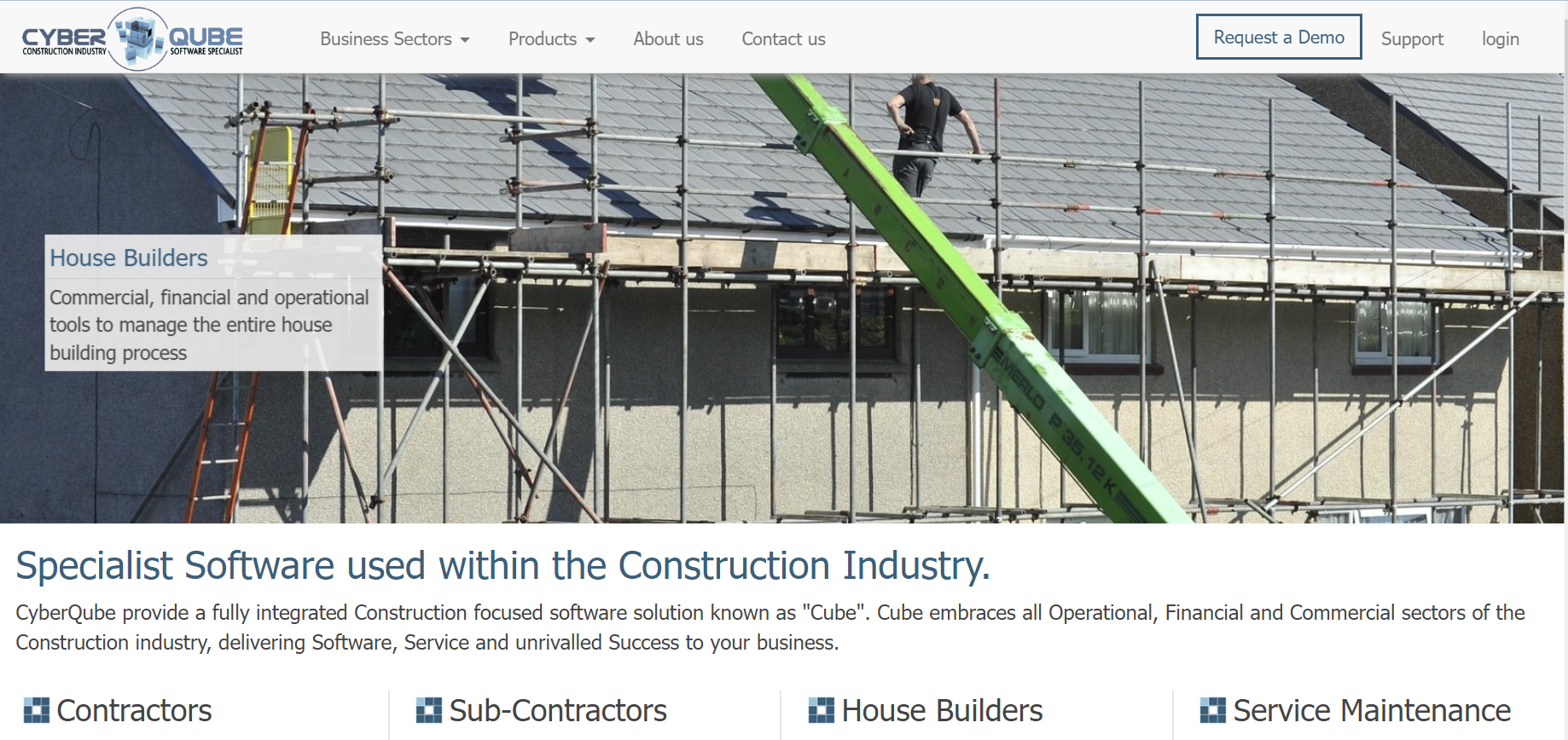 Capterra Rating: no reviews
G2 Rating: no reviews
CyberQube Pricing: no information avaiable
CyberQube Overview
CyberQube is specialist software that embraces operational, financial, and commercial construction processes. They offer a "Cube" solution suitable for contractors, subcontractors, home builders, and maintenance services.
The Cube supports the project at each delivery stage, ensuring that work is completed within the project budget and scope.
Project managers can manage their cost value reconciliation and project budget using a profitability report in a summary or detailed data mode.
Thanks to that, they obtain a real-time view of the cost, profits and bottom line figure.
Overall, the Cube offered by CyberQube offers different financial management solutions for the construction industry.
The tools provide information about the cost-value ratio, budget, and costs to secure future profits.
4. Inoapps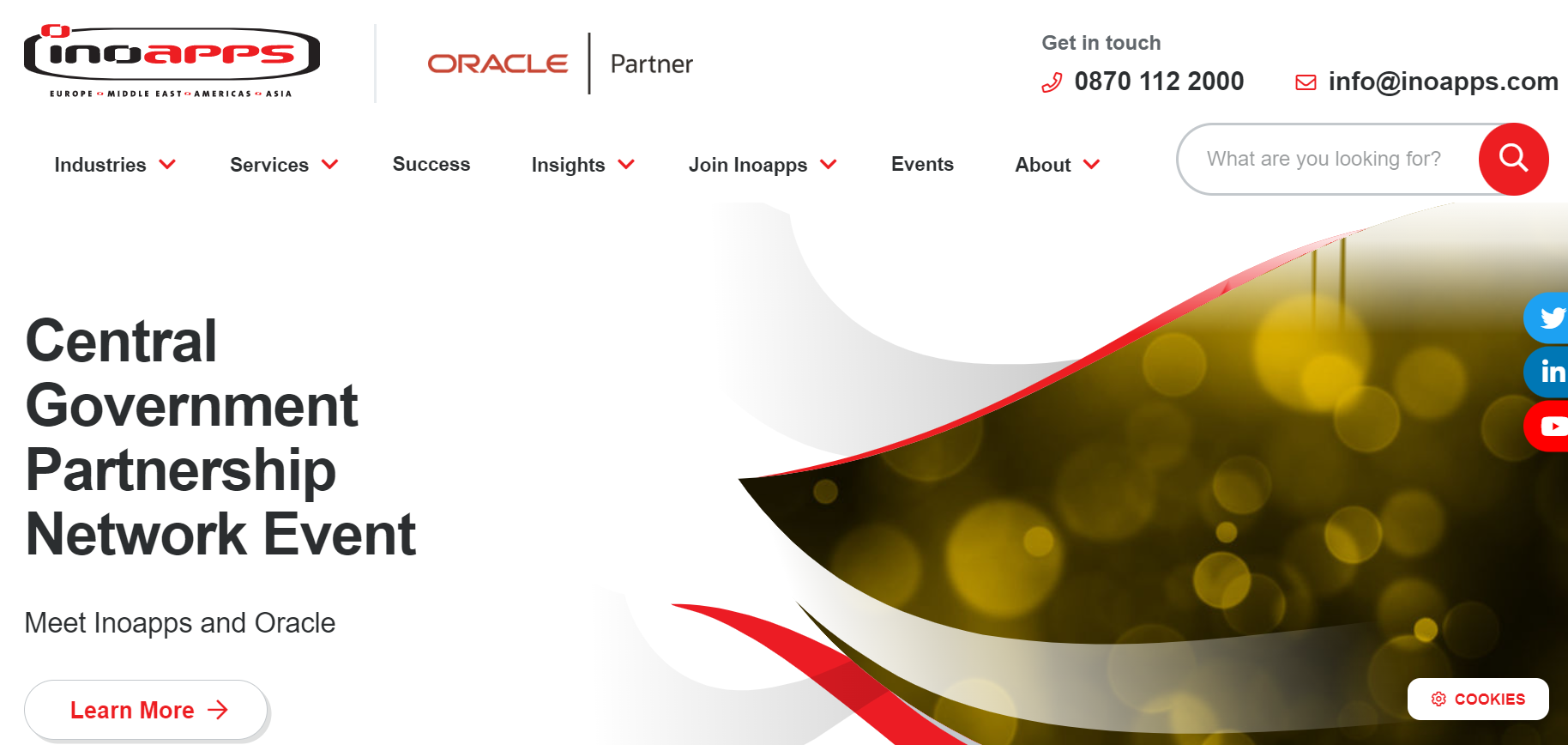 Capterra Rating: no information
G2 Rating: no reviews
Pricing: no information avaiable
Inoapps Overview:
Inoapps helps construction companies in their digital transformation. It provides various tools for better forecasting, cost management, operations, and budget control.
The project team can manage cost value reconciliations using a specific tool from Inoapps called a CVR Accelerator. It speeds up the whole process by automating data collection.
Thanks to that, it eliminates time-consuming actions and the risk of inaccurate data.
Inoapps help optimise CVR reporting by identifying vital process stages, streamlining workflows, and standardising document formats.
Moreover, the Inoapps solution is connected with Oracle Could Service for planning and budgeting.
So, a main contractor that needs full control over a project, should benefit from Inoapps' solutions.
5. Procore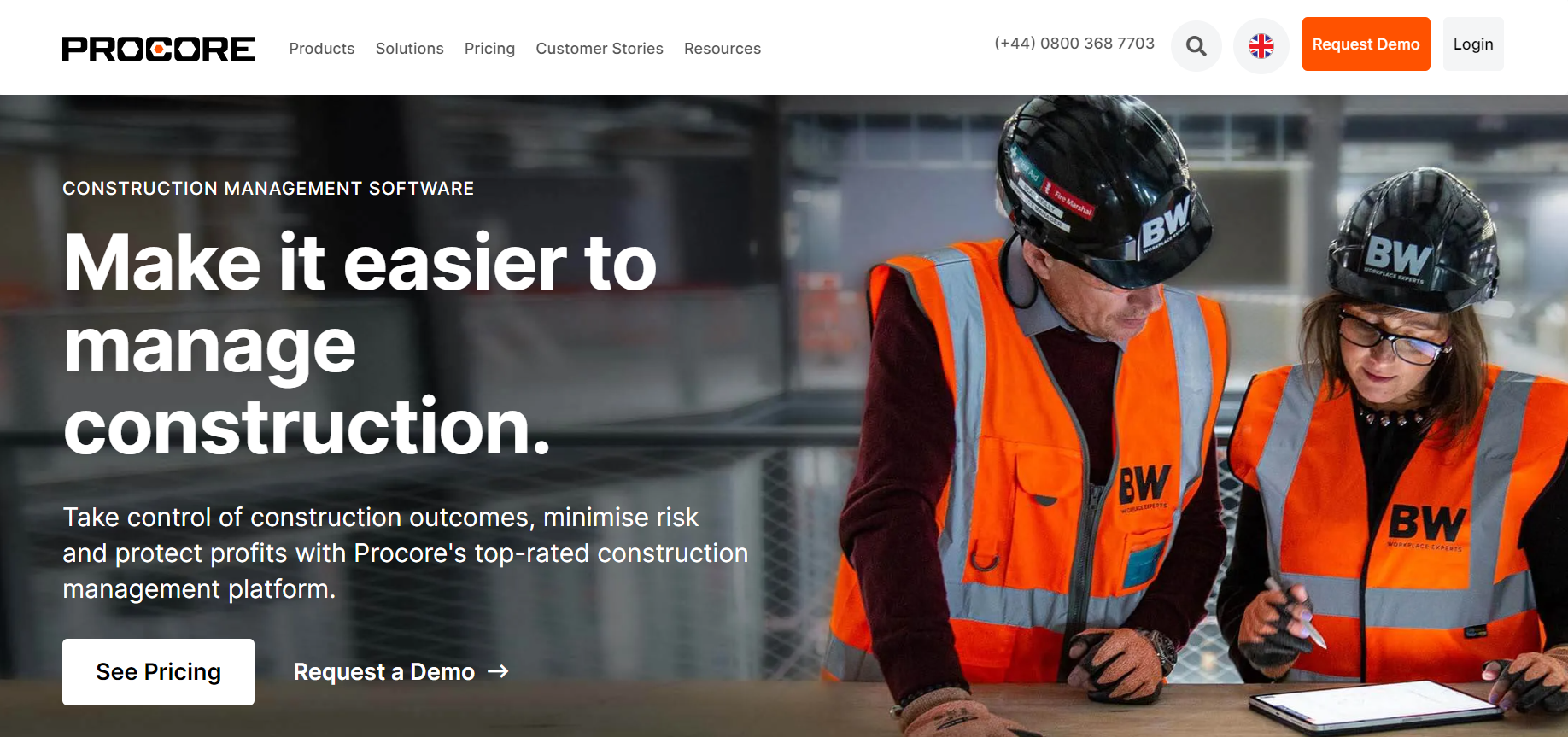 Capterra Rating: 4.5/5
G2 Rating: 4.5/5
Procore Pricing: at demand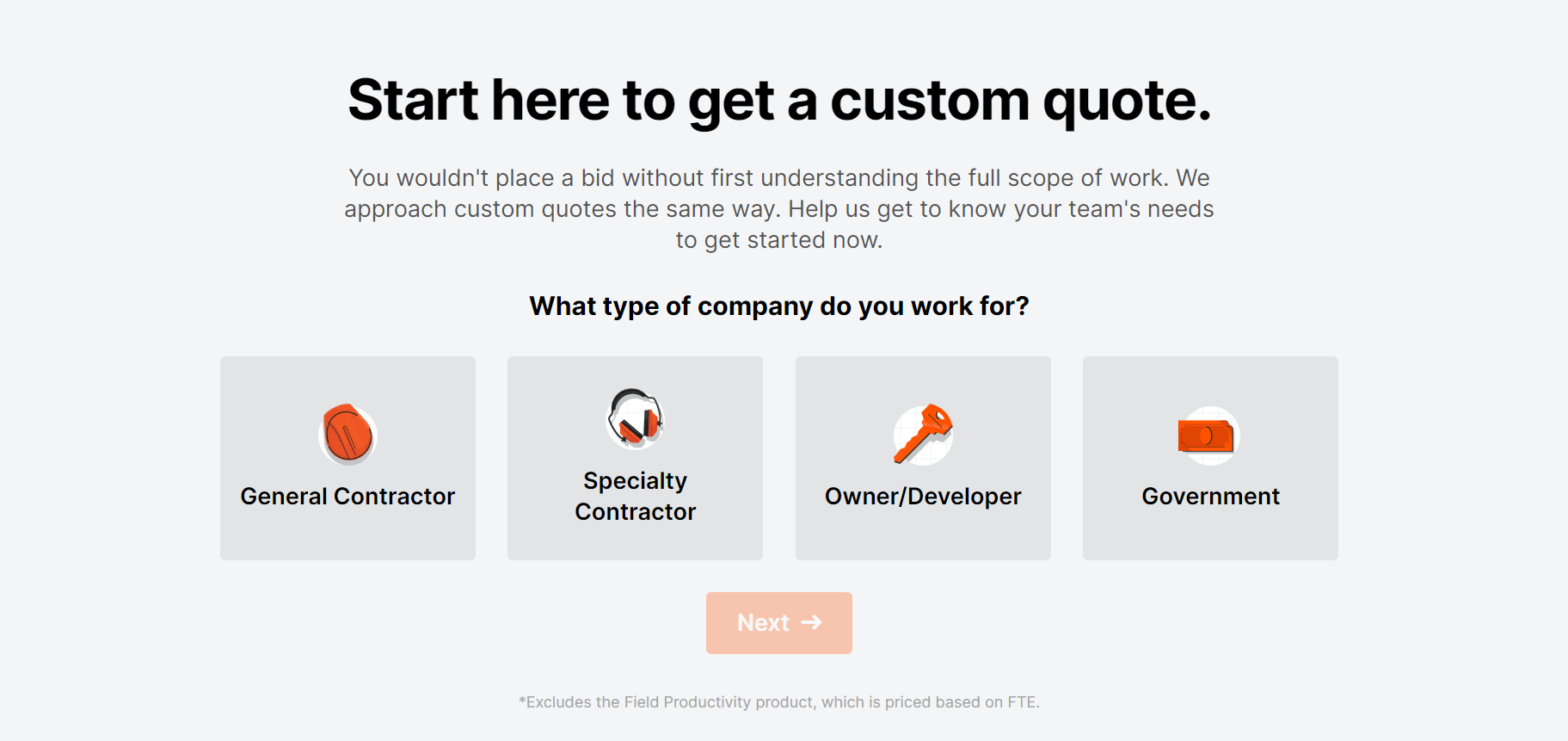 Procore Overview:
Procore is a cloud-based construction management software for construction companies that want to improve their processes.
The software offers different tools for financial management, reporting, cost control, and daily operation.
It can help with a CVR process by tracking project costs in real-time and identifying cost overruns.
Thanks to that, a management team can access up-to-date information and understand what's happening on their project.
Access to detailed Procore CVR reports allows project managers to define the areas of improvement in order to become a much more profitable contractor.
Overall, Procore is well-suited for organizations looking to manage better project budgets, costs, invoices, or change orders.
The system provides a wide range of features to handle financial management properly.
6. Planyard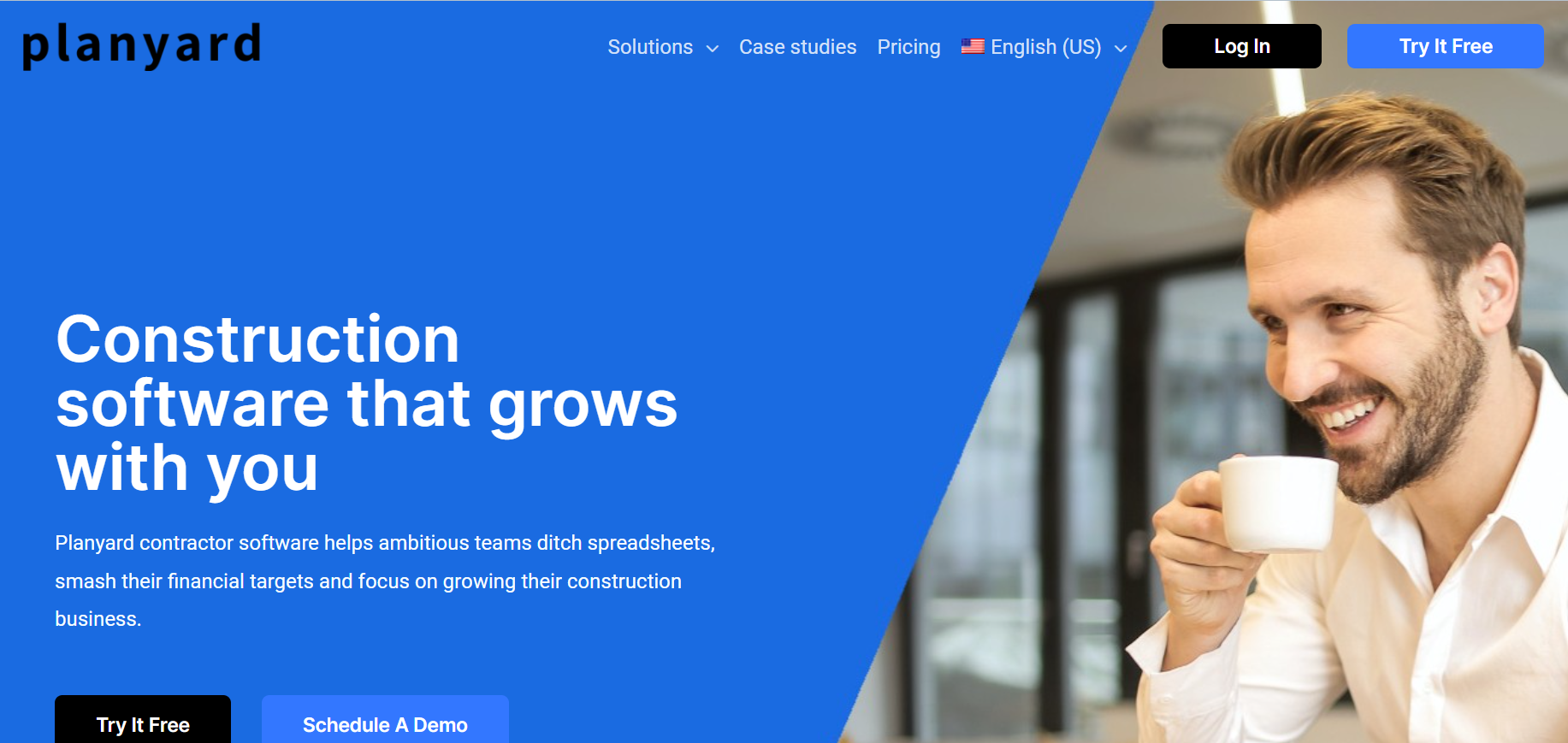 Capterra Rating: 4.6/5
G2 Rating: 4.8/5
Planyard Pricing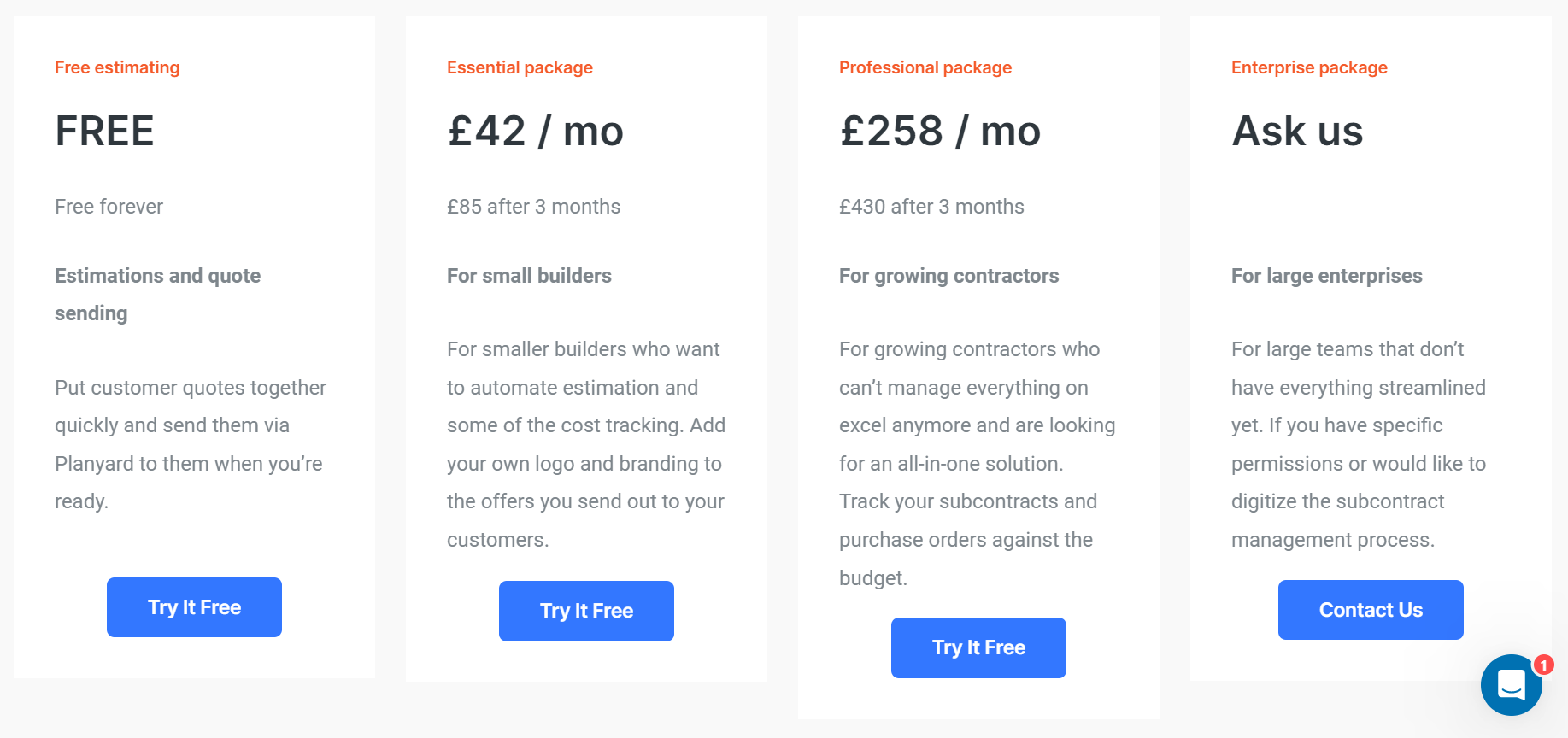 Planyard Overview
Planyard is a cloud-based system designed to help construction companies improve and streamline their CVR process.
It automates data collection, cutting time-consuming data preparation.
Also, in the system, project managers can find all project details regarding labour costs, contract's profitability, invoices, and change orders.
In addition to automating repeatable tasks, Planyard shows the project details in real-time.
A management team can use that to track the project delivery and adjust the budget whenever the situation requires it.
Overall, Planyard is a good tool for companies looking for customised solutions.
The system can be scaled to match the current construction industry's challenges as well as the company's current needs.
Frequently asked questions
What is accrual in CVR?
Accruals are incurred expenses that haven't been added to the accounting system. The expense is recognised but will be paid in the future, in a different accounting period. An example of an accrual cost is when a company has received a supply from a vendor, but the invoice still needs to be prepared.
What is CVR management?
CVR management is creating, managing, and controlling a cost value reconciliation of a construction project in order to keep costs under control and ensure project profitability.
What is meant by cost value?
Cost value means the ratio between the value of a product or service that we believe a product has versus the cost we must pay to get it.
How do I create a CVR file?
A cost value reconciliation CVR file can be created in any spreadsheet program, like Excel. But, it might be good to use systems devoted to CVR to benefit from an automated and simplified calculation process.