Construction drawing management software helps a construction business make sense of endless drawings documents and project data. Construction drawings are frequently referenced across many project teams, and ensuring their accuracy and safety is key to successful project execution.
In this guide, we feature the 8 best construction drawing management software in 2023. Based on their top features, pros, cons, and genuine customer reviews, you can make an informed choice for your construction business.
Best construction bidding software and tools in 2023
What is a construction drawing management?
Construction drawing management is building a system of single sources to organise, manage, and retrieve various drawings and project document versions. Project managers define standard processes across storing the latest drawings, share documents, data, control versions, secure files, etc. Companies also invest in specialised construction drawing management software to automate these processes and get more efficient.
The main aim of implementing a construction document management system is to improve coordination between various construction project stakeholders and ensure everyone is on the same page regarding the project details.
What is a construction drawing management software?
Construction document management software is a tool designed specifically to create, organise, and make project data accessible to the entire project team for the complete project cycle. It effectively digitises project documents, data storage, and drawings and enables collaboration between the entire team and subcontractors.
For example, good construction drawing management software helps your teams access construction drawings on mobile devices in real-time. It acts as a single source for everyone to reference important drawings, data, and documents to quickly access the right information at the right time.
Types of the construction drawing management software tools
There are 3 major types of construction document management software based on their specialisation:
Building Information Modeling (BIM) Software:
BIM software helps render and visualise 3D models of construction drawings and other project data. It allows architects, project managers, subcontractors, etc to create a virtual representation of the structure, including its geometry, spatial relationships, or materials.
Communication and collaboration tools:
Many collaboration tools enable annotation, share documents, and manage access to them in a single platform. These tools help work on construction documents in real-time by providing instant messaging solutions at the same time.
Drawing comparison software:
It is common for a construction document to have multiple versions. To manage them, you can adopt dedicated software for document control, mark ups, and secure project data.
Key features of construction document management systems and tools
When choosing among potential construction document management systems, ensure they consist of below five key features:
Real-time collaboration within documents:
Creating comment threads and logging changes is important to ensure a quick response from concerned teams and track work. It helps in audit trails to track the origin of any issues or help avoid conflicts.
Version control:
A drawing and document management software helps you with a central repository to save various versions of the files. You can ensure the latest version is quickly accessible to your teams, while also referencing older versions for easy search.
Secure access to data and sharing:
Construction bidding and project management involve sensitive workflows and data which require adequate data security measures in place. The software provides a secure system to manage access, and document control, while also reducing any risk of strategy leaks.
Compare drawing documents:
With many versions of the same document saved, a good document management system will include features to compare them. It helps identify any data conflicts, collaborate via mark ups, and also ensure consistent document management.
Data analytics and report creation:
Project managers can analyse project data and generate reports of job site execution versus instructions on the drawings documents. They can also save images to find errors, showcase proofs and share relevant data insights in project management meetings.
Why use document management software for managing construction drawings?
Here are five key reasons to adopt a document management system for managing every construction document:
Quick search: find the right information from drawings and project data when you need it.

Audit trail with version control: implement best document control practices for smooth compliance.

Manage workflows efficiently: design automation to digitise manual tasks. For example, you can automate sending notifications to the entire team when you upload certain files or make changes.

Document backups: no more lost paperwork as you can save documents and data on the cloud and retrieve them as required.

Manage users: enable document permissions for users, encryption for communication, or authorised access control of data for relevant stakeholders.
8 best Construction drawing management software for project management
Here are the top eight construction document management systems for 2023:
Archdesk is a top construction document management platform that makes your processes simpler and more effective.
You can use it to manage documents, projects, budgets, costs, customers, resources, and much more.
The platform makes document management much easier as you can store, manage and send drawings for approval- all using Archdesk.
Data is gathered and updated in real-time, so you always know what's happening on your projects.
Also, you can access the system from any device, which makes the communication faster and more efficient.
With the proper system like Archdesk, you can make data-driven decisions that will make your business flourish.
Archdesk features
Cloud-based- you can use it on any device from anywhere
Real-time collaboration- you can work on the same project with your team without fear of mistakes
Document storage- you can upload, edit, compare, and send documents from one platform
Data protection- you can manage document visibility and customise access control
Archdesk Pros
Automation of time-consuming and repetitive tasks 

Documents and drawings organised and easy to find whenever you need them

Internal and external communication accelerated thanks to the constant data flow

Full control over documents thanks to customisation 
Archdesk Pricing
Archdesk Reviews
Capterra Rating: 4.6/5
G2 Rating: 4.3/5
There is no doubt in my mind that we wouldn't have grown as far as we have without Archdesk. Knowing my company has a solid structure and system in place, I have every confidence that our growth will continue and will be manageable.

Software like Archdesk is the lifeblood of most organizations. It is the system of record for everything. I've worked at an organization before that didn't use it and life was miserable. It just keeps everything so organised, helps us to track almost everything within the company. Sing in and out feature saved us lot of time and money tracking our employees. Like I mentioned before, everything is run out of Archdesk. 
2. ProjectSight
ProjectSight is a dedicated construction document management software for real-time BIM and construction drawing sharing. Its drawing module helps organise construction projects and 3D BIM files without an additional license.
ProjectSight's main features:
Automatic control for document versions and data

OCR and auto-detection of texts from images

Mark ups and create annotations on PDF files
ProjectSight Pros:
The custom organisation of files with links to model views, images, or records

Optimised for desktop, web, mobile devices, and tablets

Frequent updates and good support
ProjectSight Cons:
Lacks scheduling integrations

Inadequate PDF reader

Inadequate search features
ProjectSight Pricing:
For exact pricing, you need to fill out the contact form to schedule a personalised consultation.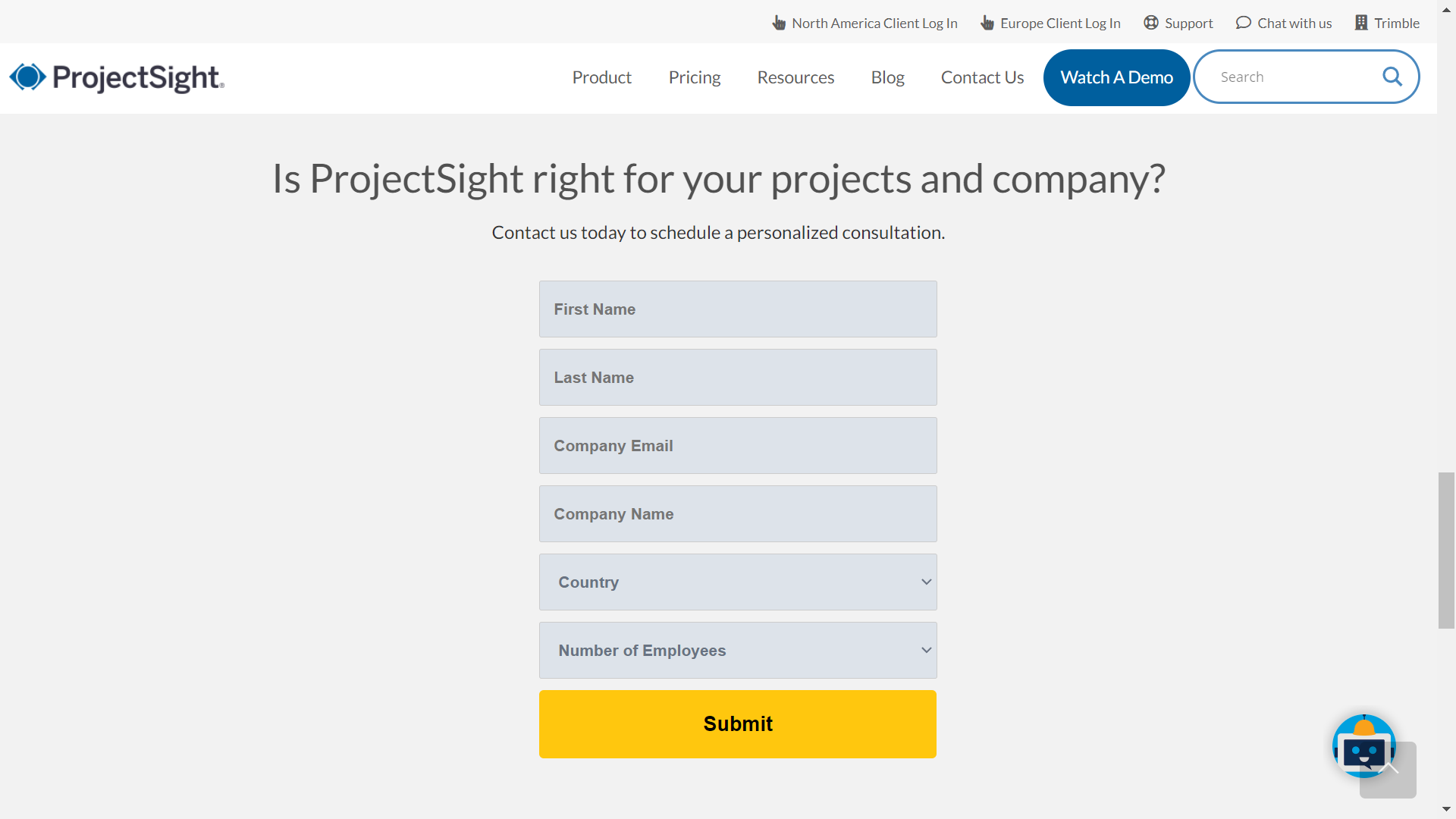 ProjectSight Reviews:
Capterra Rating: 4.4/5
G2 Rating: NA
"It has many advanced surveying tools with adequate mathematical algorithms. But, it some time bugs during the survey and some time rare receiving signal issues on collecting of x and y coordinates. Some technical issues related to lack of required software knowledge."
The links didn't work well if you were not on a computer. The app only allowed you to see RFIs and Submittals up to a certain number - if there more in the system than approx 300 then you couldn't find everything. The subcontractors virtually couldn't use the system as it is not field friendly.
3. Viewpoint
Viewpoint offers document management software as a part of its product suite for managing files, users, and data. It aims to provide complete visibility for construction projects and their workflows by effectively managing project documents and data.
Viewpoint's main features:
Allows tracking of project progress via reporting and data analysis

Manage document visibility and access control

Comment, compare, view documents, and ensure teams stay up-to-date with changes
Viewpoint Pros:
Multi-level security access for multiple users

Good collaboration and document distribution features

Intuitive user interface
Viewpoint Cons:
Inadequate integration features as it requires purchasing licenses

Inadequate PDF reader - for example, cannot sign documents

Difficult to customise workflows
Viewpoint Pricing:
To know more about Viewpoint's pricing packages, you need to contact them for a demo by filling up a short form.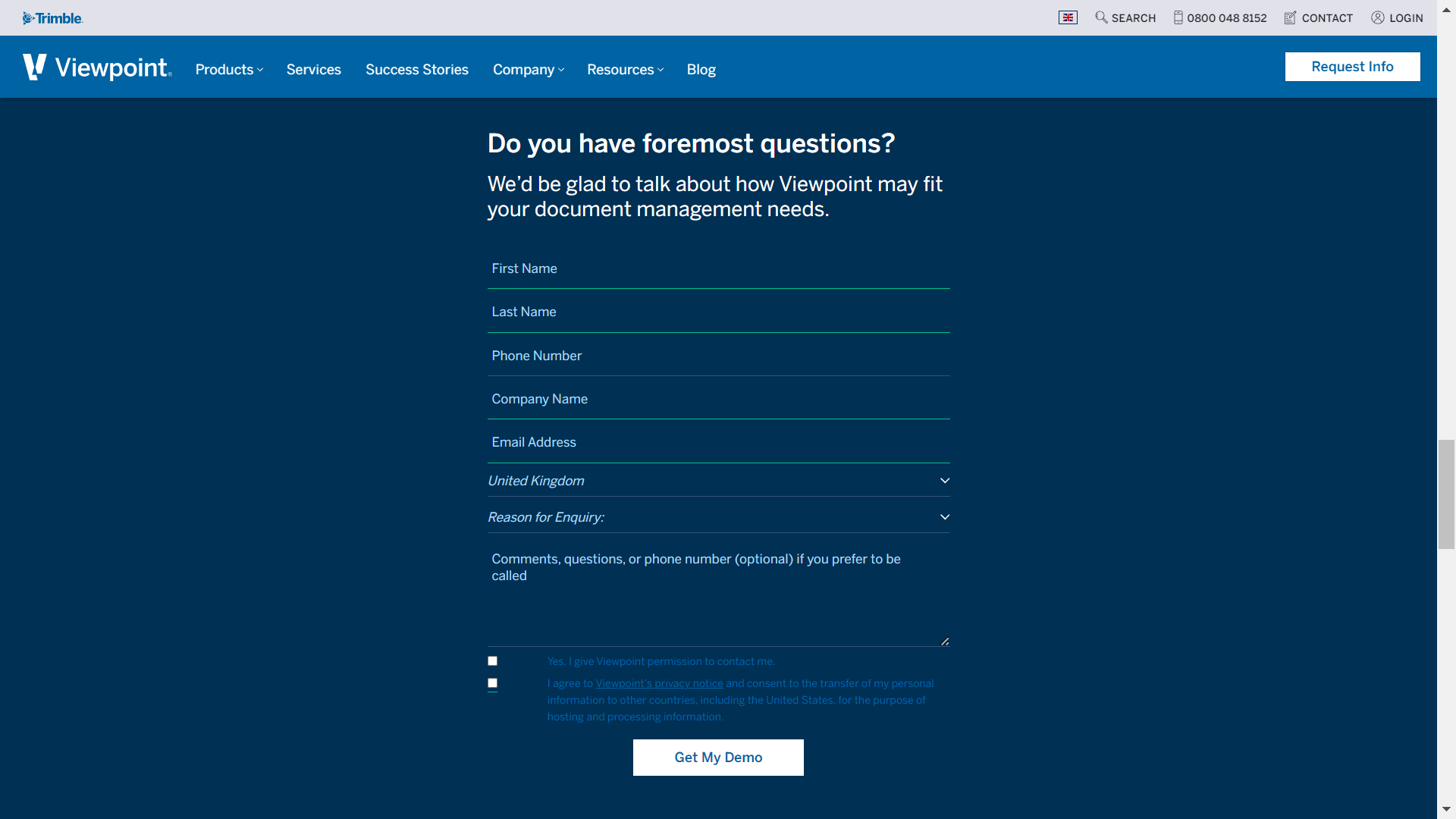 Viewpoint Reviews:
Capterra Rating: 4.3/5
G2 Rating: 4.4/5
Team can be used to bring numerous workflows into one platform instead of using multiple software packages. (But it) requires each user to have their own license so it is much harder to use it for collaboration as some other software packages.
Despite being quick and easy to run reports, sometimes all the fields aren't available to be shown in the report e.g. the "Short Code (Revision):" field can not be added to reports despite requesting this through V4P Support.
4. Bluebeam
Bluebeam is a construction document management software to help the entire team be in sync with project information shared. It's a cloud-based project management software designed for real-time collaboration between subcontractors, architects, project managers, and other relevant stakeholders.
Bluebeam's main features:
Multi-format document upload

Bluebeam Cloud for quick web or mobile device access on job site

Upload, review, edit, organise date-wise, and compare documents instantly
Bluebeam Pros:
Adequate PDF reader

Real-time communication for teams

Advanced measurement tools
Bluebeam Cons:
The software has a steep learning curve

Difficulty in handling large or complex documents

Limited functionality to export files.
Bluebeam Pricing:
Bluebeam has 3 pricing tiers that include feature packages as per usage - basic, core, and complete. All packages have web and mobile device access. Starting from £200, you can connect with their sales team for a free demo.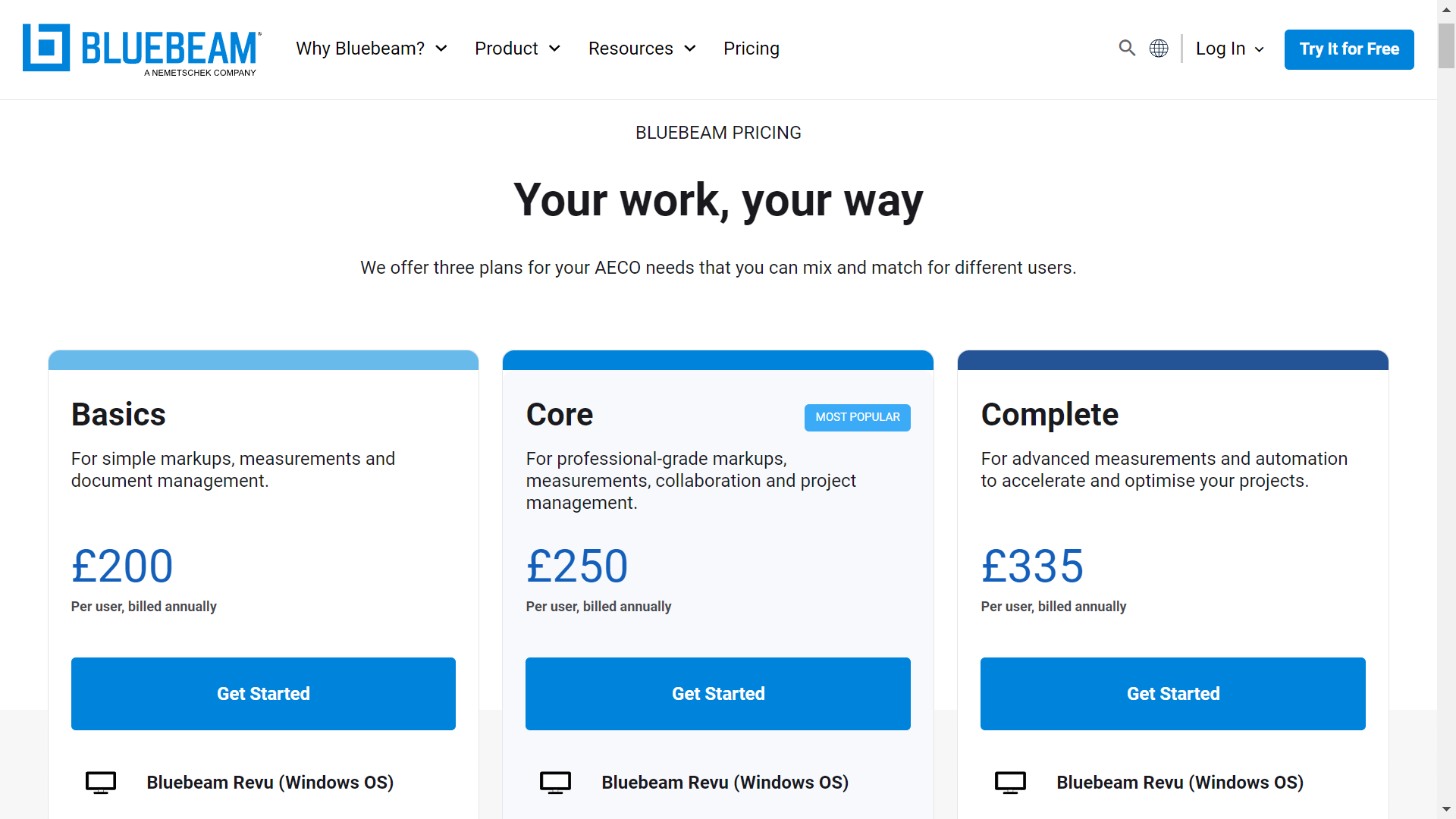 Bluebeam Reviews:
Capterra Rating: 4.7/5
G2 Rating: 4.6/5
While Bluebeam Revu offers numerous benefits, there are a few limitations to consider. The software can have a steep learning curve, especially for users unfamiliar with PDF markup tools or construction-specific functionalities. Some users have reported occasional performance issues when working with large or complex documents.
When using Bluebeam to view and mark-up CAD files I have the ability to work with individual layers and turn them on or off and edit viewing properties. Due to its attention to detail it can create rather large file sizes and we've yet to identify a great solution to downsize the file size to make it easier to store and share.
5. PlanRadar
PlanRadar is a document management software designed to help a real estate or construction business reduce rework, risks, and errors in managing document versions. It also helps in tracking approvals, submittals, or transfer of document ownership as required by the project.
PlanRadar's main features:
Manage feedback and comments to develop an audit trail

No-code integrations to automate using other software

Single source for document approvals with date, timestamps, and signatures across any device
PlanRadar Pros:
Cloud-based software helps store data effectively

Easy-to-use interface

Templates and customisation for reporting
PlanRadar Cons:
Inadequate synchronisation features

Inadequate support for complex file types

Lacks support to streamline project information and archives
PlanRadar Pricing:
PlanRadar offers a 7-day free trial to experience the document management system. It offers both monthly and annual packages based on varied feature sets and the number of users.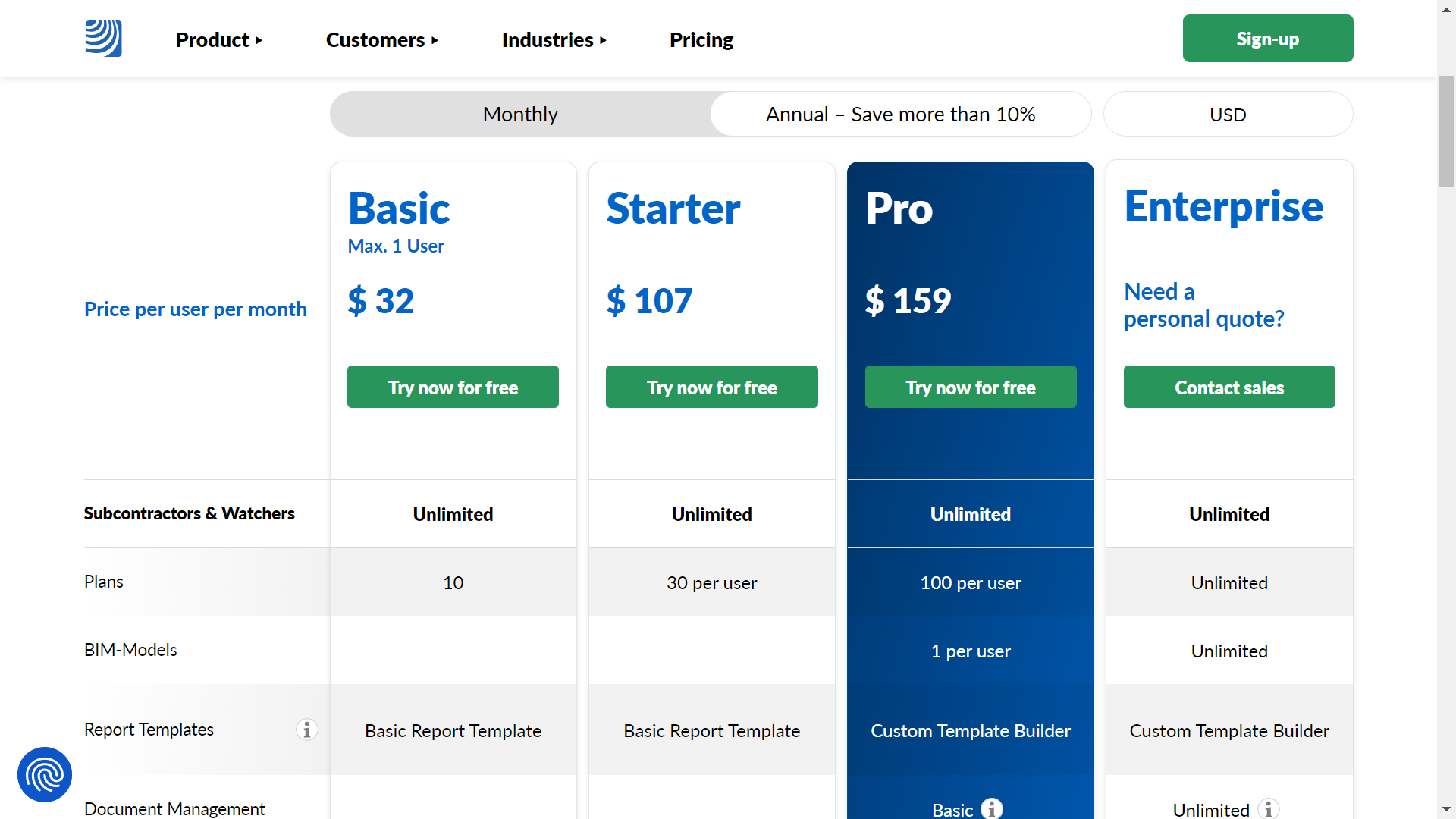 PlanRadar Reviews:
Capterra Rating: 4.3/5
G2 Rating: 3.8/5
"It works well with or without apps installed on devices. Project archiving could be better, more streamlined. There is an "Archive project" feature, but so some manual work must be done to be sure to archive everything. Some annotation features could be better."
6. Autodesk BIM 360 docs
Autodesk includes a document management system as a part of its complete construction project management tools. It enables anytime, anywhere access to important project information to help teams align, reduce risk and potential errors in execution.
Autodesk's main features:
Cloud-based document management system to organise the latest drawings of the site

Mobile device access to 2D and 3D project documents

Compare drawings documents and review with relevant team members
Autodesk Pros:
Good options to integrate with other document management systems and software

Document traceability and approvals for different projects

Easy to share site documents across any device
Autodesk Cons:
A steep learning curve makes it difficult for new construction professionals

Difficult to automate and requires manual intervention

Inadequate synchronisation features that can delay work
Autodesk Pricing:
Autodesk offers a free trial for its construction cloud package. You need to contact their sales team by completing a form or calling on the given number for a free consultation.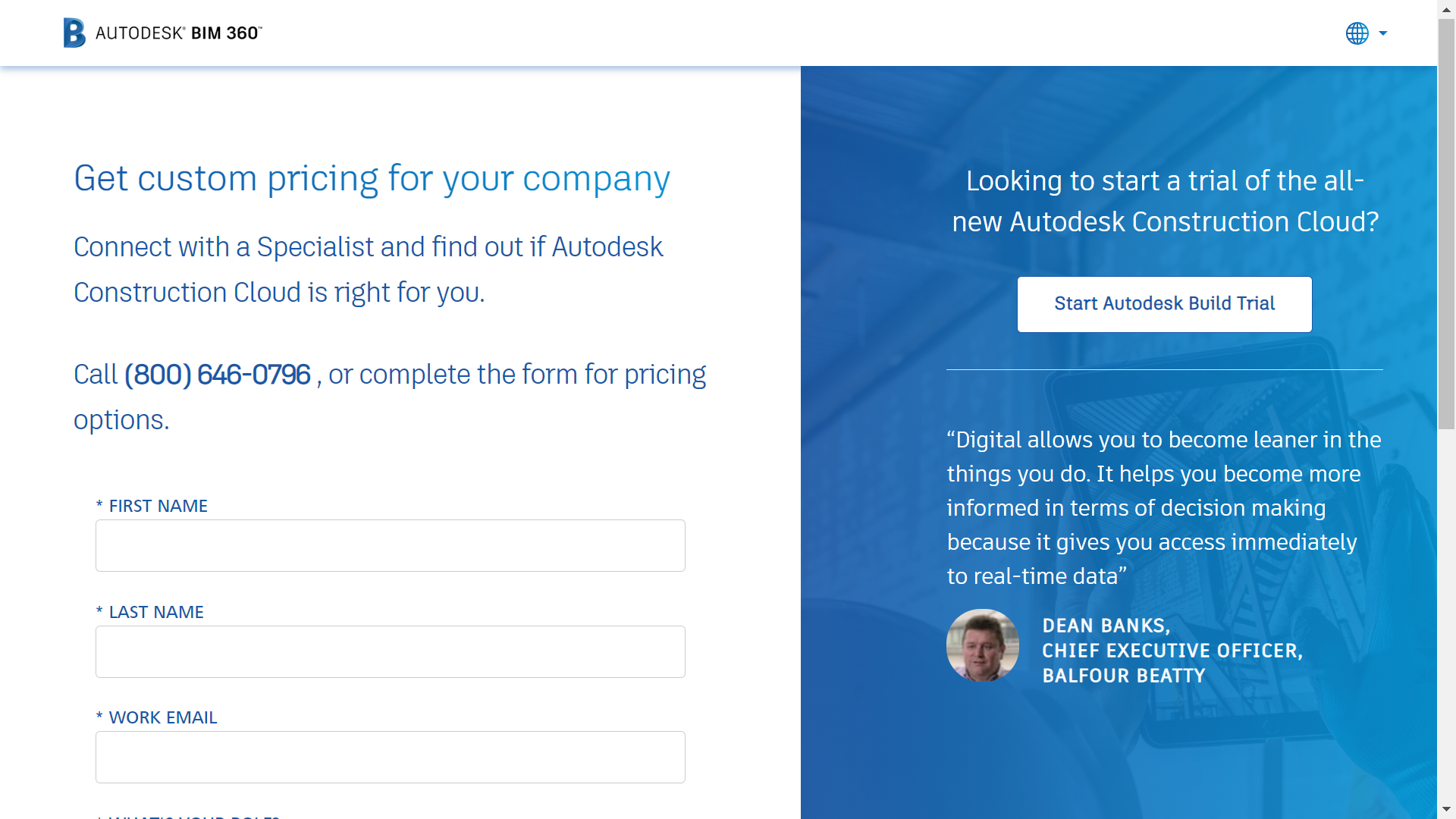 Autodesk Reviews:
Capterra Rating: 4.3/5
G2 Rating: 4.2/5
"Establishing and managing drawing links in Autodesk BIM 360 can be time-consuming and complex. Navigating through menus and settings may pose challenges, resulting in a steep learning curve. Updating linked drawings requires careful manual intervention to avoid inconsistencies."
"While I appreciate the features that Autodesk Construction Cloud provides, I have encountered some issues with the platform's learning curve. I found the software difficult to navigate at first and I think more tutorials and resources for new users would be beneficial."
7. Fieldwire
Fieldwire is a construction project management software designed for secure file storage for construction projects. Its document management solutions are SOC-2 certified. It ensures relevant team members can easily access drawings and important project documents as required.
Fieldwire's main features:
Organise the latest drawings and other documents in a central space

2-way sync to cloud platforms like Dropbox, OneDrive, etc,

Access documents on any device

Secure information storage for all projects
Fieldwire Pros:
Easy to search for information for any projects stored

Access across mobile devices, desktops, web, and tablets

Good provisions to create workflows and tasks
Fieldwire Cons:
Inadequate features for reporting and analysis of projects

Inadequate features for exporting drawings and other documents

Reviews suggest freezing software on the web
Fieldwire Pricing:
Fieldwire offers both monthly and annual plans with a no-commitment free trial. The paid packages are based on the number of users and features required by your construction business.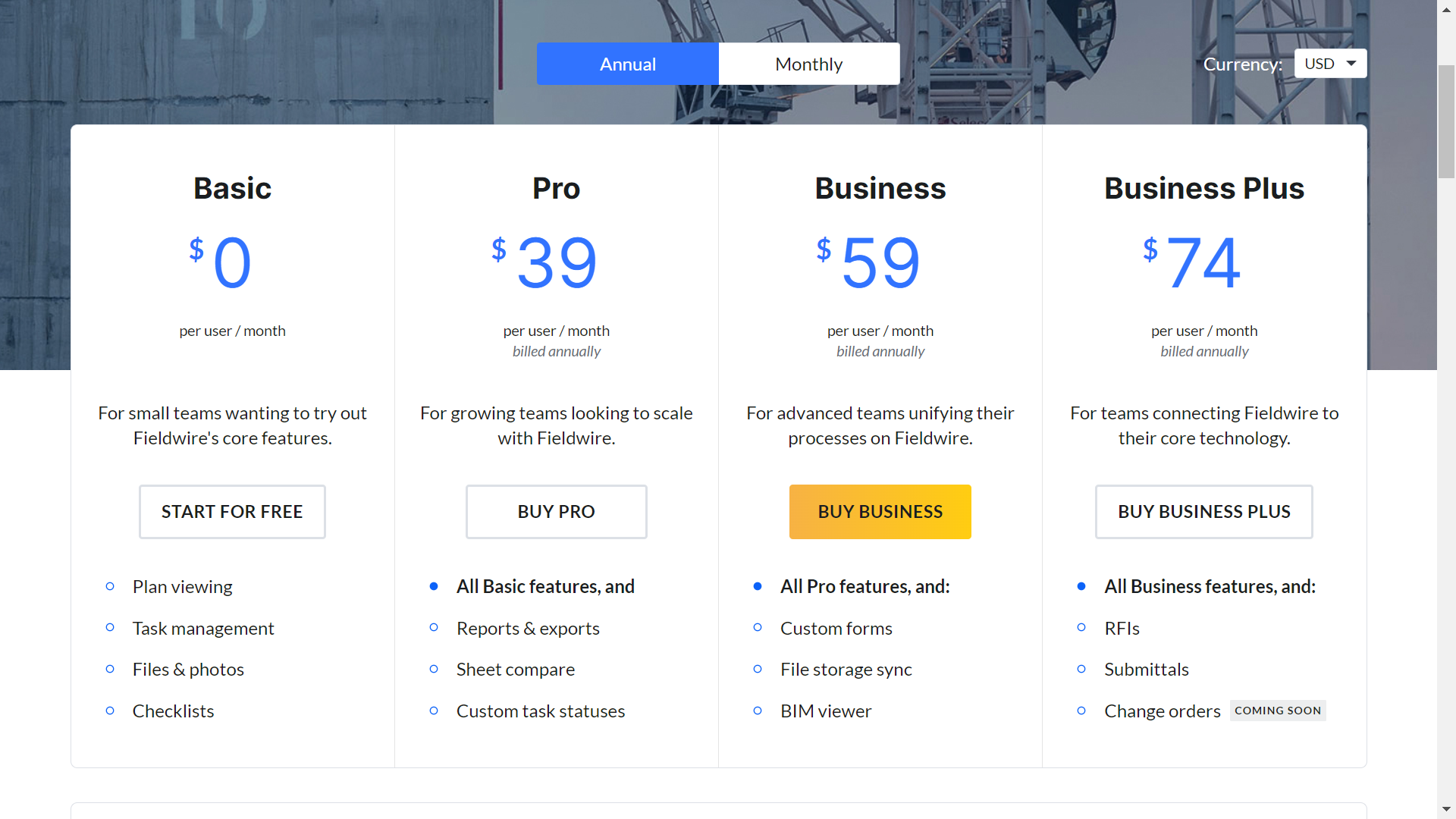 Fieldwire Reviews:
Capterra Rating: 4.6/5
G2 Rating: 4.5/5
"Searching/filtering through images is limited. Should be able to search by date range of when image taken or file uploaded as well. Their needs to be a better organisational structure for uploading images to fieldwire via app. Users should be able to search through images to attach them to pertinent documentation without creating duplicates or recreating in another format."
"The sandbox effect of being able to create forms, tasks, and workflows makes Fieldwire a helpful tool. The app can only be as useful as you are creative. Fixed forms, tasks, and other preloaded items would be helpful."
8. Procore
Procore is a complete construction project management software that includes construction document management solutions as a part of its core offering. It focuses on real-time and secure collaboration for your construction projects and drawings.
Procore's main features:
View documents across any mobile device and web with offline access

OCR for extracting texts from documents

Overlay and compare various versions of drawings
Procore Pros:
Software is able to provide the necessary visibility for projects

Adequate features to track document changes and data

Manage drawings by area, date, and other custom filters
Procore Cons:
Expensive for smaller construction companies and projects

Reviews suggest software being 'slow' and 'buggy'

Inadequate integrations with other document management systems and software
Procore Pricing:
For pricing estimates, you need to fill up their inquiry form and connect with their sales representative for a consultation.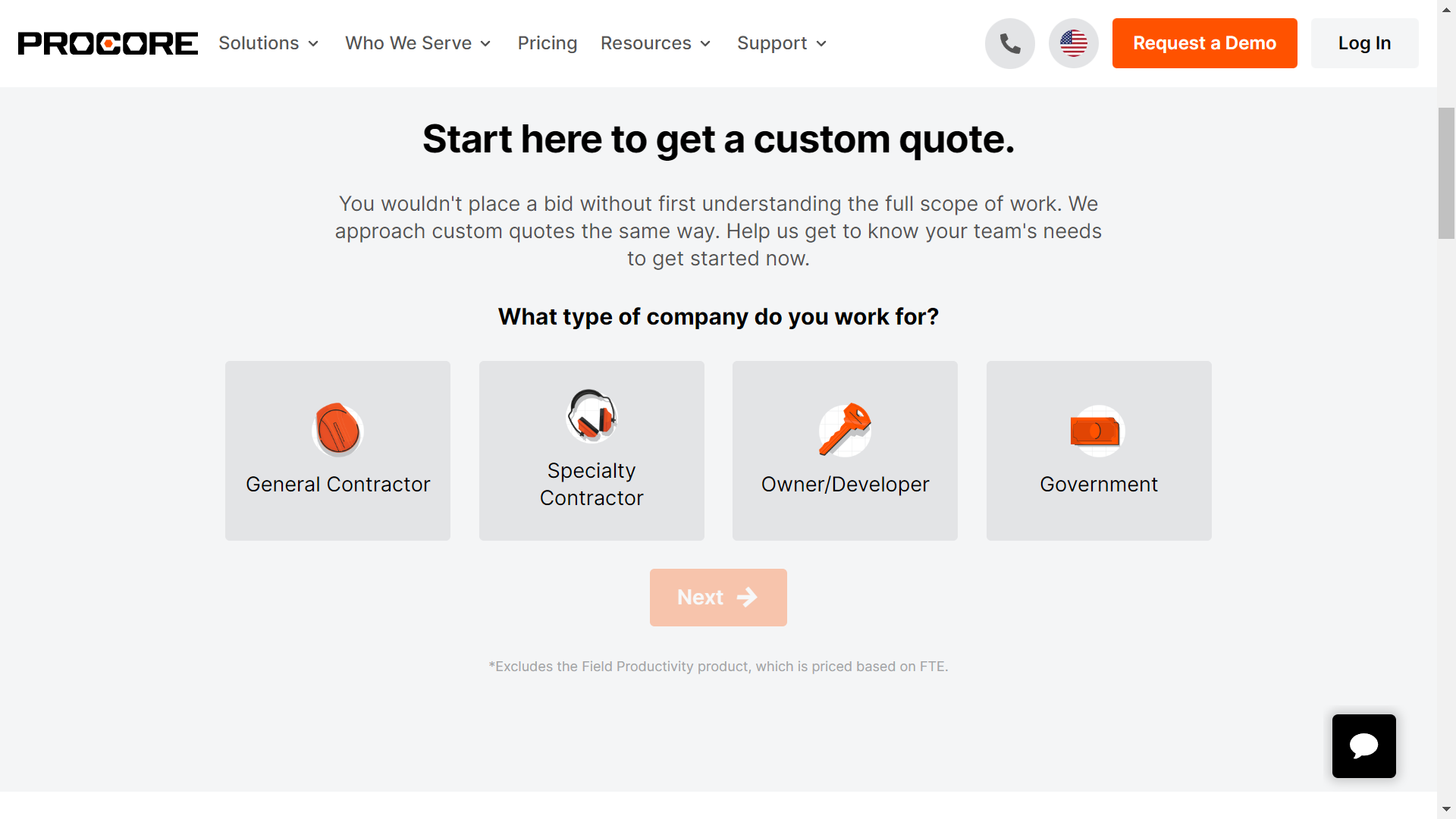 Procore Reviews:
Capterra Rating: 4.5/5
G2 Rating: 4.6/5
"I would love to be able to customise some of the standard PDF outputs Drawings handling a bit clunky, particularly markups- brilliant idea and conception but difficult to use as you can't undo markups once you have done them which makes people risk averse in case they cock it up."
"Procore documents is a newer tool that has the right intentions, bringing saved documents where ever you may be. However, no software has come close to the ease of Microsoft's file explorer found on any PC. It is frustrating using Procore's documents tool due to how slow it forces a user to maneuver around since it lacks a search bar and entirely relies on going back to the start of a folder or using the "back" button many times."
Experience robust construction data and drawing management software with Archdesk
One of the key benefits of a construction document management system is to bridge the gap between the office and the execution done on the job site. To achieve this seamlessly, it is advised to opt for a full-scale construction project management solution that includes a powerful drawings management solution.
Archdesk provides a secure data and document management system that is designed to foster collaboration between the office and the site teams. You can upload multiple documents, manage data, and sync across organisation for successful project execution.
Book a demo today to understand how Archdesk can integrate with your existing construction drawings management efforts and streamline them.