Construction pros have come to rely on Fieldwire software for its ability to streamline project communication, document management, and task tracking. Its superpower is centralising project data, boosting collaboration and ensuring that on-site and off-site teams have real-time access to crucial information. But Fieldwire isn't without its flaws: 
Customisation options? Somewhat limited.

Integration and compatibility? Sometimes tricky.

Learning curve for newbies? Pretty steep.

Internet dependency? Absolutely.

Customer support? Could be speedier.
So, let's look at the 11 best Fieldwire alternatives that might better fit your needs. 
Best Fieldwire Alternatives (2023)
Scroll down halfway for a deep dive into each software with Capterra and G2 ratings and pricing information.
Archdesk, a cloud-based construction management platform, is a top alternative to Fieldwire Software.
The system offers tools to manage projects, finances, analytics, and assets- by storing all construction data in one place.
Moreover, you can access the software anytime and anywhere to check the current status of your projects.
Data is gathered and updated in real-time, which helps keep the team updated and obtain maximum productivity.
Use Archdesk to make smart, data-driven decisions that will flourish your business.
Archdesk features
One platform that gathers all data and connects the whole company with a streamlined information flow.

Data available at your fingertips to speed up external and internal communication.

Various tools for project and financial management to ensure projects are delivered on schedule and within budget.

Automation of manual and repetitive tasks to save your time and energy for more important processes.
Archdesk Pros
Real-time collaboration between team members and improved external communication.

Organised data without fear of mistakes or risk of working on outdated information.

Possibility to build any construction workflows that fit your company's unique needs and structure.

Safe financial situation with advanced reporting and cost control features. 
Archdesk Pricing
Archdesk Reviews
Capterra Rating: 4.6/5
G2 Rating: 4.3/5
"There is no doubt in my mind that we wouldn't have grown as far as we have without Archdesk. Knowing my company has a solid structure and system in place, I have every confidence that our growth will continue and will be manageable." Gary B. Capterra
2. CoConstruct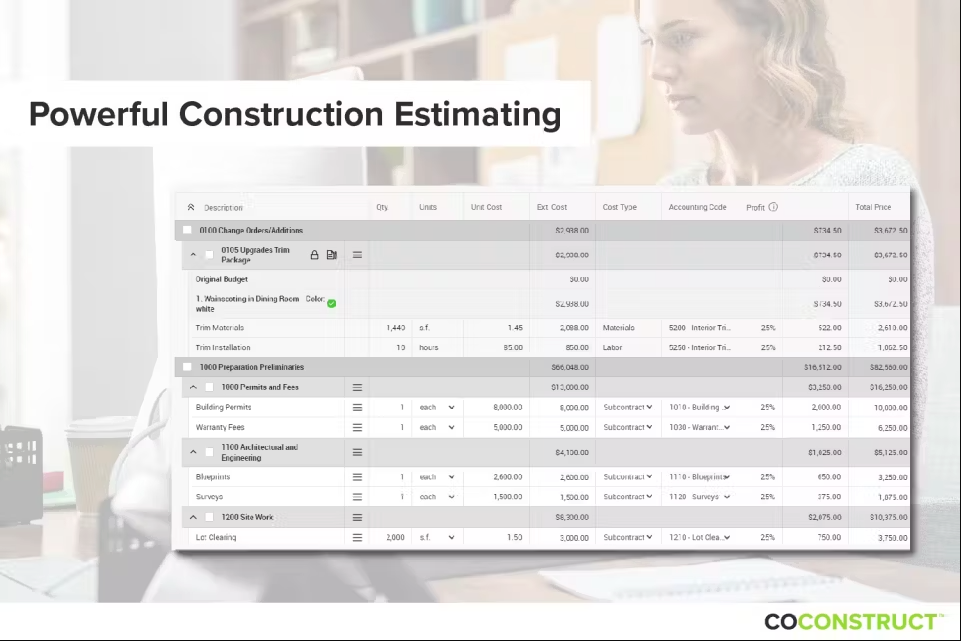 CoConstruct is a versatile construction accounting and project management software that offers comprehensive features, including task organisation, project scheduling, time tracking, budgeting, and collaboration, making it a solid alternative to Fieldwire for construction professionals.
CoConstruct main features
The software provides collaboration and communication tools that ensure all project participants stay well-informed and engaged.

The software enables teams to efficiently manage project aspects such as task organisation, project scheduling, and time tracking, all from one unified platform.

It offers budgeting, cost calculation, and expense monitoring resources, aiding in effective financial management.
CoConstruct Pros
It enhances both internal and external communication.

The software is highly adaptable, enabling users to customise it to their needs.

It breaks down jobs into manageable tasks.
CoConstruct Cons
The software has a steep learning curve.

It has limitations in terms of integrating with other software.

The customisation options are limited.
CoConstruct Pricing
Standard – $99/mo

Plus – Starting $399/mo
CoConstruct Reviews
Capterra Rating: 4.7/5
G2 Rating: 4/5
"Easy way to keep track of schedules, change orders, photos from site etc. All of the trades and team members have access and can update any information if required." – Capterra 
3. Procore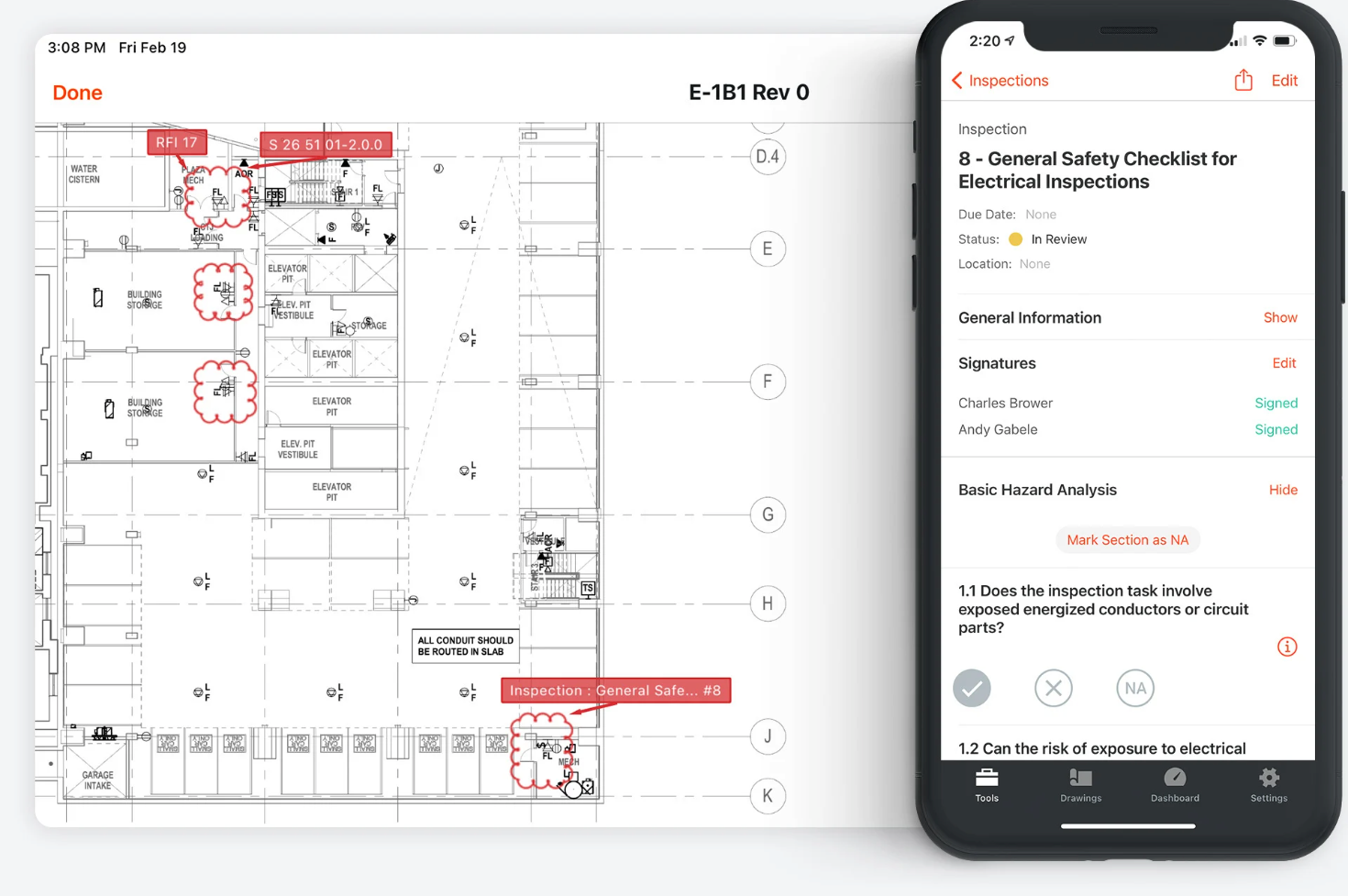 Procore is a versatile construction project management software that offers comprehensive tools for collaboration, including centralised tracking of RFIs, change orders, tasks, and punch list items, along with a detailed change order history and Project Images feature for streamlined documentation and visual communication. It is a robust alternative to Fieldwire, providing scalable solutions for construction projects.
Procore main features
Gives a comprehensive overview of RFIs, change orders, ongoing tasks, and punch list items.

The Change Order screen provides access to a detailed record of all modifications and their respective contributors.

The Project Images feature stores all project-related photographs in one place.
Procore Pros
Allows you to access the latest drawings anywhere.

Integrates easily with third-party tools.

Maintains transparency and accountability across the board.
Procore Cons
Primarily contractor-driven platform.

Project managers may need to customise it heavily to use it.

A rather expensive Fieldwire alternative for small and mid-sized companies.
Procore Pricing
Procore Reviews
Capterra Rating: 4.5/5
G2 Rating: 4.6/5
"It's hard to say what we like best about Procore, but it could be the amazing cloud option and the ability to download and upload large files. Also being able to communicate with other clients is a plus." – G2
4. Smartsheet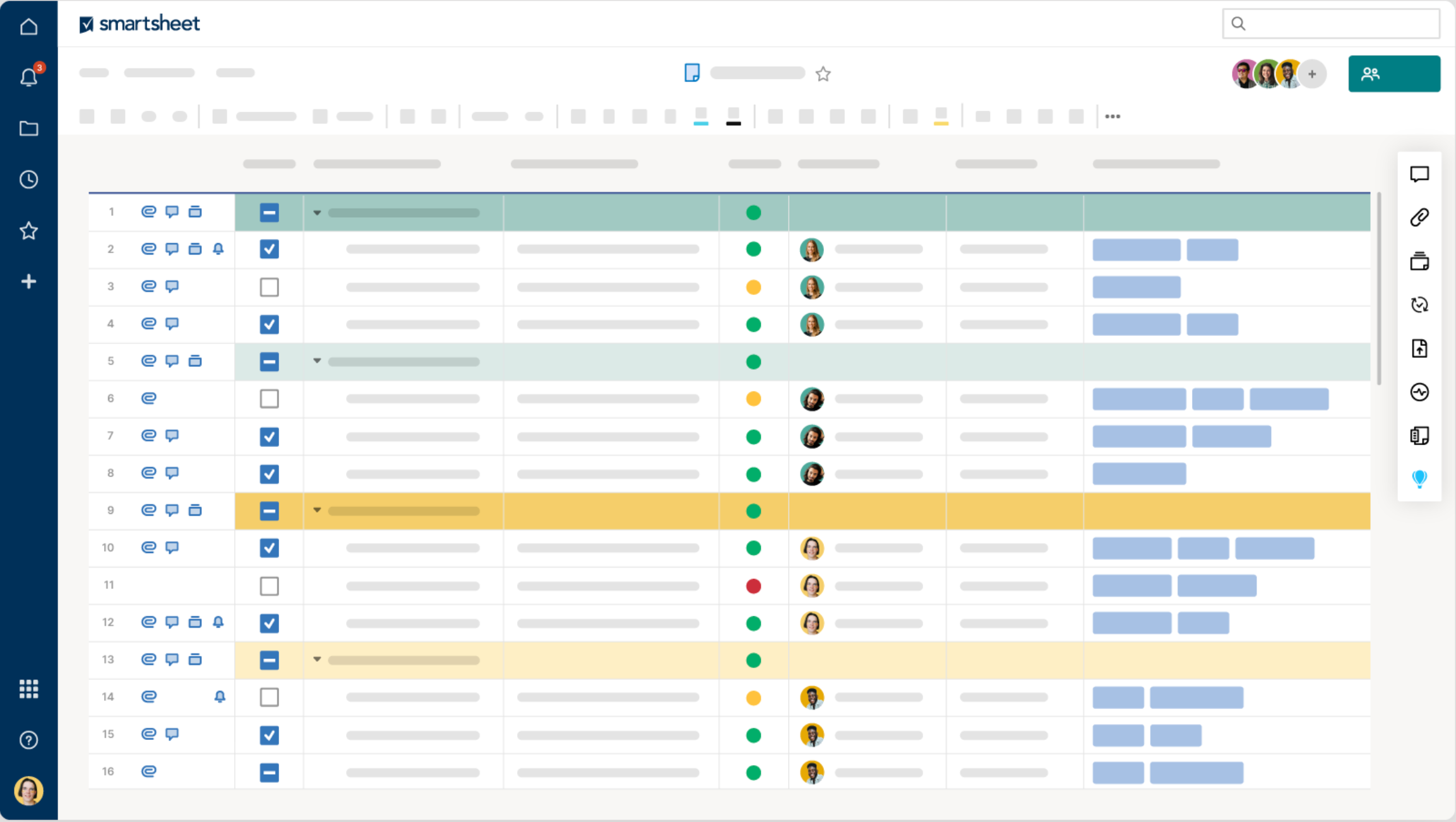 With Smartsheet, users can effectively plan, track, and manage projects of any size while promoting seamless collaboration among team members. This software offers a range of features, including task management, Gantt charts, and real-time updates on project status, empowering teams to stay organised and productive, making it a great Fieldwire alternative.
Smartsheet main features
A widely used spreadsheet-like app, Smartsheet is a versatile tool for tracking and managing various projects.

The platform provides a comprehensive suite of tools for workflow automation, forms management, project management, activity logging, content collaboration, and more.

With a clean dashboard, users can have a holistic view of all ongoing and paused projects, offering a comprehensive overview.
Smartsheet Pros
Works well with all Google integrations.

Perfect for both small teams are large enterprises.

Allows you to share files in Box with other team members with a single click.
Smartsheet Cons
Integrations with other construction software are limited.

Despite the availability of construction-focused templates, it is designed for something other than the construction industry.

It has a learning curve and isn't easy to get started.
Smartsheet Pricing
Free

Pro: $7 for one user per month

Business: $25 for three users per month

Enterprise: Tailored to business needs
Smartsheet Reviews
Capterra: 4.5/5
G2: 4.4/5
"Smartsheet can be a bit complex and difficult to navigate, especially when it comes to creating and personalizing dashboards and reports. The interface is not as intuitive as desired." – G2
5. Field Nation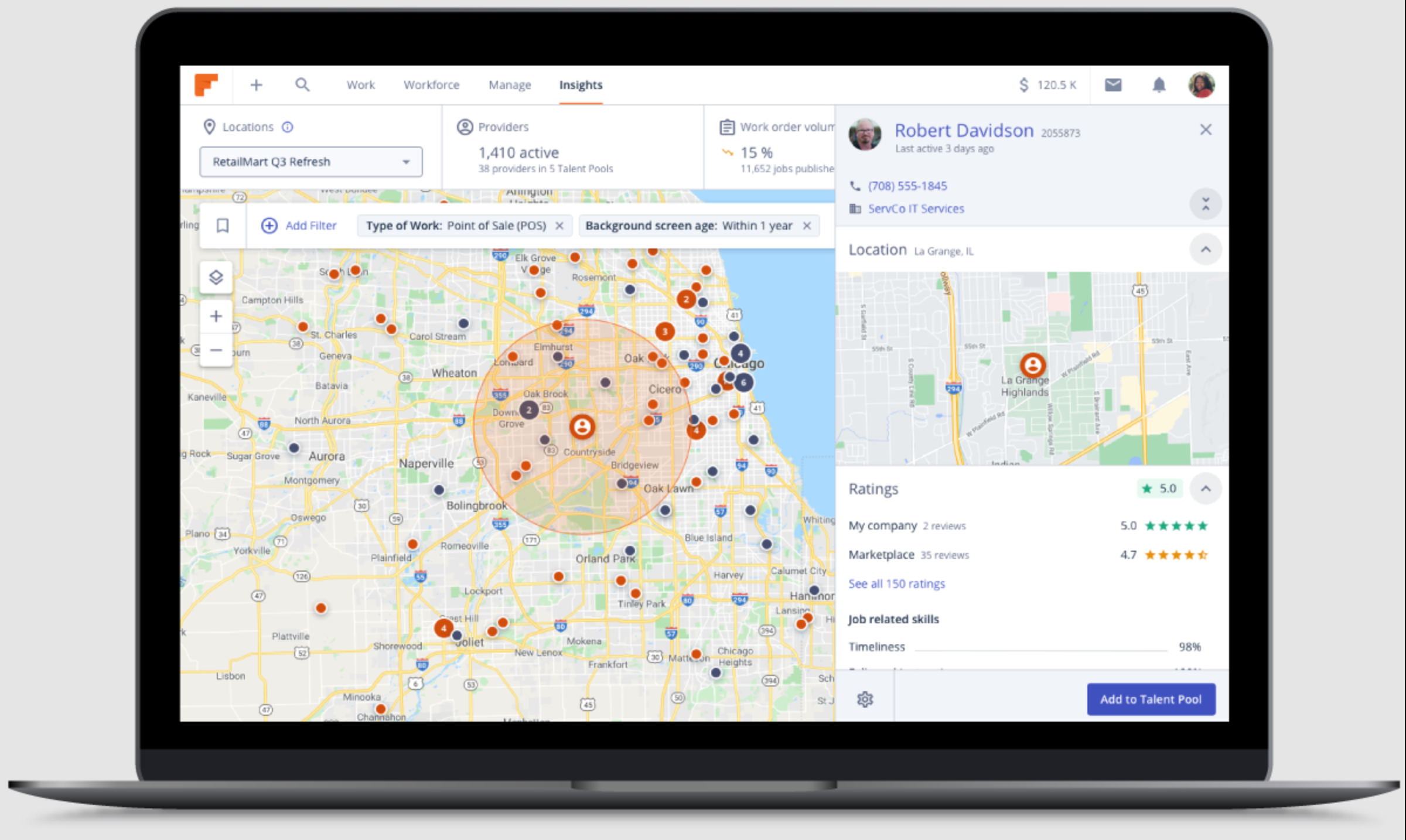 Designed specifically for managing field service operations, Field Nation provides a centralised hub for connecting businesses with skilled contractors and organising work assignments. With Field Nation, companies can efficiently dispatch work orders, assign tasks, track job progress in real-time, and manage field service tasks effectively.
Field Nation's main features
Enables efficient scheduling and dispatching of field technicians, ensuring optimal resource allocation.

Facilitates seamless communication between field technicians and project managers, enhancing collaboration and coordination.

Provides robust reporting and analytics tools, allowing businesses to gain valuable insights and make data-driven decisions.
Field Nation Pros
Offers access to a marketplace of skilled technicians.

Facilitates robust communication between teams.

Excellent reporting and analytics tools.
Field Nation Cons
Requires onboarding training.

Limited customisation options.

Availability of qualified technicians on the Field Nation marketplace can vary.
Field Nation Pricing
Field Nation Reviews
Capterra Rating: 4/5
G2 Rating: 4.5/5
"Outlines all relevant details to a work order and has a solid help center. Not a great customer service team. Hard to access them" – G2
6. Bluebeam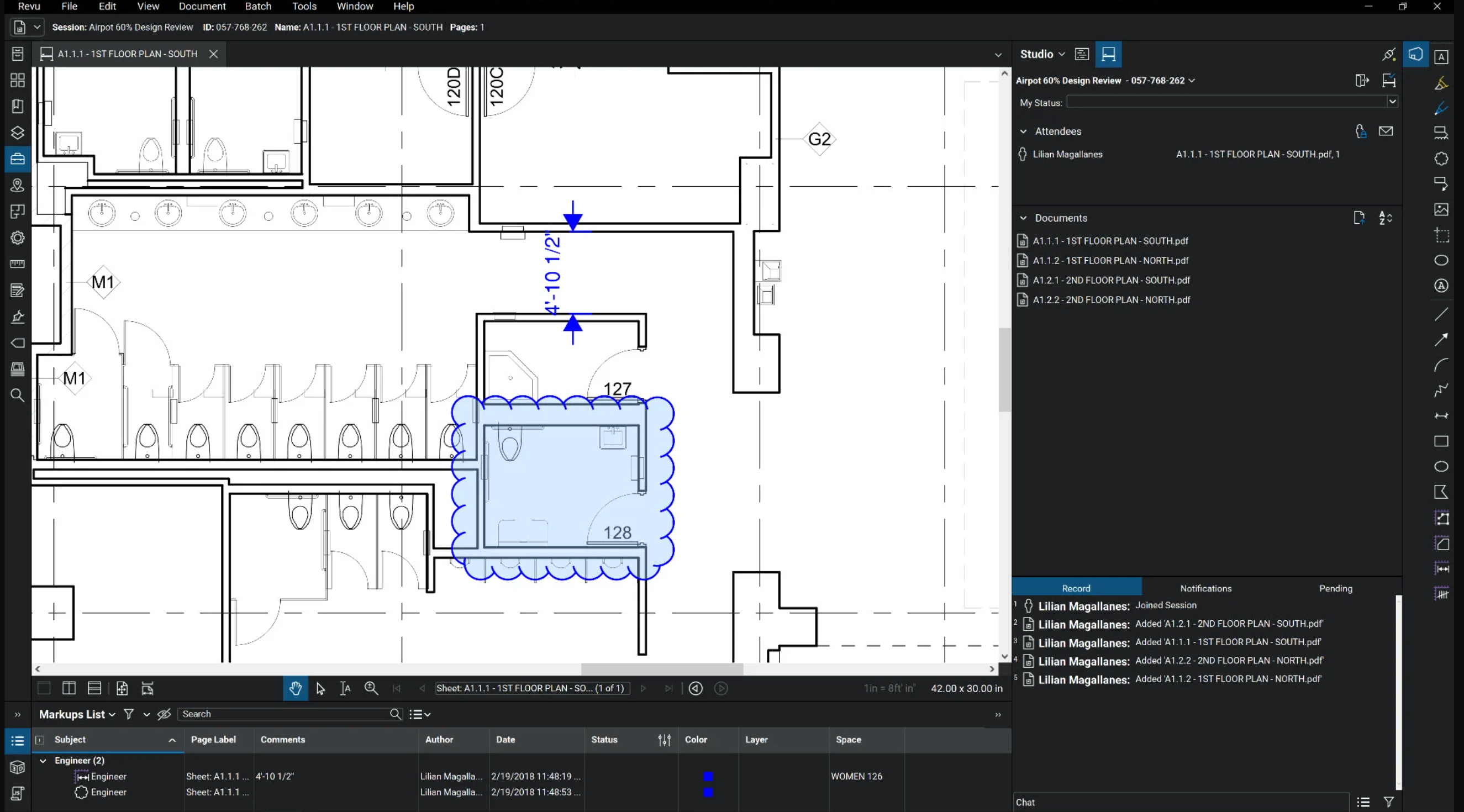 With Bluebeam, users can efficiently create, edit, and collaborate on construction documents, facilitating seamless communication and collaboration among project teams. With its emphasis on document collaboration and communication, Bluebeam is a solid alternative for Fieldwire, providing an intuitive interface and robust set of tools for construction professionals.
Bluebeam main features
Bluebeam allows users to easily edit and annotate PDF documents, including 2D and 3D PDFs.

It provides cloud storage and sharing capabilities, enabling seamless real-time collaboration among team members.

Users can directly input measurements, notes, and other on-site information into project documentation.
Bluebeam Pros
Offers a robust set of tools for editing and annotating PDF documents.

Enables real-time collaboration and seamless document sharing.

Provides features for capturing field data and seamlessly integrating it into project documents.
Bluebeam Cons
Steep learning curve.

A reasonably expensive alternative.

Demands significant system resources, particularly for handling large files.
Bluebeam Pricing
Basic: $240 per user, billed annually

Core: $300 per user, billed annually

Complete: $400 per user, billed annually
Bluebeam Reviews
Capterra Rating: 4.7/5
G2 Rating: 4.6/5
"Bluebeam Revu gives you more level of control over pdf's than you can imagine. Although Bluebeam Revu has a very good take off facility, the labelling could have been better." – Capterra
7. PlanSwift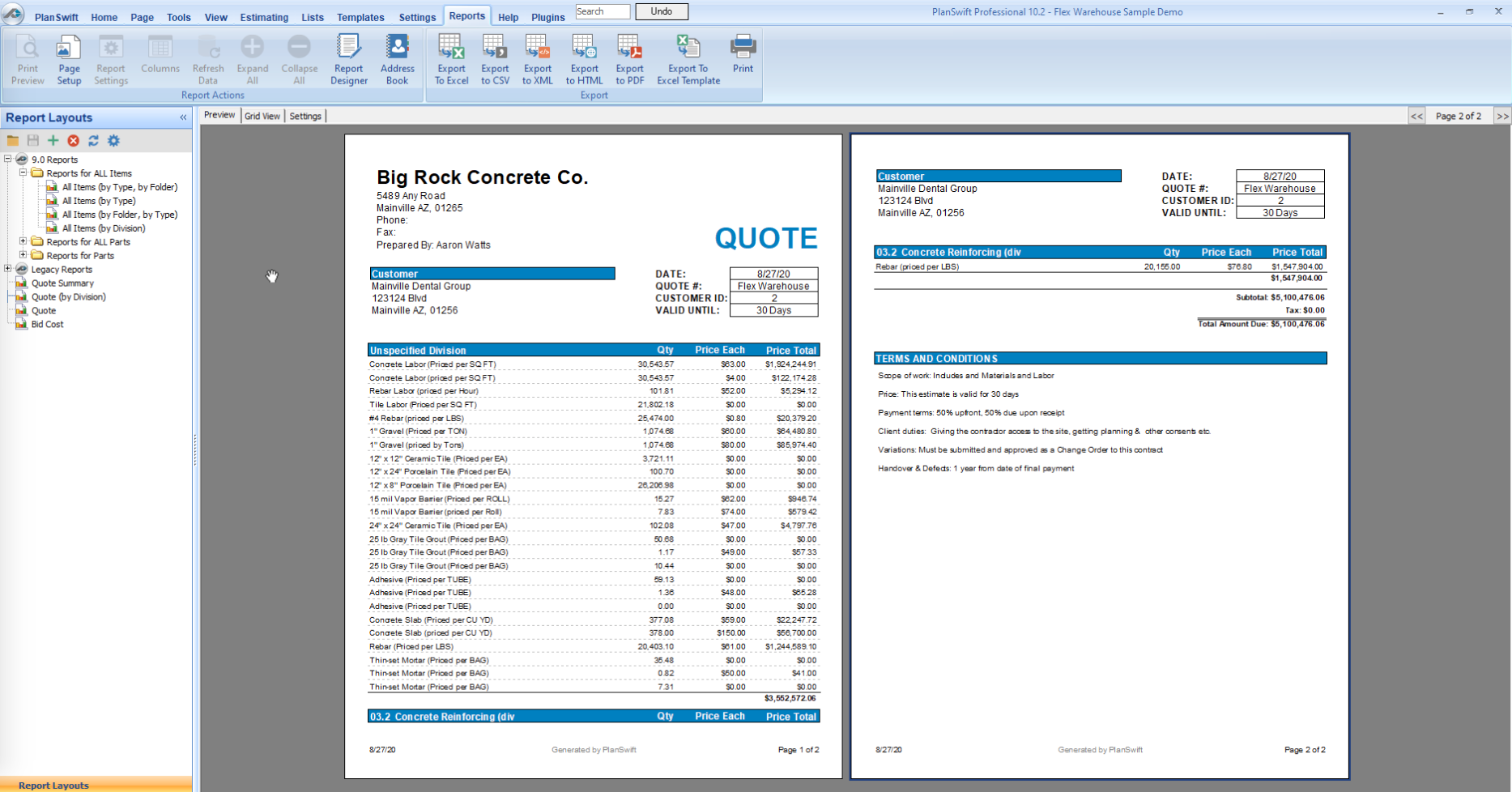 PlanSwift is a versatile software solution for construction takeoff and estimating, offering a compelling Fieldwire alternative. This software offers a user-friendly interface designed specifically for construction professionals, allowing for easy navigation and precise measurements. PlanSwift's advanced features, such as customisable assemblies and integration with other industry tools, enhance productivity and accuracy in project management. 
PlanSwift main features
By offering a visual point-and-click interface, PlanSwift enables users to swiftly generate a bill of materials and assess costs during takeoffs and estimations.

Users can save valuable time and effort through the convenient drag-and-drop functionality.

PlanSwift automates the calculation of takeoffs, reducing manual labour and saving users time.
PlanSwift Pros
Facilitates accurate digital takeoffs, enabling users to measure quantities and estimate material costs accurately.

Seamlessly integrates with various construction estimating and project management tools, enhancing overall workflow.

With customisable templates, users can create and reuse standardised estimating templates, providing consistency and saving time in the estimation process.
PlanSwift Cons
The software's focus on Windows platforms may restrict access for Mac users.

Smaller enterprises might find the pricing, including license fees and potential add-ons, to be excessively high.

Some users have reported occasional software update delays and inconsistent customer support experiences.
PlanSwift Pricing
PlanSwift Reviews
Capterra Rating: 4.3/5
G2 Rating: 4.3/5
"Setting up all the presets and tools, to make it most efficient requires a very large investment of time. This time will eventually pay off, but there is a substantial amount of work on the front end." – G2
8. JobProgress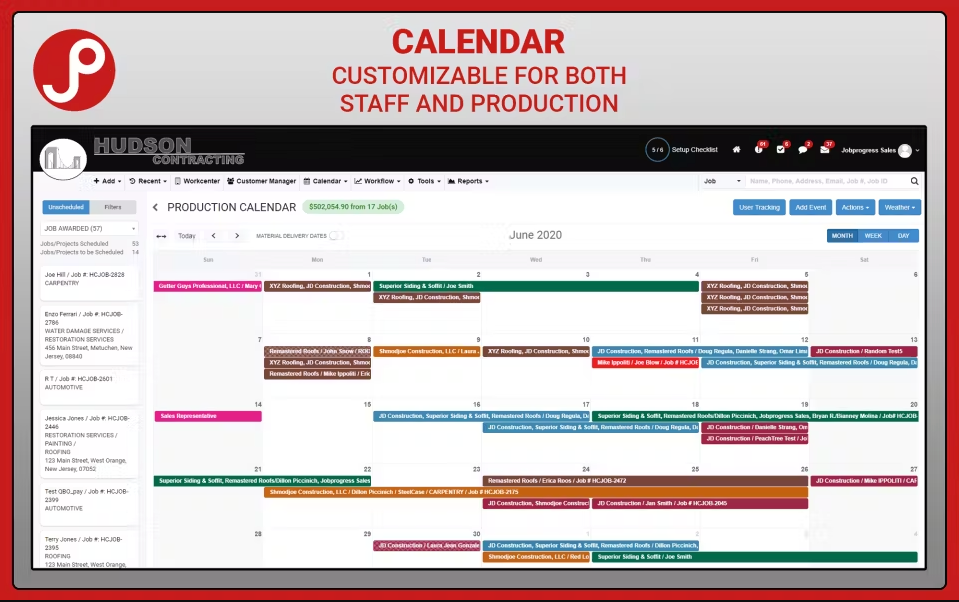 With JobProgress, users can efficiently streamline operations and oversee all aspects of their projects, from estimating and scheduling to task management and customer relationship management (CRM). This software provides a user-friendly interface designed specifically for contractors. With its all-in-one approach and emphasis on efficiency, JobProgress stands as a strong alternative to Fieldwire, catering to the diverse needs of construction professionals.
JobProgress main features
Generate estimates and invoices by utilising commonly used materials and labour rates.

Enhance productivity by automating customised workflow stages and steps.

Utilise the built-in CRM follow-up tool to organise jobs and clients efficiently.
JobProgress Pros
You can access the app from anywhere.

Proposal tracking lets you know what clients think of your bids/estimates.

Option to customise job and workflow manager.
JobProgress Cons
Difficult to add photos to the app.

Deleting jobs from a project is cumbersome.

Some integrations, such as Google Docs, don't work that well.
JobProgress Pricing
JobProgress Reviews
Capterra Rating: 4.4/5
G2 Rating: 3.8/5
"It allows our office staff and field staff to access necessary information for jobs anywhere along the buying cycle. However, Reporting is very lackluster. I am not able to pull most of what I need in one report." – G2
9. Whip Around
Whip Around is a cloud-based DVIR solution that enables fleet drivers to update and manage vehicle data on their mobile devices efficiently. It offers analytics, reporting, and service histories to enhance productivity project efficiency, driver safety, and vehicle resale value.
Whip Around main features
It provides a comprehensive solution for managing the entire construction process.

The software streamlines both back-office and field operations.

It offers a user-friendly interface tailored for general contractors.
Whip Around Pros
Users can access project information from any mobile device through web-connected access.

The software offers a user-friendly interface.

It provides real-time access to project-related information.
Whip Around Cons
There may be a learning curve for users.

It can be costly for smaller businesses.

Integration options with third-party applications are limited.
Whip Around Pricing
Standard: $5 for 1 asset per month

Pro: $10 for 1 asset per month
Whip Around Reviews
Capterra: 4.8/5
G2: 4.8/5
"The software is easy to add assets and forms, and changes can be reflected on the mobile terminal in real-time." – G2
10. Buildertrend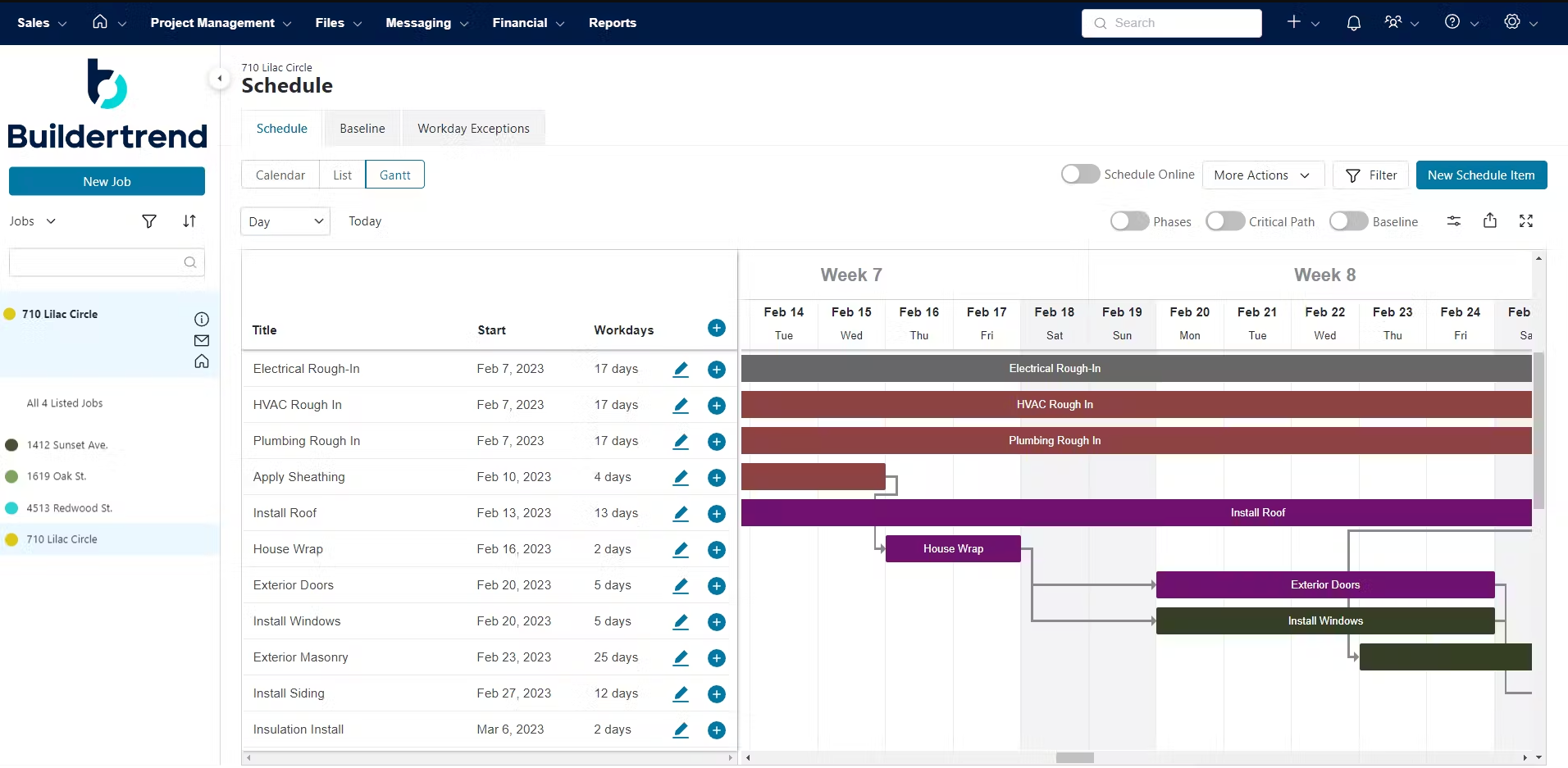 Buildertrend's robust capabilities, such as integrated financial management and customisable reporting, make it a valuable tool for construction professionals seeking an all-in-one project management solution. With its emphasis on project management and collaboration, Buildertrend is a strong Fieldwire alternative, providing key features to meet the diverse needs of construction firms and projects.
Buildertrend main features
Detailed job documentation keeps records of the progress in real-time.

The scheduling tool accounts for delays and helps you meet deadlines.

Allows you to upload digital blueprints, make measurements, and ensure the proper estimates.
Buildertrend Pros
It provides an extensive array of resource management tools.

The mobile app enables users to access project information while on the move.

Seamless integration with diverse third-party applications and software is effortless.
Buildertrend Cons
Customisation options are limited.

There have been complaints about inadequate customer service.

The software has a steep learning curve.
Buildertrend Pricing
Essential – $99/mo | $399 after 1 month

Advanced – $399/mo | $699 after 1 month

Complete – $699/mo | $999 after 1 month
Buildertrend Reviews
Capterra Rating: 4.5/5
G2 Rating: 4.2/5
"App is not user friendly for employees or technicians. There are too many buttons to press. - This software only works well for companies that handle large jobs that are long term with many elements." – Capterra
Check out Buildetrend's alternatives
11. PlanGrid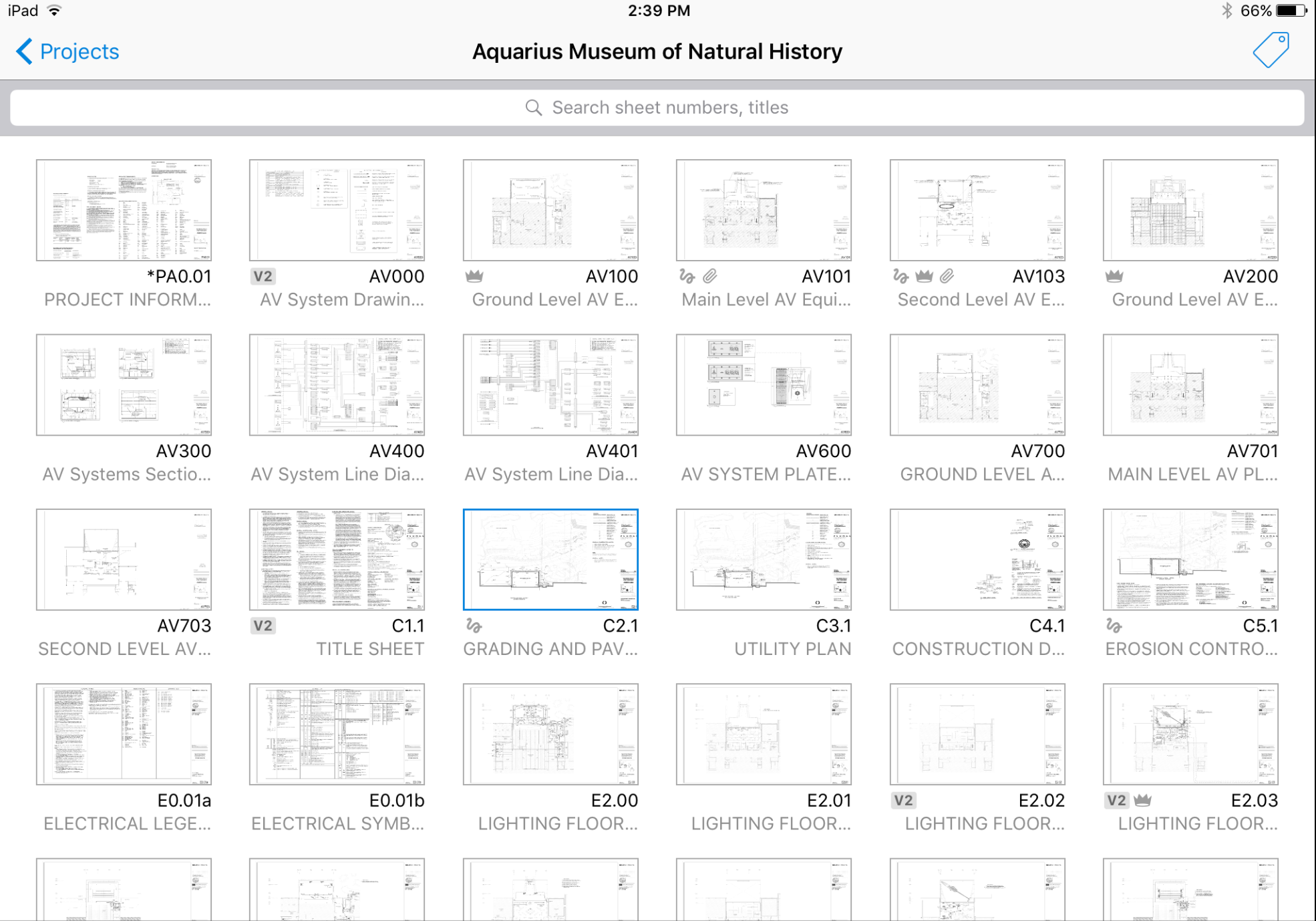 With PlanGrid, users can access and annotate project documents, such as blueprints and drawings, in real time from any device. The software's key features, including document version control, RFIs, and field reports, enhance communication and coordination among project teams.
PlanGrid main features
Allows offline access to project information, ensuring users can access critical data without an internet connection.

Offers a centralised storage feature for project audio-visual materials, providing a convenient way to manage and access them.

The digital closeout and punch list tools of PlanGrid ensure compliance with project requirements, improving the efficiency of project completion and handover processes.
PlanGrid Pros
Provides a comprehensive platform for efficient document management system.

Facilitates seamless collaboration among team members, enhancing communication and productivity.

With drawing and markup tools, users can easily annotate plans, highlight issues, and track changes, improving project coordination and accuracy.
PlanGrid Cons
Users have complained of initial complexity when using PlanGrid.

Offers limited options for customisation.

Some users have reported occasional challenges with PlanGrid's offline functionality.
PlanGrid Pricing
Nailgun: $39 per user per month

Dozer: $59 per user per month

Crane: $139 per user per month
PlanGrid Reviews
"PlanGrid is used by the field for plan management only. We distribute documents to the field to make sure everyone is using current plans." – TrustRadius
Conclusion
A massive chunk of success in the construction industry hinges on choosing the ideal software solution. Although Fieldwire can be a valuable solution for many businesses, it's essential to be aware of its limitations.  
By exploring alternatives of Fieldwire that tackle these constraints, construction companies can discover software solutions that better cater to their unique business processes and requirements.
Whether it's a shorter learning curve, transparent pricing, flexible features, seamless integrations, or responsive customer support, the ultimate goal is to unearth that perfect match that supercharges your operations.