PlanGrid is a construction software designed to manage your blueprints, drawings, and other documents easily. It automatically renders and organises the documents you upload, handling all your paperwork.
However, it only covers some aspects of construction management. 
Its main advantage is providing a platform for smooth access to project documents, enhanced document control, and increased efficiency. But, like any software, PlanGrid has its limitations that users may face during their experience: 
Limited customisation options.

Potential challenges in integrating with other construction software tools.

Steep learning curve for new users.

Dependency on stable internet connectivity.

Occasional reports of delays in customer support response and issue resolution.
While PlanGrid is a popular solution for construction software, numerous alternatives exist for those seeking different features or a more streamlined approach.
This article discusses the best PlanGrid alternatives to help cross-functional teams align their objectives and streamline communication. 
Best PlanGrid Alternatives (2023)
Scroll down halfway for a deep dive into each software with Capterra and G2 ratings and pricing information.
Archdesk, a cloud-based construction management platform, is a top alternative to PlanGrid.
The system offers tools to manage projects, finances, analytics, and assets- with all construction data in one place. 
You can access the software anytime and anywhere to check what's happening on your project. Thanks to that, you can react swiftly to any changes and save your project from being a financial fiasco.
Your team is on the same page and can obtain maximum productivity thanks to a real-time view of project data.
Use Archdesk to make smart, data-driven decisions that will make your business grow.
Archdesk features
Tools to manage construction processes from A to Z: projects, finances, scheduling resources and RFIs.

One single source of truth- all construction data in one place.

Fast and efficient data flow, which improves internal & external communication.

Document management with custom control options and access anytime you need.
Archdesk Pros
You can customise Archdesk solutions to your company's needs.

You can integrate Archdesk with other tools.

You can see your data in real time and make well-informed decisions.

You can access the system anytime and anywhere and work with maximum

efficiency

.
Archdesk Pricing
Archdesk Reviews
Capterra Rating: 4.6/5
G2 Rating: 4.3/5
"There is no doubt in my mind that we wouldn't have grown as far as we have without Archdesk. Knowing my company has a solid structure and system in place, I have every confidence that our growth will continue and will be manageable." Gary B. Capterra
2. CoConstruct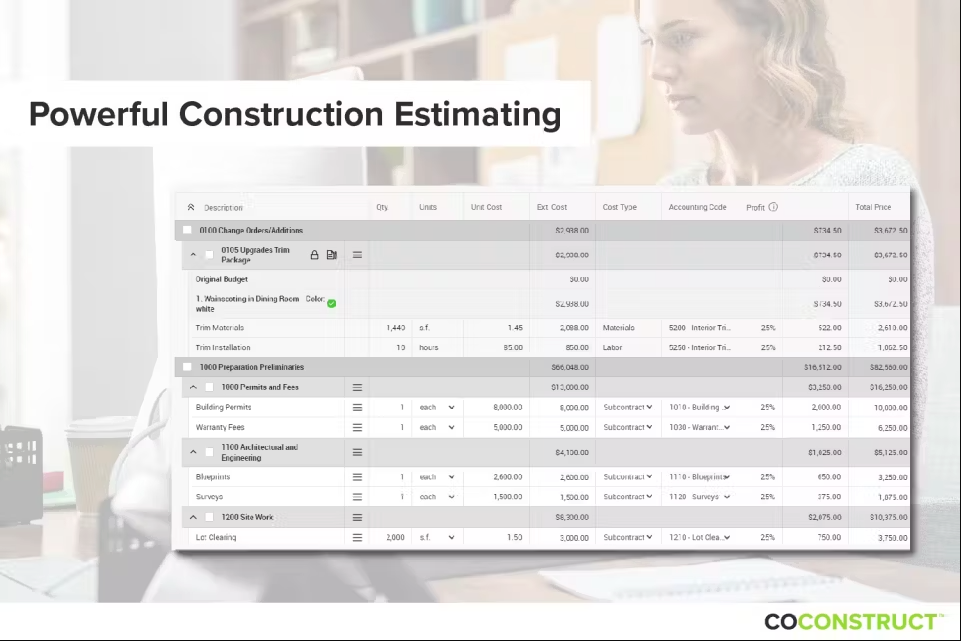 CoConstruct is a construction project management software that makes organising construction projects easier for custom house builders and remodelers.
Various features make the building process more manageable, such as timesheet management, expense monitoring, cost estimation, and proposal development.
It also makes it simpler to manage projects by tracking leads, and sharing files and photos, among other things.
CoConstruct main features
The CRM and client communication serve as a great alternative to PlanGrid.

The software provides tools for lead identification, proposal development, and ensuring customer satisfaction with project progress.

Core functionality encompasses estimating, CRM, bidding, accounting, scheduling, and change orders, offering a comprehensive suite of features.
CoConstruct Pros
Cloud-based solution with a mobile app.

Good CRM and client communication features.

Offers efficient RFP process and scheduling.
CoConstruct Cons
Somewhat outdated user interface and can run slower than its alternatives.

Limited options for third-party integrations.

Limited reporting options for project managers.
CoConstruct Pricing
Standard – $99/mo

Plus – Starting $399/mo
CoConstruct Reviews
Capterra Rating: 4.7/5
G2 Rating: 4/5
"Easy way to keep track of schedules, change orders, photos from site etc. When used on my phone, a lot of the time the projects won't load, therefor cannot access information on site, which is sometimes critical." – Capterra
3.  JobProgress
JobProgress is a productivity and task management tool and a great alternative to PlanGrid for contractors, estimators, and service companies to manage their work.
With the help of JobProgress, users can schedule tasks, create invoices, calculate costs, communicate with clients, and manage jobs from anywhere.
It offers a plethora of features, including a customisable workflow manager, a client management tool, a dashboard work centre, the capacity to develop proposals and contracts rapidly, and secure cloud storage.
JobProgress main features
Offers a customisable workflow management solution that gives project managers an umbrella view of their projects.

Offers a CRM tool that aids users in managing their client interactions.

The mobile app makes it easy to access project information on the go.
JobProgress Pros
Users can assign tasks and schedule them using scheduling tools.

Connects to other business applications like QuickBooks.

Offers an account manager for onboarding.
JobProgress Cons
Getting used to the platform could take a while.

Some users may find the software's user interface to be too complex.

Not as customisable as other alternatives of PlanGrid.
JobProgress Pricing
JobProgress Reviews
Capterra Rating: 4.4/5
G2 Rating: 3.8/5
"It allows our office staff and field staff to access necessary information for jobs anywhere along the buying cycle. Reporting is very lackluster. I am not able to pull most of what I need in one report." – G2
4.  Procore
Procore, one of the many good alternatives to PlanGrid, offers a complete toolkit for construction management and controlling a project's scope.
Procore is applicable at every stage of building, from proposal to conclusion. It helps manage projects by connecting the entire team across the nation or the globe.
Procore main features
Provides a single system for project management, allowing everyone to manage all aspects of the project in one location.

Provides a mobile app so customers can always access the software's functionality.

Offers an umbrella view of RFI's, change orders, ongoing tasks, and punch list items.
Procore Pros
Ability to access project information anywhere.

Easily integrates third-party tools.

The software is cloud-based, making it accessible from anywhere.
Procore Cons
Primarily contractor-driven platform.

Project managers may need to customise it heavily to use it.

A pretty expensive alternative to PlanGrid.
Procore Pricing
Procore Reviews
Capterra Rating: 4.5/5
G2 Rating: 4.6/5
"It's hard to say what we like best about Procore, but it could be the amazing cloud option and the ability to download and upload large files. Also being able to communicate with other clients is a plus." – G2
Check out the best Procore alternatives in 2023. 
5. Autodesk Construction Cloud
Autodesk Construction Cloud is a technology that helps people involved in construction projects work together and share information.
The platform is a collection of software modules designed for the construction industry, making it one of the best PlanGrid alternatives.
It features a variety of tools, such as Autodesk Build (formerly known as BIM 360), Autodesk Takeoff, and Autodesk Docs.
Although each module has different pricing and is offered separately, they all operate on the same cloud-based platform making managing projects easy.
Autodesk Construction Cloud's main features
Budget tracking and job costing keep your project on track financially.

Provides a variety of collaboration tools that help teams collaborate more effectively.

Helps teams measure progress, identify potential hazards, and maximise project success by providing data and insights.
Autodesk Construction Cloud Pros
Developers can build their integrations using open API.

Teams can work together efficiently with the help of collaboration tools.

Provides several integration options.
Autodesk Construction Cloud Cons
Expensive alternative for small to mid-sized companies.

Fairly steep learning curve.

Not the best option for small/simpler projects.
Autodesk Construction Cloud Pricing
Autodesk Build – Starting at $470.00 / year

Autodesk BIM Collaborate – Starting at $705.00 / year

Autodesk Takeoff – Starting at $1,190.00 / year
Autodesk Construction Cloud Reviews
Capterra Rating: 4.3/5
G2 Rating: 4.2/5
"Revit cloud models that allow team members to work collaboratively towards the construction goals. The user interface seems disconnected - going from one task to another seems to lead to another website, this change of interface leads to confusion in the process in the project setup." – G2
6.  Buildertrend
Buildertrend has been a trusted solution for residential contractors since 2006, offering resources that help streamline project management tasks and reduce paperwork.
This user-friendly platform enables contractors to take on more construction projects without being overwhelmed, making it a great PlanGrid alternative.
Buildertrend main features
Keeps all your project information in one place, making it easy to access and manage.

Messaging and file-sharing tools make collaborating with your team, clients, and suppliers easy.

The comprehensive financial tools help monitor project costs and keep track of materials.
Buildertrend Pros
Facilitates effective project management.

Supports easy client communication.

Great customer service.
Buildertrend Cons
A pricier substitute for small or mid-sized construction companies.

Requires extensive training to use properly.

Not all of the tools contractors use in their businesses are compatible.
Buildertrend Pricing
Essential – $99/mo | $399 after 1 month

Advanced – $399/mo | $699 after 1 month

Complete – $699/mo | $999 after 1 month
Buildertrend Reviews
Capterra Rating: 4.5/5
G2 Rating: 4.2/5
"The one thing I don't like about Buildertrend software is the cost. While it offers a lot of features, the price can be a bit steep for some businesses." – Capterra
Check out the best Buildertrend alternatives available on the market in 2023.
7.  PlanSwift
PlanSwift helps contractors estimate the cost of building projects. The software has a user-friendly interface that allows users to click on images and drag and drop items to create a bill of materials and calculate costs.
PlanSwift saves time by automatically calculating the takeoffs, reducing the required manual work.
PlanSwift main features
Easily create a bill of materials and calculate costs with a user-friendly interface for takeoffs and estimates.

Save time and effort with a convenient drag-and-drop feature.

Reduce manual work and save time with automatic takeoff calculations.
PlanSwift Pros
Visual and intuitive user interface.

Allows customisation.

Integrates with other construction management tools.
PlanSwift Cons
Users who work on bigger projects have complained about slow performance.

Lacks integrated project management capabilities.

Steep learning curve and the potential for high costs.
PlanSwift Pricing
$1,595.00 one time fee with lifetime license
PlanSwift Reviews
Capterra Rating: 4.3/5
G2 Rating: 4.3/5
"To try and do more complex takeoffs (such as repetitive units in multi-family construction) is not very easy. Can not get multiple takeoff quantities from one takeoff measurement (ex. calculate LF of sidewalk and CY of concrete for sidewalks with only one takeoff entry)." – G2
8. Causeway Technologies
Causeway Technologies is a construction and resource management system and a good alternative to PlanGrid for project planning teams of construction companies.
At each stage of the construction lifecycle, Causeway offers customers the data and controls they need to make wiser decisions.
Causeway Technologies' main features
Contractors can develop thorough estimates with the aid of estimating and tendering tools.

Users can use takeoff and measurement software to generate reports and measure amounts from 2D designs.

Financial management system provides real-time visibility into financial performance.
Causeway Technologies Pros
Offers sophisticated project management abilities.

Robust application package that is customisable.

Offers solutions for data analytics, performance reporting, and business intelligence.
Causeway Technologies Cons
For new users, navigating the software's sophisticated features and complexities can take time and effort.

Offers only a few integrations with third-party services.

High cost of ownership because of the licensing and upkeep costs for the software.
Causeway Technologies Pricing
Causeway Technologies Reviews
Capterra Rating: 4/5
9. Monday.com
Monday.com may not be a construction-specific software, but it still qualifies as one of the many PlanGrid alternatives.
Cross-functional teams at construction firms can align their objectives and share significant work using the platform.
For instance, a project manager who wants real-time reporting can design a dashboard to speed up communication between management and construction experts.
Monday.com main features
Enables users to design unique workflows suitable for their project requirements.

Make it possible for cross-functional teams to collaborate effectively.

Gives users access to real-time reporting features.
Monay.com Pros
Can be customised to suit specific needs.

Offers a range of integrations with other platforms.

Comprehensive reporting and analytics features.
Monday.com Cons
Can be expensive for smaller teams.

Limited functionality for some features, like Gantt charts.

Users of the mobile app have reported data loss and syncing issues.
Monday.com Pricing
Basic – $8.00 for 4 seats per month

Standard – $10.00 for 3 seats per month

Pro – $16.00 for 3 seats per month

Enterprise – contact sales
Monday.com Reviews
Capterra Rating: 4.6/5
G2 Rating: 4.7/5
"While great for more free-form projects, it has limitations and requires a little different thinking." - G2
10. Smartsheet
Another good PlanGrid alternative is Smartsheet, which helps teams work more effectively by offering features such as file sharing, Gantt charts, and dashboards.
These tools facilitate team communication and project management. With its spreadsheet-like user interface, teams can easily collaborate on projects. 
Smartsheet main features
Gives teams a platform to manage workflows in real-time.

Offers a highly customisable spreadsheet-like user interface. 

Provides automation features that can automate monotonous operations and boost productivity.
Smartsheet Pros
Offers a wide range of features.

User-friendly UI with a spreadsheet-like appearance.

Tools for automation and editable templates.
Smartsheet Cons
Getting used to it could take a while.

Limited choices for customisation in some areas.

Reliance on third parties for some functionalities, which may result in cost increases.
Smartsheet Pricing
Free

Pro – $7/mo for 1 user

Business – $25/mo for 3 users

Enterprise – Contact sales
Smartsheet Reviews
Capterra Rating: 4.5/5
G2 Rating: 4.4/5
"I do like how many different variations it offers in how we are able to design our spreadsheets, however it's a little complicated in design outlook and can look confusing when you first start using it." – Capterra
11. Viewpoint Spectrum
Viewpoint A comprehensive web-based construction ERP, Spectrum, is essential to Trimble Construction One.
Spectrum covers everything you might need, making it a fantastic PlanGrid alternative.
This includes accounting, project management, equipment and materials management project scheduling, mobile service work order management, inventory, and reporting.
Viewpoint Spectrum's main features
Offers full accounting capabilities for the construction industry.

Service management and dispatching features in the complete form.

Simplifies payroll operations and employee onboarding.
Viewpoint Spectrum Pros
The tool was developed with actual contractors in mind.

It is simple to locate cost data for various projects.

After extensive onboarding, using it is comparatively simple.
Viewpoint Spectrum Cons
The billing function frequently has errors.

The cost projection entry screen might need some updating.

It is difficult to use and highly "click" heavy.
Viewpoint Spectrum Pricing
Contact sales for a custom quote.
Viewpoint Spectrum Reviews
Capterra Rating: 4/5
"It is not always intuitive for each module on where to go to get the information you are looking for. Many of the standard reports are really not helpful or complete as our last ERP system." - Capterra
Finding the right construction software is essential for success.
While PlanGrid has its strengths, such as document management, it's important to recognise its limitations. Few customisation options, integration challenges, a learning curve, internet connectivity reliance, and occasional customer support delays have led to the search for alternative solutions.
By exploring these PlanGrid alternatives, construction professionals can find software that better meets their needs enabling more efficient and collaborative projects in 2023 and beyond.
If you want to see how easy project and business management can be, book a demo with Archdesk today -no strings attached!