In today's competitive business landscape, finding the right software solution for your company's needs is essential. 
Simpro software, while popular in the industry, may not be the ideal fit for every business, owing to some of its key features and limitations such as:
A complex interface that requires significant time and effort to learn and navigate effectively.

Limitations when it comes to tailoring the system to match specific business requirements.

Difficulties integrating it with other existing systems or third-party applications.
While Simpro is the preferred choice of software for many in the construction industry, many companies in the sector still need a more comprehensive and reliable Simpro alternatives that better suit their needs.
Below are the 11 best Simpro alternatives for your next project. 
Best Simpro Alternatives (2023)
Scroll down halfway for a deep dive into each software with Capterra and G2 ratings and pricing information.
Archdesk, a configurable construction management platform, is a top alternative to Simpro Software.
It has all kinds of tools to help you manage projects, finances, assets, business processes, and much more.
Data is gathered and updated in real-time, so you always know what's happening on your projects. Also, the software is cloud-based, so you can access it anytime and anywhere you need.
With Archdesk, you can make smart, data-driven decisions that will make your business flourish.
Archdesk features
Tools to support projects from A to Z to deliver them faster and more efficiently.

Company finances showed in real-time with cost breakdown structure with budget details available within a few clicks.

Customised reporting dashboards, allowing faster and more efficient internal and external communication.

Solutions to automate time-consuming and repetitive tasks to manage processes quicker and with a lower risk of mistakes.
Archdesk Pros
Real-time view of project progress and seamless communication between team members.

Possibility to build any construction workflows that fit your company's unique needs and structure.

Cloud-based, with project data available at your fingertips.

Specialised tools to manage finances that will make you feel safe about your company's future.
Archdesk Pricing
Archdesk Reviews
Capterra Rating: 4.6/5
G2 Rating: 4.3/5
"There is no doubt in my mind that we wouldn't have grown as far as we have without Archdesk. Knowing my company has a solid structure and system in place, I have every confidence that our growth will continue and will be manageable." Gary B. Capterra
2. Re-flow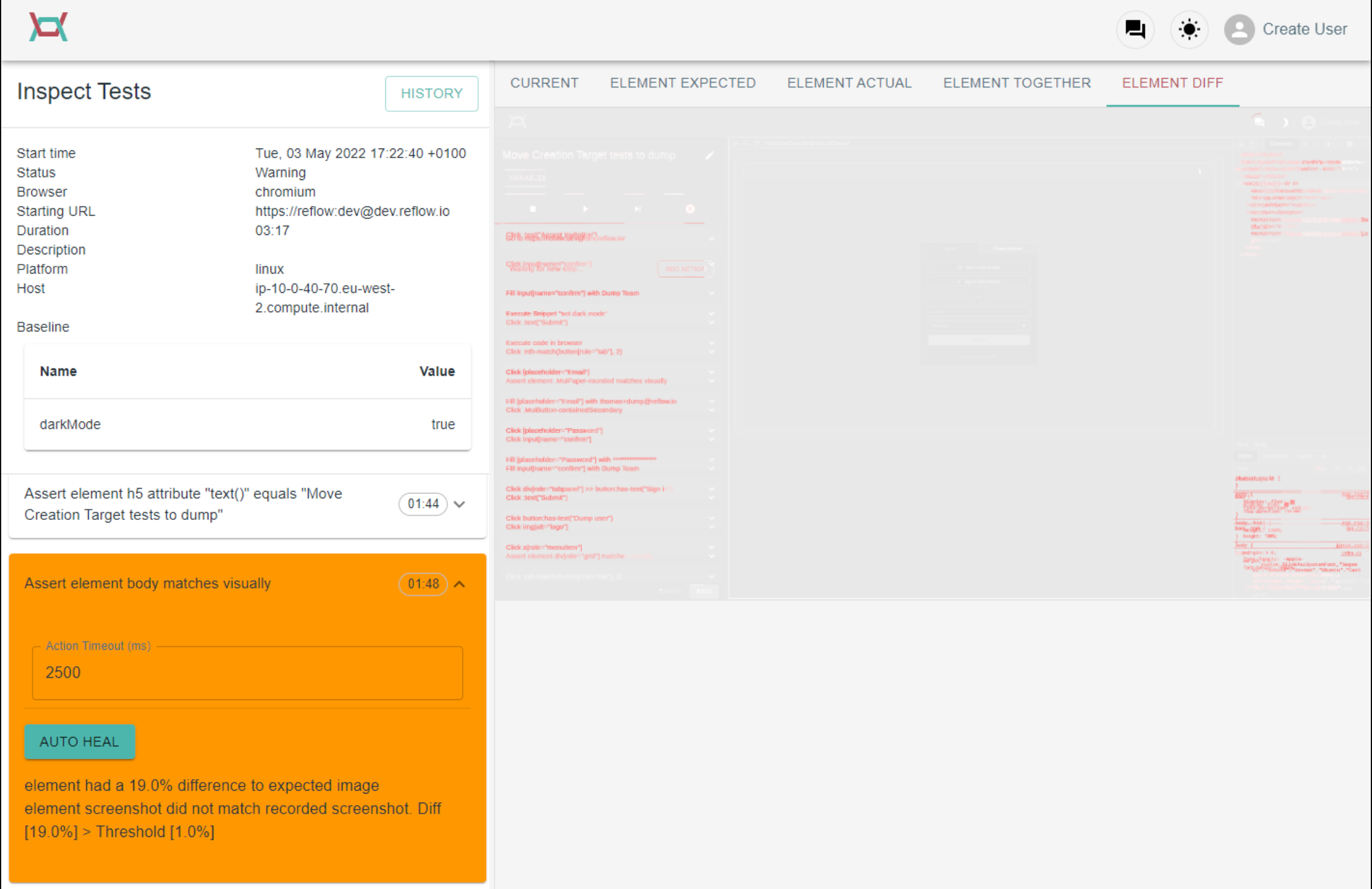 Re-flow is a great Simpro alternative trusted by companies in various industries such as construction, highways, landscaping, civil engineering, and telecoms.
The system enhances operational efficiency, saves valuable time and resources, and maintains a sharp focus on accomplishing tasks efficiently.
With Re-flow, field operations managers can regain control, streamline processes, and stay dedicated to achieving successful project outcomes.
Re-flow main features
Provides real-time visibility into job progress.

Allows users to store, access, and manage project documents easily.

Offers GPS-based team tracking, allowing managers to see the real-time location of field staff.
Re-flow Pros
Streamlines field operations by digitising workflows.

Provides real-time visibility into job progress.

Facilitates seamless collaboration among team members.
Re-flow Cons
Steep learning curve.

Limited customisation options.

Users have reported challenges integrating Re-flow with existing systems or applications.
Re-flow Pricing
Re-flow: £33 per user / per month / billed monthly

Re-flow Plus: £27.50 per user / per month / billed monthly

Re-flow Enterprise: Tailored to business needs
Re-flow Reviews
Capterra: 4.5/5
G2: Unavailable
"The software is simple and easy to use once have your head around it. However, there is a lot of duplicating as you go through the forms but need multiple to cover all bases. Billing could be improved to be more like an accounts package with more accounting functions." – Capterra
3. PlanGrid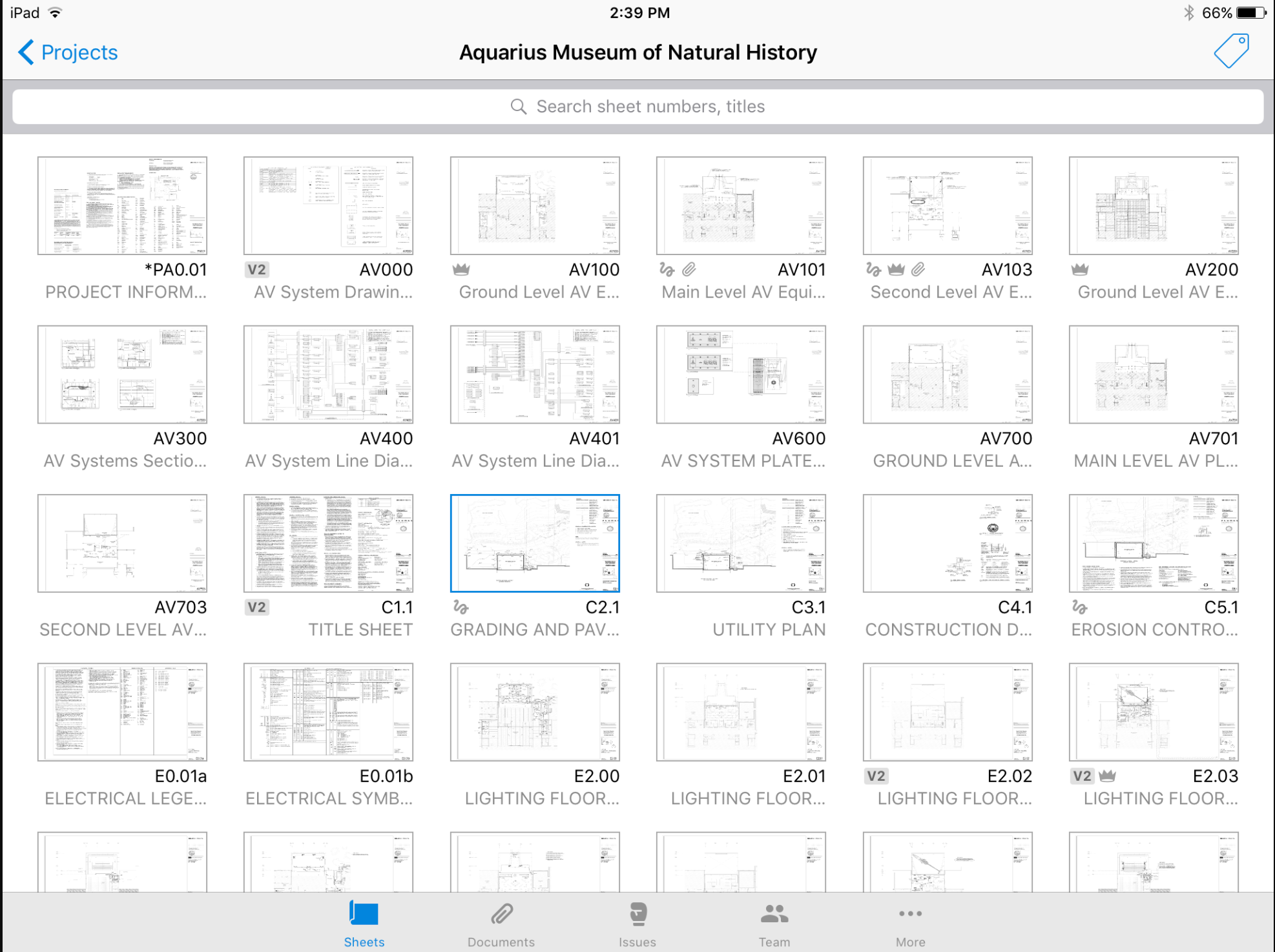 PlanGrid, a project management tool for the construction industry and one of the many great Simpro alternatives.
The system enables project managers in the commercial, heavy civil, and other sectors to build from the existing set and manage the difficulties with time and cost.
PlanGrid main features
Offers offline access to all project information.

Provides the possibility of centrally saving all project audio-visual materials. 

The digital closeout and punch list tools make sure your work is compliant.
PlanGrid Pros
Provides a comprehensive platform for document management.

Enables seamless collaboration among team members.

Offers drawing and markup tools, allowing users to annotate plans, highlight issues, and track changes.
PlanGrid Cons
Users have found using PlanGrid initially complex.

Limited customisation options.

Users have reported occasional challenges with PlanGrid's offline functionality.
PlanGrid Pricing
Nailgun: $39 per user per month

Dozer: $59 per user per month

Crane: $139 per user per month
PlanGrid Reviews
"PlanGrid is used by the field for plan management only. We distribute documents to the field to make sure everyone is using current plans." – TrustRadius
4. Field Nation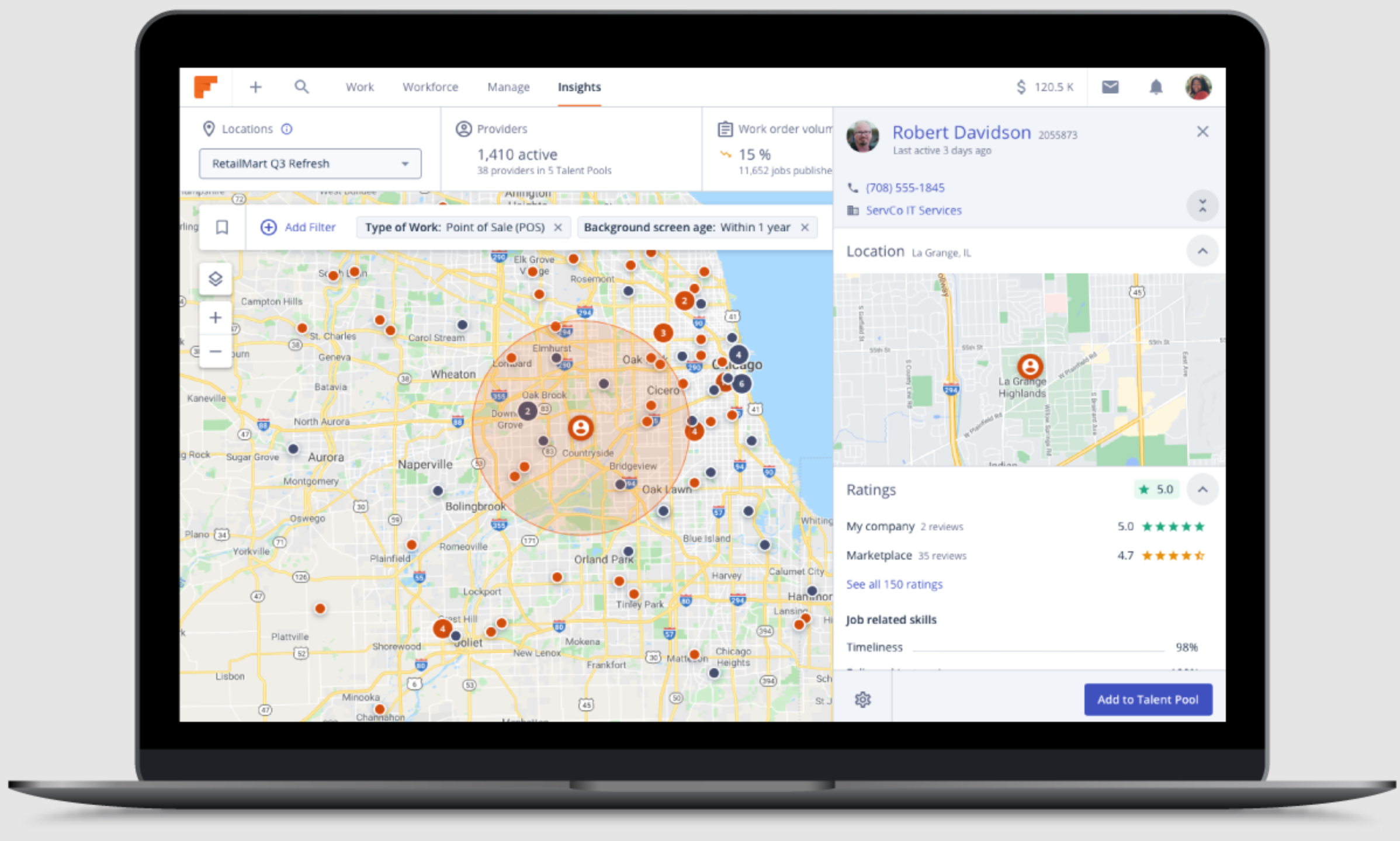 Field Nation software is a good alternative to Simpro, offering powerful, comprehensive suite of streamlined field service management features.
Among tools offered by Field Nation are scheduling, dispatching, communication, collaboration, and comprehensive reporting.
With a marketplace of skilled technicians, the service businesses can easily scale their workforce, optimise efficiency, and make data-driven decisions.
Field Nation main features
Enables effective scheduling and dispatching of field technicians, ensuring proper resource allocation.

Facilitates seamless communication between field technicians and project managers.

Offers robust reporting and analytics tools.
Field Nation Pros
Offers access to a marketplace of skilled technicians.

Facilitates real-time communication between teams.

Offers robust reporting and analytics tools.
Field Nation Cons
Demands thorough onboarding training.

Limited customisation options.

Availability of qualified technicians on the Field Nation marketplace can vary.
Field Nation Pricing
Field Nation Reviews
Capterra Rating: 4/5
G2 Rating: 4.5/5
"I love the ability to choose people that will fit best with my customer. Sometimes peoples profiles are incorrect and there is a technology gap." – G2
5. Bluebeam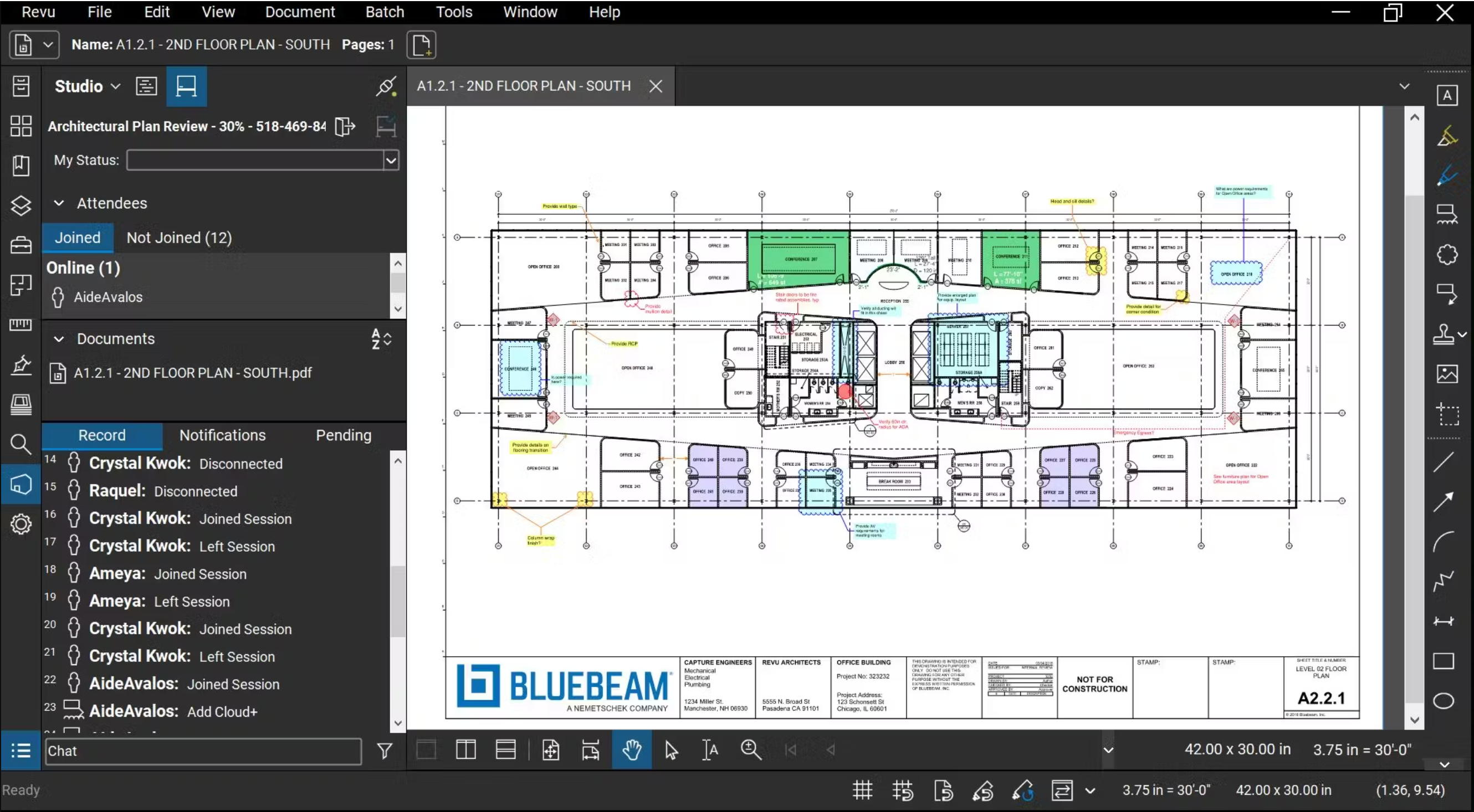 By providing Cloud-based collaboration tools, Bluebeam's portfolio of 3D architecture technologies aims to improve building projects.
Users of Bluebeam can develop precise bid proposals and takeoffs by editing both 2D and 3D PDFs with tools created to enhance project quality, stay under budgetary limitations, and stick to them. 
Bluebeam main features
Allows users to edit and annotate PDF documents, including both 2D and 3D PDFs.

By offering cloud storage and sharing features, it makes it possible for team members to collaborate seamlessly and in real-time.

Enables users to input measurements, notes, and other on-site information into project documentation.
Bluebeam Pros
Offers powerful tools for editing and annotating PDF documents.

Enables real-time collaboration and document sharing.

Offers features for capturing field data and integrating it into project documents.
Bluebeam Cons
Steep learning curve.

A reasonably expensive alternative.

Demands significant system resources, particularly for handling large files.
Bluebeam Pricing
Basic: $240 per user, billed annually

Core: $300 per user, billed annually

Complete: $400 per user, billed annually
Bluebeam Reviews
Capterra Rating: 4.7/5
G2 Rating: 4.6/5
"I dislike that many of the tools are inconvenient to use and can be hard to find in the ribbons. It can also be extremely frustrating that options reset when you switch to a different tool." – G2
6. Buildertrend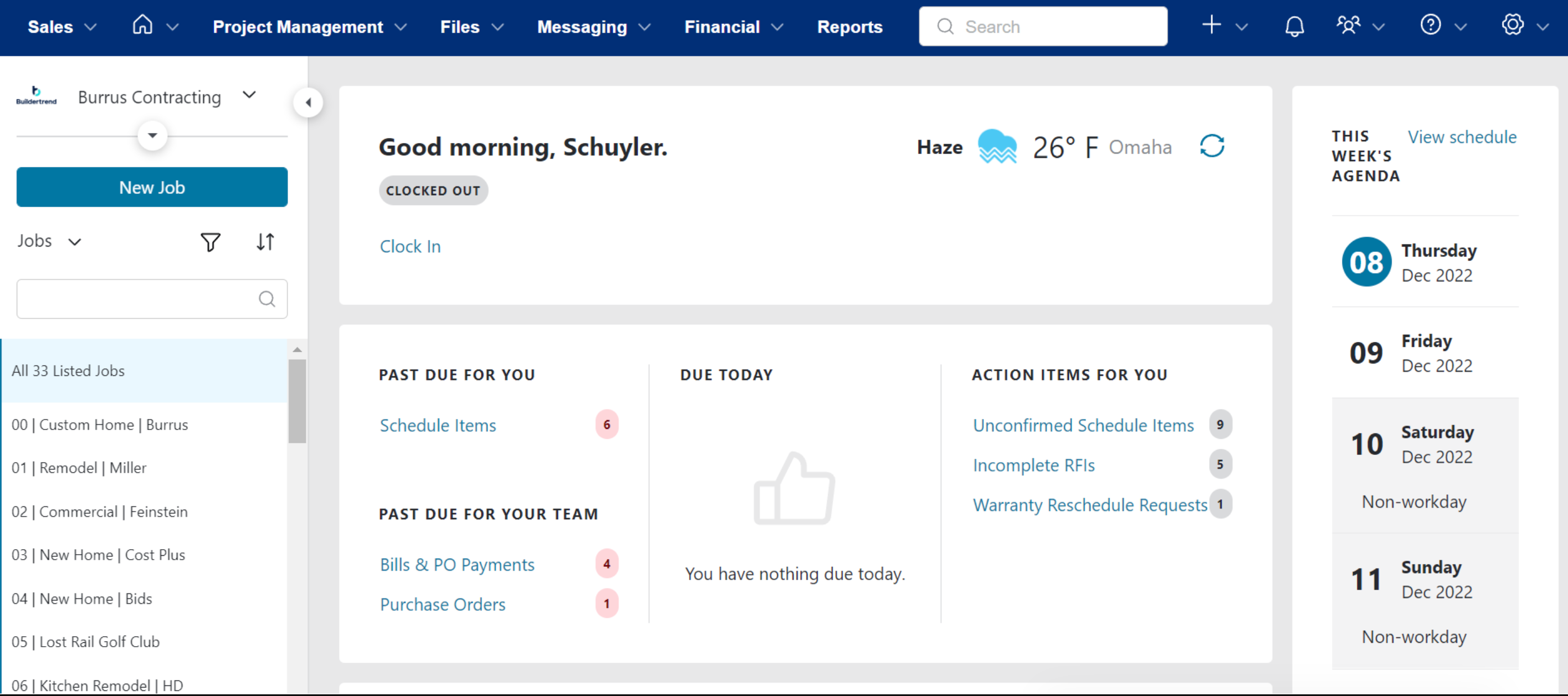 Another alternative to Simpro, Buildertrend, empowers residential contractors to manage their construction projects with enhanced efficiency effectively.
Established in 2006, Buildertrend has established itself as a trusted resource, providing contractors with valuable tools to maintain organisation, streamline communication, and track crucial project elements such as expenses, inventory management, and personnel, all in a centralised location.
Buildertrend main features
Gives contractors a set of tools to handle all aspects of the construction process.

Offers a central location for managing client interactions, such as drafting proposals, billing, and document sharing.

Allows contractors to keep track of their spending with QuickBooks integration.
Buildertrend Pros
Offers a wide range of project management tools.

Mobile app allows users to access project information on the go.

Easily integrates with various third-party applications and software.
Buildertrend Cons
Limited customisation options.

Users have complained about poor customer service.

Steep learning curve.
Buildertrend Pricing
Essential – $99/mo | $399 after 1 month

Advanced – $399/mo | $699 after 1 month

Complete – $699/mo | $999 after 1 month
Buildertrend Reviews
Capterra Rating: 4.5/5
G2 Rating: 4.2/5
"I love the ability to have a living document that all people can collaborate on to build a home with almost no details missed. However, It is dreadfully slow for most of our office. We struggle to work quickly & efficiently." – G2
Discover the best Buildertrend alternatives (2023)
7. PlanSwift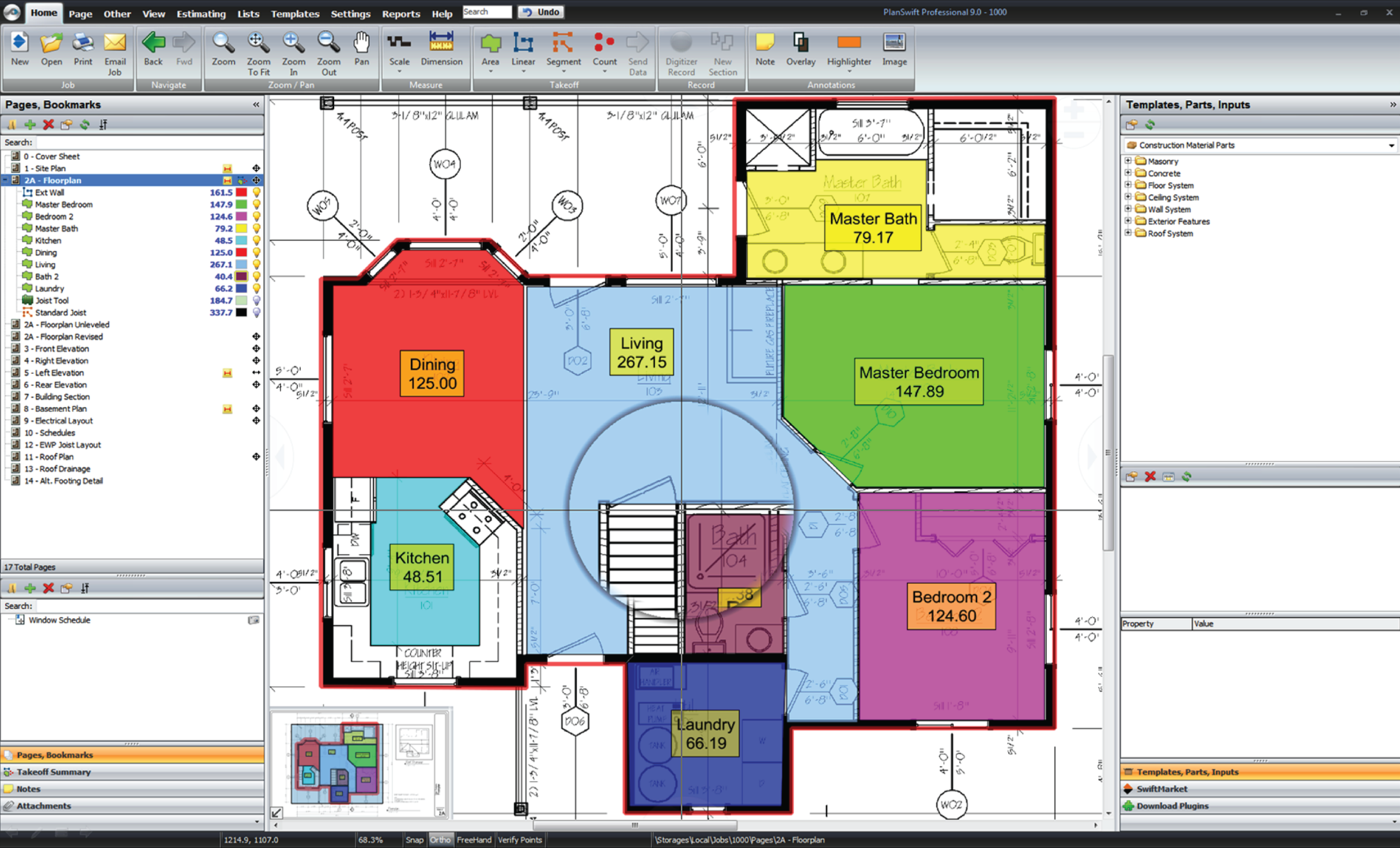 Another good Simpro alternative, PlanSwift, assists builders in determining project costs.
The software offers an intuitive user interface that enables users to drag and drop objects, click on photographs, and construct a bill of materials to calculate costs.
PlanSwift reduces the amount of manual work required by automatically calculating the takeoffs.
PlanSwift main features
Enables users to quickly build a bill of materials and determine costs by providing a visual point-and-click interface for takeoffs and estimations.

Users can save time and effort by using drag and drop.

Takeoffs are calculated automatically, saving users' time and reducing the need for manual labour.
PlanSwift Pros
Enables precise digital takeoffs, allowing users to measure quantities and calculate material costs.

Integrates well with other construction estimating and project management tools.

Offers customisable templates, allowing users to create and reuse standardised estimating templates.
PlanSwift Cons
Works mainly on Windows platforms, which can limit access for Mac users.

Smaller enterprises may find the pricing, which includes licence fees and possible add-ons, exorbitant.

Users have reported occasional delays in software updates and inconsistent customer support.
PlanSwift Pricing
PlanSwift Reviews
Capterra Rating: 4.3/5
G2 Rating: 4.3/5
"Setting up all the presets and tools, to make it most efficient requires a very large investment of time. This time will eventually pay off, but there is a substantial amount of work on the front end." – G2
8. JobProgress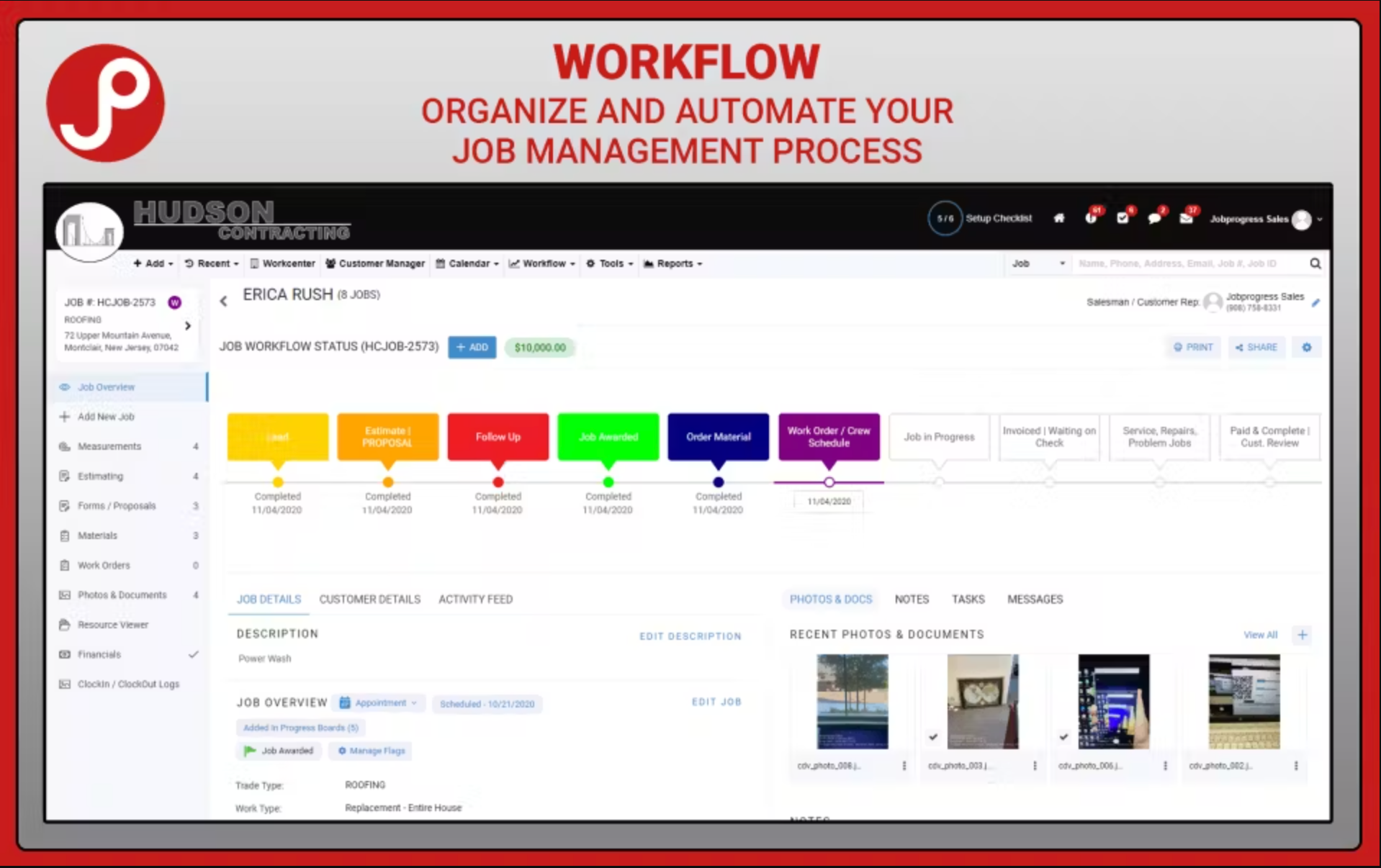 Contractors, estimators, and service providers may manage their work using JobProgress, a decent alternative to Simpro.
With the help of JobProgress, users can schedule tasks, create invoices, calculate costs, communicate with clients, and manage jobs from any place.
The platform offers numerous features, such as a customisable workflow manager, a client management tool, a dashboard work centre, the capacity to develop proposals and contracts rapidly, and secure cloud storage.
JobProgress main features
Offers a customisable workflow management solution that enables teams to oversee every aspect of their project management.

Contains a CRM tool that helps users in managing their client interactions.

Provides a mobile app that allows access to the software's features from anywhere.
JobProgress Pros
Helps streamline project management by centralising tasks, schedules, and communication.

The mobile app allows users to access and update project information.

Provides comprehensive reporting and analytics tools allowing users to make data-driven decisions.
JobProgress Cons
New users find JobProgress initially complex and require time to understand the platform.

The pricing model of JobProgress isn't suitable for smaller businesses.

Users have reported occasional issues with documentation and customer support.
JobProgress Pricing
JobProgress Reviews
Capterra Rating: 4.4/5
G2 Rating: 3.8/5
"Cumulative invoice does not display each payment properly. Build dates are not on first page of customer profile. Not sure how to use the refund feature in financials." – Capterra
9. RedTeam Go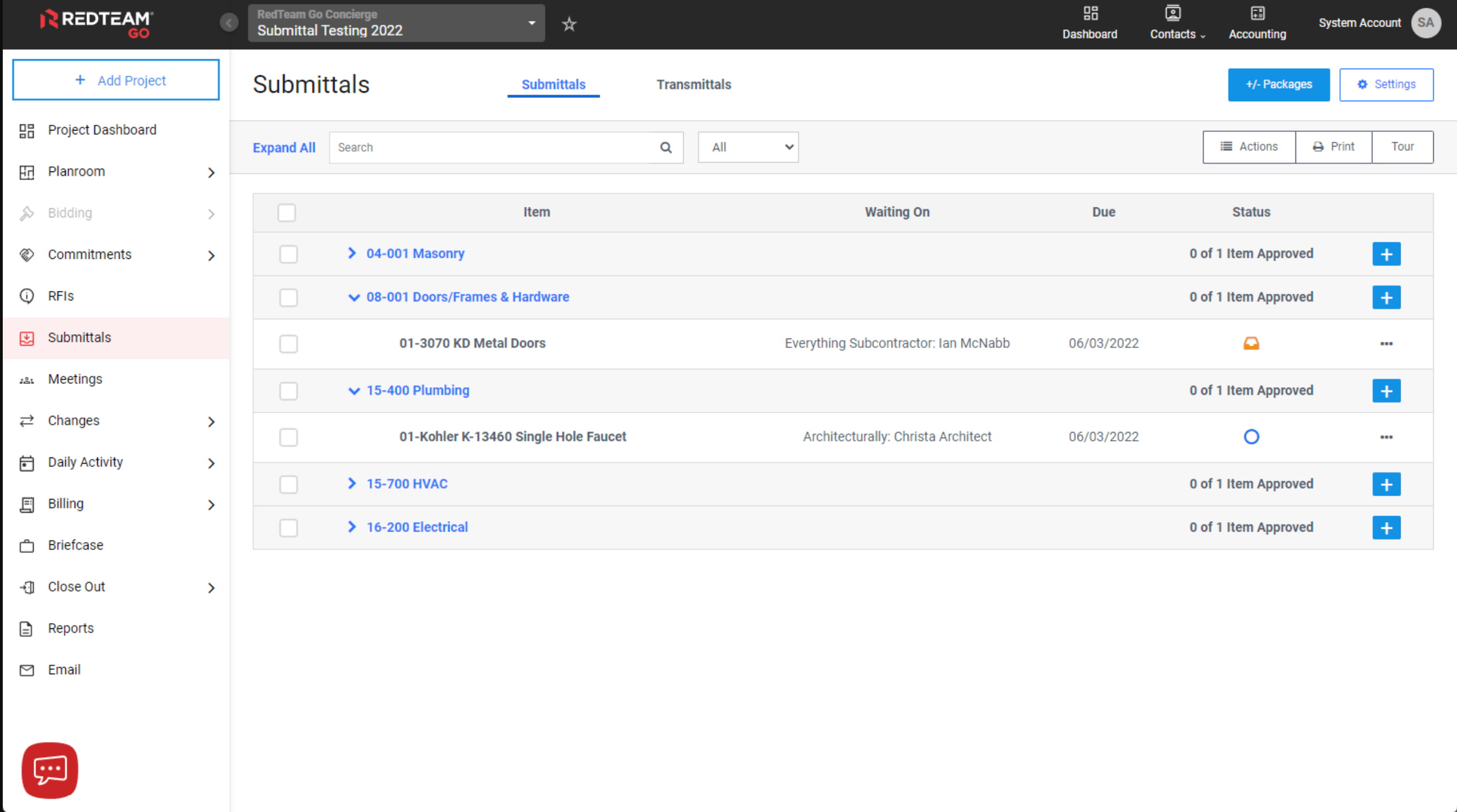 RedTeam Go is a comprehensive construction management solution that caters to every construction team member, facilitating efficient bidding, construction, and project tracking methodologies.
It promotes efficiency, visibility, and responsibility across the lifetime of a construction project with a focus on enhancing back-office and field operations.
RedTeam Go main features
Offers a holistic solution for managing the entire construction process.

Streamlines both back-office and field operations.

Provides a user-friendly interface designed specifically for general service contractors.
RedTeam Go Pros
The web-connected access allows users to access project information from any mobile device.

Offers a user-friendly interface.

Provides real-time access to project-related information.
RedTeam Go Cons
Users may experience a learning curve.

Expensive option for smaller businesses.

Limited integration options with third-party applications.
RedTeam Go Pricing
RedTeam Go Reviews
Capterra: 4.3/5
G2: 4.⅕
"I do think that a lot of the processes are a bit "overkill" for the purpose we use it for. While the platform is great for our major projects, it overcomplicates our process for smaller service call projects." – G2
10. CoConstruct
CoConstruct is a construction project management software for remodelers and custom home builders.
It offers features like cost estimation, proposal creation, expense tracking, timesheet, field service management software, communication tools, lead tracking, and file/photo sharing, making it a good Simpro alternative.
CoConstruct main features
Enables teams to manage all aspects of their projects from a single platform, including task organisation, project scheduling, and time tracking.

Provides resources for budgeting, cost calculation, and expense monitoring.

Provides tools for cooperation and communication, enabling all participants to stay informed.
CoConstruct Pros
Improves internal and external communication.

Divides a job into manageable tasks.

Highly adaptable, allowing users to customise it to meet their particular requirements.
CoConstruct Cons
Have limitations in terms of integration with other software.

Limited customisation options.

Has a steep learning curve.
CoConstruct Pricing
Standard – $99/mo

Plus – Starting $399/mo
CoConstruct Reviews
Capterra Rating: 4.7/5
G2 Rating: 4/5
"I don't like the pricing model. They give you a cheap rate for two months during which you spend hours on boarding and integrating and then once your locked in they jack up the price." – Capterra 
11. Fieldwire
Fieldwire efficiently fills the gap between the field and office teams by precisely tracking project and site problems, making one of the many Simpro alternatives worth considering.
Using this construction project management software, engineers, foremen, site supervisors, subcontractors, and construction employees may track issues with tasks at the site and obtain solutions.
Fieldwire main features
Track performance by being informed about who completed which assignment.

Assign tasks, use current drawings, and sync the office and field between devices.

Automate version control for all project papers to streamline them.
Fieldwire Pros
Enables seamless communication among team members.

Offers excellent task and issue-tracking features.

Provides a centralised platform for storing, organising, and sharing project documents.
Fieldwire Cons
Offers limited integration with other software.

Offers limited customisation options.

The reporting feature provides limited project analytics and insights.
Fieldwire Pricing
Basic: Free

Pro: $29 per user/month when paid annually

Business: $49 per user/month when paid annually

Premiere: $89 per user/month when paid annually
Fieldwire Reviews
Capterra Rating: 4.6/5
G2 Rating: 4.5/5
"I like the capability to hyperlink notes to other project documents saved within Fieldwire for easy access and reference. I strongly dislike duplicating work and often find myself saving documents to multiple locations. Rather than exclusively working out of Fieldwire, we must rely on other programs." – G2
Get the best all-in-one construction management software and tools
The profitability and effectiveness of every organisation depend on selecting the best software solution, and while Simpro software provides advantages, it's also necessary to recognise its disadvantages. 
Businesses can find software solutions that better meet their unique needs by investigating alternatives that address these restrictions, whether it's a shorter learning curve, open pricing, adaptable functionality, smooth integrations, or timely customer support. Ultimately, the goal is to find the perfect fit that empowers businesses to streamline their operations.
If you want to see how easy and straightforward project and business management can be, book a demo with Archdesk today -no strings attached!