You can do your forecast on paper or in Excel.
But you must know that it exposes you to a much higher risk of mistakes. Not to mention extra time and effort spent on manual calculations.
Luckily you don't have to.
Nowadays, many solutions can speed up your work and support you throughout the process, like Archdesk.
Our platform supports cost forecasting and delivery of construction projects giving you a complete overview of your company's financial health.
With the use of technology, you can automate your forecasting process. And definitely, you should.
It will free you from manual and repetitive time, giving you more time on tasks that counts, like analyses and strategic decisions.
Thanks to that, within a few clicks, you can track the changes, update tasks' importance, and verify contract specifications without spending long hours on it.
Of course, you can also manage without automation, but in a highly competitive construction market, it means losing customers to your competition.
"Accurate forecasting is imperative, and where spreadsheets and unconnected data can kill business.
Archdesk helps your business forecast the actual, not the assumed, enabling you to make informed and meaningful decisions based on a holistic "Control Centre" of your business cash and the related activities influencing it."
Richard Brotherton, Chief Revenue Officer at Archdesk
Having the same data stuck in different files or departments is a nightmare for anybody building forecasts.
That's why try to build a forecasting workflow. It means a sequence of steps to fulfill to create an accurate cost prediction.
You must also collaborate with your team and stakeholders to make it work. After all, they have data essential for your calculations.
Without a proper workflow, you risk organisational chaos, much longer and inefficient forecasting process.
They can be built in a construction system, like Archdesk, but you can also use more traditional methods.
How to improve your forecasting
1) Don't be too optimistic
A quality project delivered fast and with a small cost - a dream of every construction business.
Many forecasters succumb to this temptation and create forecasts that look fantastic on paper but have no real chance.
That's why try to create at least two forecasts. One optimistic and the other more conservative (with less favorable external conditions).
It may be discouraging to create more than one forecast. It takes extra time and effort. Also, it's counterintuitive as our brain likes certainties and precision.
But, creating more than one forecast has much more benefits than drawbacks:
makes you feel safer about the project's progress

helps in strategic decisions making

wipes out many uncertainties in the a delivery process
2) Understand your client
The success of your forecast depends highly on external factors. One of them is your client.
Your clients aren't directly involved in the forecasting process but factor into budget and income.
That's why before starting your calculations, try to understand your client better:
what's important (tasks, quality, deadlines) to your client?

what possible outcomes does your client expect?

how do you manage expectations and costs?

how does your client want to track project progress?

do current trends in your sector impact client decisions?
With all these aspects in mind, you have a bigger chance to deliver a project that fits all expectations.
3) Get more knowledge on project forecasting
Is construction forecasting still foreign to you? It doesn't have to be.
It's a complex process, but once you get the knowledge, it will be easier with every new analysis.
Luckily on the Internet, there are many possibilities to improve your forecasting skills.
For example, on the Udemy platform, there's a course called Construction Project Cash Flow Forecasting which teaches:
the basics of cash flow forecasting

what is a negative cash flow and how to minimise it

how to estimate your work, time, and expenses

the concept of the time value of money, how to use it to improve your forecasts

how to create your first cash flow forecasts
The access is $19,90, but the platform often offers discounts or limited offers with courses for free.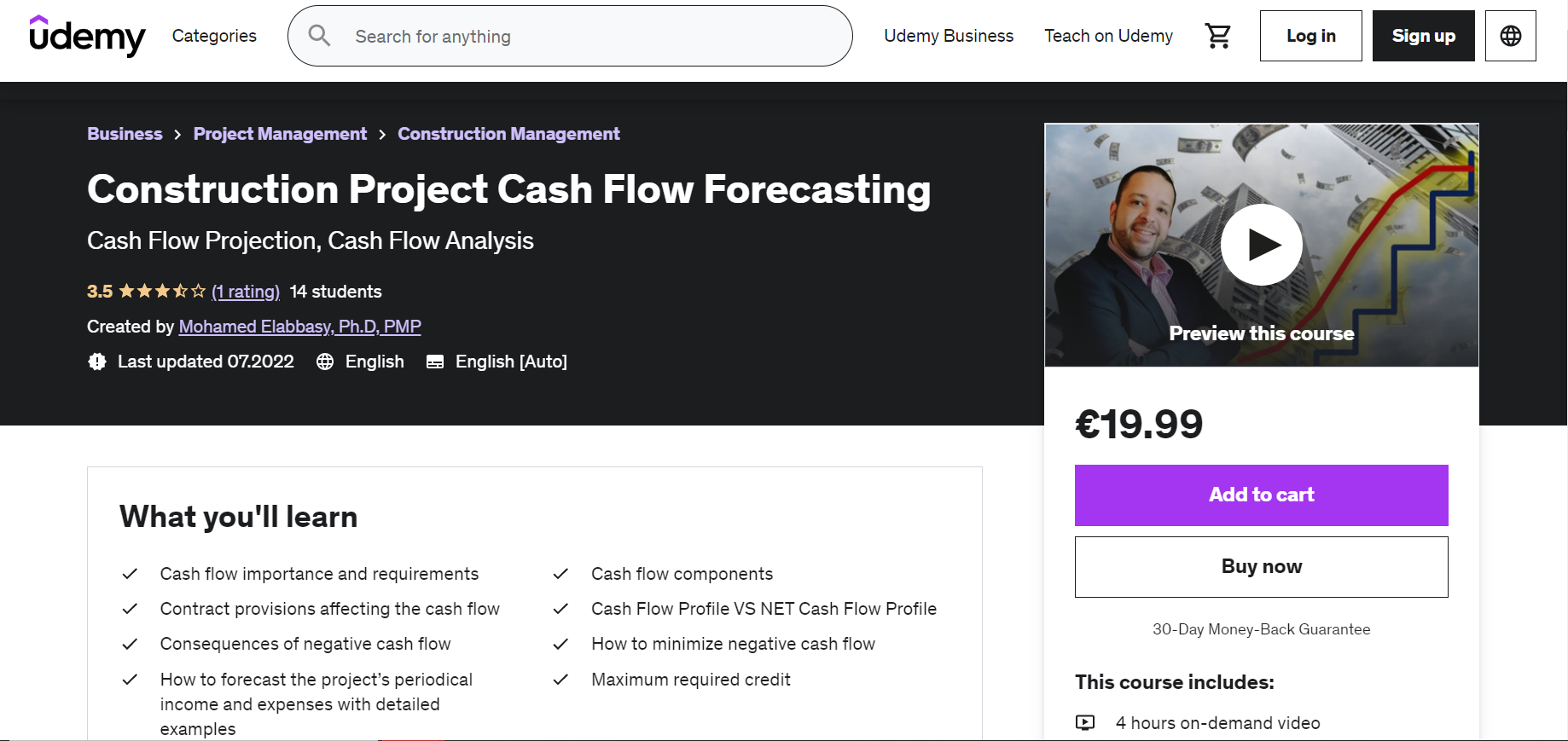 4) Invest in a professional support
Did you worry about cash in your project? Lying awake at night and analysing how much money it will take you?
Nocturnal forecasting is terrible for you and your business.
If you feel you've hit a brick wall and you're completely lost in your calculations, you can always invest in professional support.
Many financial forecast specialists can guide you through the process and show you step-by-step how to improve.
Sure, it will cost some money, but once you solve your blockers, it will be easier with each new forecast. And you'll be able to sleep soundly without worrying about another payment.
Frequently Asked Questions
What are the benefits of construction forecasting?
Properly prepared cost forecast has many benefits:
higher chance of delivering a project within budget and on schedule

increased collaboration between the company's departments

better knowledge of your business

roadmap for further financial planning

better judgments of deadlines and strategic decisions of a project

a baseline for cash flow management
What is the most important rule of forecasting in construction management?
The most important rule in any type of forecasting: your calculations will always be wrong. But that's completely normal as you cannot control everything.
Its goal is to show the possible project's path, with expected outcomes and predictions on how much cash (or other resources) it might require.
Based on that knowledge, you can adapt your strategy to manage your budget and obtain the expected level of funds.
What is Cash Flow Forecast?
Cash flow forecasting predicts how much money will come in and out of business in a specific period. It helps in establishing the cash balance and assures the company's financial safety in the long term.
Also, cash flow forecasting is extremely useful in deciding future projects and investments.